Halo, World


by Sam Potenciano
Photos by Ralph Mendoza



HaloHalo's Cara Sumabat talks about the challenges of the last several months and celebrating the changes that come her way.
W
hen I first messaged Cara Sumabat to check in on how she and her brand HaloHalo were navigating life during the pandemic, it was four months into the lockdown with no end in sight.
"It's been tough," she admitted. "I felt like we were a single ship fighting to make it across turbulent waters. We had to take a step back and put all of our projects, consignments and collaborations on hold."
Back in July, news of various local businesses folding was just beginning to trickle in. There was, understandably, an air of uncertainty whenever the topic of survival was broached in conversation with any small business owner. Even if that business happened to be one of the most beloved local brands in the country.
Since launching the brand in 2013 with her brother, Rocco Sumabat, HaloHalo has become a staple in both the closets and lifestyles of many a young Manileño. Starting out as a playful reimagining of the traditional banig (a sleeping mat commonly made from dried reeds and sea grass), the pair began using recycled plastic as the base for more contemporary yet functional designs.
Their most popular pieces draw inspiration from everyday, Filipino essentials, such as the aptly named Palengke, their take on the weekend market bag, and the cult classic, Trabaho, a sturdy, sought-after work tote in a baby pink weave.
In the last few months, HaloHalo cleverly chose to double down on their already popular homeware line (which includes ottomans and dining trays wrapped in subdued, geometric patterns). Adapting to the increasingly interior lives that their customers were now leading due to the pandemic. In lieu of a hotly anticipated handbag drop, the brand's followers were now excitedly counting down to the moment they could plate their freshly-baked sourdrough on the latest
HaloHalo placemat
.
The next time we speak, three more months have passed, and still, there is no definite end in sight.This time, however, we are on the socially-distanced set of a new HaloHalo photoshoot. The racks are lined with their newest collection of HaloHalo souvenirs—an expansion of their merch that includes scarves, cabana shirts, and so much more.
Our tiny crew circles around the perimeter of the studio, falling into the familiar rhythms of being on set, but always at a considerable (if unnatural) distance from one another.
Despite the brand new layer of caution that this arrangement inevitably casts over every necessary micro-interaction, the energy of the room is vibrant, purposeful. There's a sense that even though we are all still learning how to properly be in this scenario, there is comfort in feeling like things are finally moving in a clear, hopefully forward direction.
I chat with Cara to find out about the continuing evolution of her #Halohaloworld and to reflect on the journey to its success.
The following was conducted over email and has been edited for publication.
︎


"I don't know really what made it click. But I just had so much more fun with HaloHalo because I felt there were less boundaries for me."
Sam Potenciano: I remember when I first bought something from you, you were running a brand called Wabisabi, which focused on more minimalist, leather bags. Can you talk a bit about that initial brand and how it eventually grew into Halo Halo?
Cara Sumabat: Yes! I remember being so obsessed with leather. I wanted to just make things with them without any intention of making a business or brand out of it. I was doing it while working full time with Rajo Laurel. It was really just a hobby for me. I had so much fun making it that I decided to do a shoot and sell things for fun. Honestly, selling them was just a reason for me to do a shoot and make a lookbook out of it all.

I left for NYC to study for a bit, and kept making things on the side because I had so much fun doing it. When I was home one summer, I decided to make things out of banig. But the pieces seemed so separate from one another, so I decided to turn that into a separate brand.

Aside from material-wise (going from working primarily with leather to recycled plastic), what made you want to differentiate both lines?
I think I wanted to differentiate the two because they felt like two different people. As my husband, Marco, likes to joke, they're like my two personalities. Nowadays, I feel like I've basically merged the two. Our classic biyahe tote was actually an original piece from Wabisabi!

What made you decide that this new direction was something that you wanted to focus and expand on?
I don't know really what made it click. But I just had so much more fun with HaloHalo because I felt there were less boundaries for me.

Less boundaries in what way?
I gave myself less boundaries. HaloHalo really began as an experiment of banig with other materials. I wanted to combine these unlikely materials together. This brand gave me more room to experiment.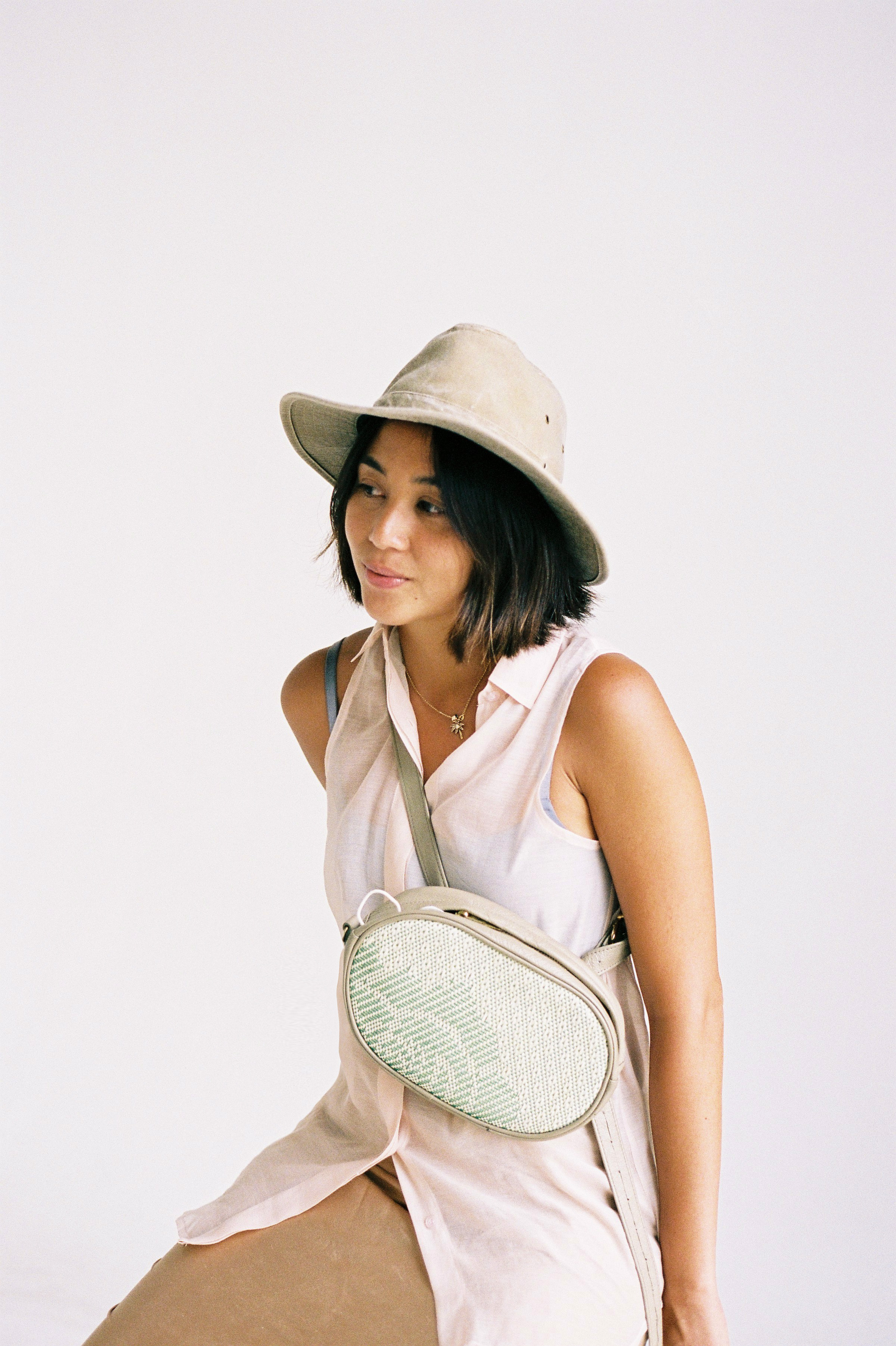 Going to a HaloHalo event and lining up and patiently waiting for bag drops has become so synonymous with the HaloHalo experience as a customer—especially in the last few years. What did it feel like for you to see that change over time?
It's still very overwhelming for me. Sometimes I don't believe what I see even when it's in front of me. From trying out all sorts of events to actually having people lining up for your pieces is mindblowing. We've tried everything and anything to get the brand out there, and it just took a click for everything to change!

What was that click? What do you think changed that made people respond to HaloHalo?
I honestly think it was just fully committing to it and letting things flow. We took bigger gambles and really went all out and that's when people just saw it differently. Even if it was the exact same products!

HaloHalo's homeware has always been popular with customers, but lately they feel like such staples given how much time people spend at home. What is it like for your personally designing objects for indoor living rather than for outdoor use?
Honestly, we've been so thrilled that people have been really focusing on their homes. I'm not a total homebody, but I do enjoy keeping spaces beautiful.

I love changing things up all the time, and that has really allowed me to birth more designs. I don't believe anything has to be permanent. Change is always there, and we have to learn how to ride with it. We're riding the change that's happening right now, and it's been a great exercise for the mind.

Spending so much time indoors lately, how has your creative process been affected? What do you do to keep energized?
It's been hard for me. I didn't realize how much I like being outdoors until now. I try to go for walks every day just to maintain my sanity. And get sun whenever it's shining. I've also been taking my daily workouts more seriously. It's what I look forward to the most! When I wake up or before I sleep, I plan what I'm going to do and it's what gets me going!

"I don't believe anything has to be permanent. Change is always there, and we have to learn how to ride with it."
As a small business owner, what has been the biggest challenge for you during this time?
The biggest challenge is committing to our team even more. We always valued the people we work with above everything else. With everything happening we had to take it even further. From helping them relocate to keeping their homes and families secure to teaching them how to nourish themselves and stay healthy.

Many brands took their time in isolation to evaluate their business values. Can you share what that time was like for you?
It was important for us to be alone to learn what we can and can't do. We know that every cent counts, and that we need to push ourselves even harder so that we can really continue to support all the people who work with us.

How would you like to see the local community of small businesses growing as a result of everything that's happened?
I really hope that supporting local businesses isn't short-lived. People are usually so quick to forget, so I'm really hoping that this is something permanent. I hope that local markets become even more popular. That people will eat seasonally so that we can support the produce that is available.

Hopefully skills will also be passed on more now that we're left with only our local resources.

And I hope people become real neighbors to one another. Doing things like sharing an ingredient that your neighbor needs instead of them buying a whole can that would only be used once... Small simple changes that have huge impacts in the long run!

Given the absence of physical retail experiences (at least for the near future), how do you hope to capture that sense of excitement for your customers?
We try to keep it as fun and entertaining online. We have BIG plans but are also patiently waiting, as making things happen digitally is harder than in the physical world.

Lastly, what to you feels like success for HaloHalo today?
I guess for us, success is that we're able to continue what we're doing and to be able to have that evolve into more things. HaloHalo isn't just banig products. Our world is expanding to so much more. ︎


Sam Potenciano is a former magazine editor and stylist currently doing creative odd jobs in Manila.