Getting Real with FAKE zine's Celene Sakurako

by Jonty Cruz
Photos by Renzo Santos. Courtesy of Celene Sakurako
The creator of Manila's newest independent publication talks about zine culture, her dreams of building an artist residency, and how the pandemic affected her big launch.



E
arly in our interview, Celene Sakurako tells me she had "this bizarre idea" that she would die at 18. "Completely irrational," she says. I ask her about it and she says she still has no clue why she thought it in the first place. As odd as it may sound, she says the seemingly inevitable end felt so real that she didn't plan anything beyond turning 18. "Not even college," she says.
After she proved herself wrong and lived past 18 (thankfully), she graduated high school and jumped from one education to the next. She went to a fashion school in Manila, an art school in California, and then moved to Tokyo for college. But it would be at a music festival, of all places, and a chance meeting with an editor where she would begin her second life in a career in publishing.
Celene still remembers that first writing gig. "The website folded already, but it was an article on Number Line Records," she says. The editor worked for a Singapore-based website looking to expand and publish stories from around the region. Celene took it as an opportunity to talk about the independent label that featured two local up-and-coming acts she was listening to at that time: No Rome and Similar Objects.
In hindsight, it seems these were the kinds of stories Celene has been wanting to tell all along. And she's gotten to do that now with her own publication,
FAKE zine
, a new title that features new and local talent. "I think it makes sense that I do what I do now. I've always sort of been obsessed with pop culture growing up. And I've consumed an unhealthy amount of entertainment because of it," she says. "The whole notion of why people end up liking something enough to 'follow' it—it fascinates me. And to think, at some point, something considered 'popular culture' was, for a lack of a better word: nothing. I like to think an editor's work is discovering the 'nothings' before they become 'somethings.'"
She shares more about her career thus far and her plans for
FAKE zine
over email.
The following has been edited for publication.
︎

Out of Print: How's life been these last several months for you?
Celene Sakurako: Life has been quiet for me since the launch of
FAKE zine's
inaugural issue 00. I went from sleepless nights of doing so much, to sleepless nights of doing absolutely nothing. A complete 180. 170+ days of being in quarantine does something to someone that's inexplicable, really. It feels like I've been on this perpetual "summer vacation." You know, [like] when you were a kid? And you had nothing to do, except be at home. And you had to get creative. The last two months has felt that way for me.
Speaking of getting creative, you've had creative jobs in Tokyo and here in Manila. I'm interested to know what if any were the similarities (or differences) in the creative work culture?

The main difference I see in the creative work culture here and in Tokyo, is the difference in outlook of creatives in approaching work. In Tokyo, it's like things are made with the intention to be sold. So everything comes with a price tag. And time is money. Creative work there has an undertone of practicality. Here, it's like creative work is often tied to "passion". Like, creative work is made to be appreciated, but not necessarily to be sold or bought. It's like the process itself is the creative work.
"Maybe I wasn't looking in the right places, but it felt like I wasn't seeing enough features on local brands or artists who I could relate to personally. It always felt like I was promoting a lifestyle I couldn't afford, or attain."
I'm excited to talk about FAKE zine. How did the career you've had so far lead to it?
I think FAKE zine is a culmination of everything I've gone through, creatively speaking. It's a reaction to all of the challenges I encountered as a creative throughout the years. I started FAKE zine in 2017, shortly after leaving my first editorial job here. I created it as a space for myself to address, explore, and resolve the frustrations I was feeling towards bigger media here. Like, why isn't local artistry more celebrated? Maybe I wasn't looking in the right places, but it felt like I wasn't seeing enough features on local brands or artists who I could relate to personally. It always felt like I was promoting a lifestyle I couldn't afford, or attain. So with FAKE zine, it was important for me to first and foremost feature local. Local artistry, local products, local aesthetics, local ideas. And secondly, provide a space where artists are given creative freedom of the work they produce. That's why our tagline is "Looking inwards, not outwards."

I'm not sure when FAKE zine really came into full form, in a way, I think we're still evolving. But, the idea of a place where artists can come together and collaborate or form creative discourse, I think I've always yearned for something like that. And it just so happened that it came in [the] form of a zine. But, I think FAKE zine has become more than a zine. Our output has grown to more than print or digital matter. We've produced art, music, fashion, and film, to name a few. Eventually, I'd hope that it would evolve into a multi-disciplinary artist residency, where it could be a place for artistic exchange. Both locally, and internationally.

It seems FAKE zine is just as much about the relationship you build with local artists as it is about the stories you tell. How have you managed to grow and nurture that relationship?
At FAKE zine, we try to pick up up-and-coming independent artists who are just starting out, and we try to give them an outlet for their work, hoping that it would give them a foot in the industry they'd want to get in. Artists are encouraged to pitch and bring their own ideas to the plate, so they're given creative freedom to pursue the project in hand the way they want to. And in exchange, FAKE zine gets creative discourse. Fundamentally, we produce their ideas, and find an outlet or provide a platform for their works to be showcased.

The zine however, is a curated pool of emerging artists who I personally wanted to work with, or thought would work well with each other, and believe represents what it is to be an independent creative in Manila. It's almost become a 3-year-old love letter or visual diary of the diverse Manila scenes, of the creatives I've met and worked with in Manila.
FAKE zine's launch issue, Gangs of Manila, with Basura Girls on the cover.
You launched your first issue just as the pandemic hit, what was going on around that time for you and how did the pandemic force you to change course?
Manila went into lockdown a month before our initial physical launch party which was supposed to take off on April 25. Just like our digital party, the physical launch was a month-long affair that would've included an art show, fashion show, fair, gig, film screening, and art bidding. Due to the pandemic we had to condense the events to what we could translate from IRL to URL. I never thought we'd be launching digitally completely on Instagram, but I think it worked out alright. We were able to successfully recreate most of our events. Although, there was always that thought at the back of your mind if it would have been better if it were IRL. Especially since digital events aren't as common here. Majority of the online events I was seeing were happening on Zoom or Facebook, so when we held our launch on Instagram live, people were confused. They didn't know how to "attend." But, people came through nonetheless. It's hard to quantify "success" per se when you're holding a digital event, but to me, it's like every person counts. And, the less people attended, it felt like the more each person counted. Honestly, I was grateful to have one person come, and at peak we had 34 followers actively at an Instagram live, but each Instagram live hit at least 100 views in total. So, I'd say we did alright.

You've mostly been running FAKE zine on your own with help from a lot of contributors, what's been the main things you've learned DIY-ing everything?
That the best thing you can do is to ask. Ask for advice. Ask for feedback. Ask for opinions. Ask for help. Ask, because the worst thing that could happen is that you'd be turned down. I find that people are more often than not, willing to help you out, especially if they've gone through the same struggle. And as cliche as it sounds, that you won't know how things will turn out until you try. It's all about learning as you go.

"The idea of a place where artists can come together and collaborate or form creative discourse, I think I've always yearned for something like that."
What's been the most rewarding—and most trying—thing about starting FAKE zine?
I would describe my relationship with FAKE zine as a love-hate relationship. Aside from every self-run project's hurdle of lack of funding, I'd say the most trying thing is the battle [within] myself. When you work alone, you're alone with your thoughts and ideas. At the end of the day, things don't move unless you move, and sometimes it's difficult to motivate yourself. There's a lot of self-doubt or uncertainty when you're working with yourself, but the artists I get to collaborate with is what keeps me going. The feeling you get when ideas come to life, is irreplaceable.

Is it okay to ask what worries you most about it?
I think the uncertainty of it, or the potential of it growing into something more than a zine, more than what started out as a personal project of mine, is what scares me the most. Right now, FAKE zine is at an incubatory period, in which we're still trying out what works and what doesn't work for us.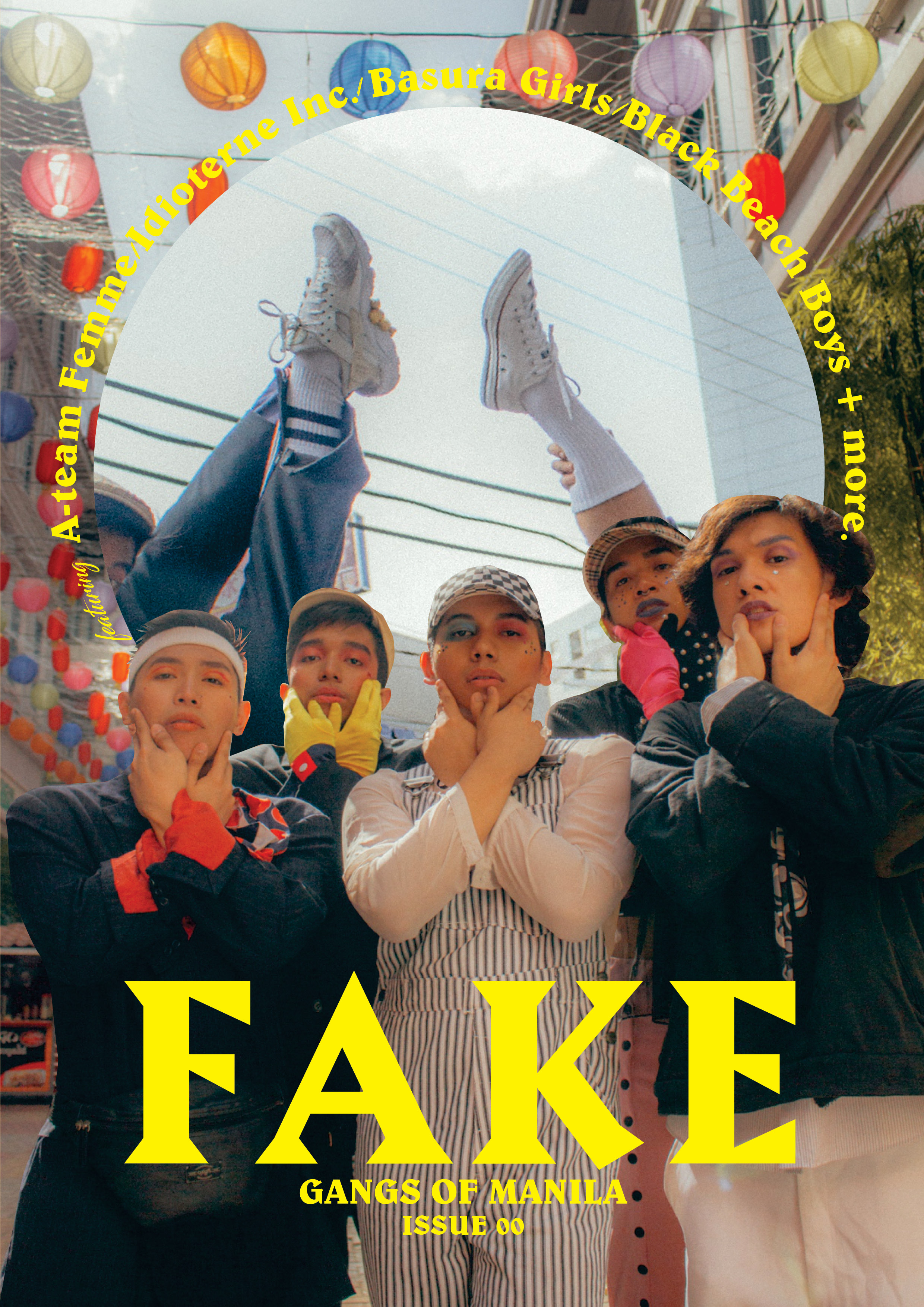 Another cover from FAKE zine's 00 issue featuring A-team Femme.
"I find that people are more often than not, willing to help you out," says Celene, "especially if they've gone through the same struggle."
What do you see for FAKE zine in the next couple of years?
It's hard to imagine what FAKE zine will look like in a couple of years, but I've always envisioned that the zine would travel. So I'd hope that our next issue would be based in a different city. And we'd be able to do the same thing we've done in Manila, if not more.

With so many restrictions and uncertainty, what problems are you facing now?

I think I've been lucky with
FAKE zine
, since we've always been WFH, so I'm used to working completely online. The issues I face now with the pandemic, has been more on production; not having the right equipment or not being able to source things that I need, but I think it's a matter of time. Eventually, we'll all adapt. ︎
Jonty Cruz has worked in Esquire Philippines, The Philippine Star, and Rogue Magazine. He also co-founded All Good, a social-impact storytelling platform.