Celeste Lapida's Slow Disco


by Andi Osmeña

Images courtesy of Celeste Lapida

Rejecting binaries and dreaming of the queer future with the filmmaker and drag artist.
Writer's note: Celeste Lapida's preferred pronouns are she/they.
C eleste narrates with a natural candor. She has a certain way of telling stories, acting out bits of dialogue in exaggerated voices, and never forgetting to project.

"I liked seeing both my mom and dad be the life of the party in family gatherings. I guess I wanted laughs for myself too," she explains. When she was young, Celeste gained a reputation as a class clown, entering her school's faculty room and impersonating teachers in front of their faces. Oftentimes, the Word of the Day during English class turned into a one-woman-show.

Speaking to Celeste, her raconteur instincts are clearly second nature to her. She told me stories from high school, film production, and family interactions and I couldn't help but be enthralled by her ease to slip into characters. She tells me her memory is bad, but the instances she recalls pour out as if it happened just yesterday.

"Basta narinig ako, 'Hala! bakla nanaman 'yung gagawin niyong film!'" she tells me of a comment about her upcoming short, Taking My Time to Dance, shrugging off the critique with nonchalance. Celeste has built a life on storytelling as an award-winning filmmaker and extremely online drag artist. Though she wears different hats, queerness is always the core of her work. "I don't mind making more queer films because that's what I know, and that's what I need to see."

At age sixteen, she co-directed and wrote her first short, Contestant #4 , with Kaj Palanca. They met in freshman year of high school and spent afternoons together watching DVDs at Celeste's house. Celeste and Kaj eventually cut their teeth on filmmaking as a requirement for art class. Celeste remembers what she wrote for that project — a short about two male best friends finding themselves at odds once one of them reveals he is leaving the country.

"'Yung kay Kaj naman, it was about two friends who would always go home together. Kasi 'yun, it was implied na both of our films were queer. We were presenting in a Catholic all-boys school," she recalls.


Celeste and Kaj Palanca in the present day.
Celeste and Kaj's complementary skill set was one of the many reasons they decided to work together. Celeste helped Kaj with his photography, while Kaj with Celeste's writing. So, it was a happy surprise for the two when Celeste developed the premise for Contestant. "I'm not a writer-writer. Iniisip ko lang, 'pano pag bakla 'yung lolo ko?'"

The idea for Contestant came to Celeste after watching archival footage of her lolo shot in Super 8 mm film, the same footage shown in the film itself. Much to her shock, he was participating in a cross-dressing competition. As her lolo ran the footage through an old projector, she imagined a young boy visiting an old man watching the same sort of thing. What kind of conversations would ensue? What would be revealed?

Kaj finished the script in time for submissions for the QCShorts Competition. Despite either of the co-director's doubts about turning in Contestant #4, the script made it to the finals. They only had one night to prepare the pitch. At the time, Kaj established himself in the local cinema Tumblr-verse where he met filmmaker Bebe Go, who was swiftly on boarded as a producer, as was Petersen Vargas and Jade Castro.

Contestant became an official entry for QCinema's short film category where it won the Audience Choice Award, as well as several other international competitions. It most notably ran at the Shanghai Queer Film Festival where it won Best Film.

When I asked Celeste how it felt to enter college with such a sign taped to her back, she said it was neither good nor bad, just … there. "I remember one of my profs. Siya 'yung selection committee member for shorts for Contestant. Nagkita lang kami sa Benilde, tapos, whenever we would see each other, he would yell, 'Wag lalaki ulo mo!' So I kept that in mind."

A film still from Contestant #4
2016 was an important time in more ways than one.
In January of that year, Celeste came out to her parents. It was also in the wake of
Contestant
's release that she first dipped her toes into the drag world. She would go on to meet her friend and drag mother, Isola Tong, at
Contestant
's premiere, and once more at one of the screening days of Cinemalaya.
"
Sabi ng mga
filmmaker, '
Uy! May
after party
sa
X, X, X, X, X, X, X, X, X, X, X, X, X, X!'" narrates Celeste.
She arrived at the club wearing shorts and a black shirt. Initially unable to get past the door because of the dress code, she found solace in a familiar face. "
Sabi ni
Isola, '
Pasukin mo yan,
filmmaker
yan
!' That was the first time. I [went] inside and thought, 'Oh, I want to do this.'"
One month later, Isola invited Celeste to a Halloween event in Dulo. Having developed fluency in a certain brand of Pinoy camp, Celeste first went by Nilalang Lapida. She'd later do drag in tandem with Isola in XX XX, where she was a regular fixture at parties by ELEPHANT, a queer rave collective, either as a drag performer or DJ. Nowadays, she's best known as Celeste Lapida.
Growing up in Greenhills, spending Sundays listening to
kundiman
tapes with her lolo, the name "Celeste" just stood out — sang to her, just as she softly sang "
Gaano Ko Ikaw Kamahal
" by Celeste Legaspi to herself on car rides home. "I initially wanted [my drag persona] to be old-looking. Or, like, her style was that of an old woman. Since transitioning, or recognizing that the lines between drag and every day are blurred —
wala lang
,
parang
I just do whatever."
" I wanted to come out to my family so I thought of writing a story about an old man and a young boy and their friendship. With Taking, it was also a fear of mine. Where is my femininity going?"
Drag is hinged on an artist's ability to craft their own mythos. Using makeup, clothing, and performance, one can become an entity even larger than life. But when Celeste does drag, she isn't reaching so much further from her actual self. "This is also where I struggled with deciding on my name, if I would have a lived name and a dead name." Celeste considered having two separate names for film and drag, keeping her dead name for film credits. She eventually got tired of overthinking it.
"
Sobrang iisa lang
out of drag and in drag.
Parang ganun lang din
with what I do with the lines between film and performing. And then I chose Celeste. I just went with what I wanted to hear from other people in mundane settings, at work, [and] especially in more intimate conversations. "Celeste," whether pronounced with a '-teh' or '-est' on the last syllable just sounded right for me. I like how it sounds
talaga
."
In the absence of nightclubs, Celeste has been filming solo skits of herself on her laptop for her Instagram account,
@virtual_performance_ni_celeste
. This is where she feels most prolific. I jokingly ask "Do you identify as funny or queer first?" to which she immediately quips, "Funny first!" Celeste cites various influences on her sense of humor, such as Kristen Schaal, Kristen Wiig, Miranda July, and of course, her parents.
"But if anything, I'm tired of being called quirky." Although she partially embraces the label, Celeste is wary of being pigeonholed into an archetype. "Do you think it's a straight people thing?" I wondered aloud.
"I don't think straight people know what quirky is!" she answers.
Celeste in the bedroom.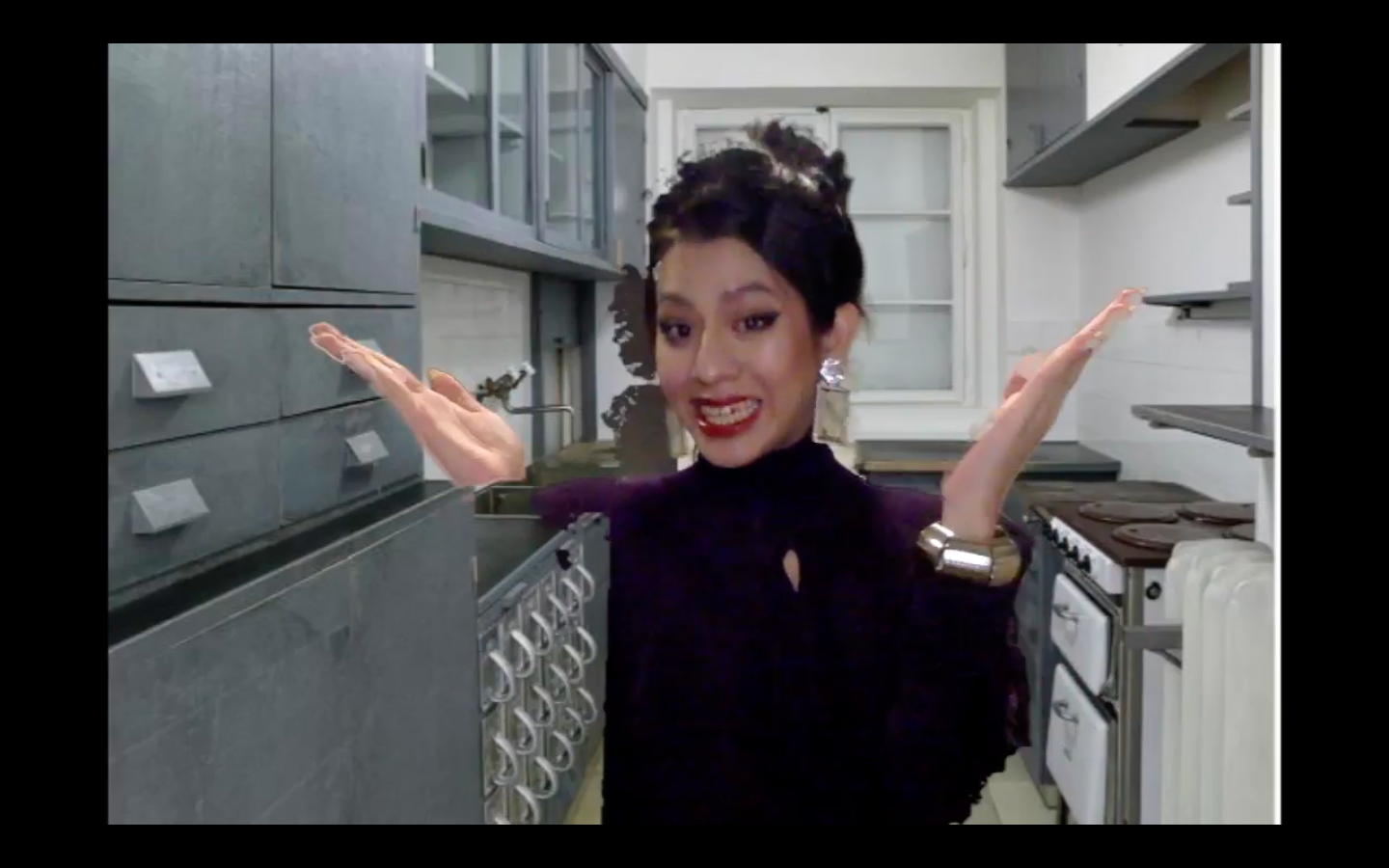 Celeste in the kitchen.


Oddly enough, Celeste doesn't remember her first exposure to queer media, almost as if she created her own stories to fill in the gaps. What she remembers most are the villains from Saturday cartoons or the Star Movies rotation. Marla Singer from Fight Club, Lady Deathstrike from X-Men, Eris from Sinbad: Legend of the Seven Seas. "I just focused on those characters instead because wala 'kong alalang queer media from my childhood." She grew up wanting to emulate their flamboyance, their bitchiness.

"Are you bitchy ba?" I ask. Again, Celeste swiftly answers in the affirmative, in her nature as a Saggitarius sun, Gemini moon, and self-ascribed super funny rising. "Well I don't hide behind it or anything." For as long as I've known her, Celeste carried herself with a sharp poise. What strikes me most is how it contrasts to the tenderness in her films.

Celeste's latest short film Somewhere A Destination evokes the feeling of something taking shape. As the original score by Ryle Ugarte swells with reverb-drenched synthesizers, spotlights drift over still-life scenes. I catch a glimpse of a hallway, rendered in soft textures of black-and-white, fading while, in another moment, draped pieces of cloth gently overlap each other. "I wanted to see images that brought a sense of liminality, or parang being 'in the midst of things,'" Celeste explains.

Celeste made Somewhere, which she presents as a diptych alongside a written work, sometime in mid-2020. "At the time, I was thinking, 'Okay, we're in a pandemic, what's gonna happen to us?' That, and I was in the middle of my transition. Well, I'll always be in the middle of my transition" she explains.

The film ended with me staring into a screen of black with nothing but my own reflection staring back at me. Somewhere there, I saw the impression of someone on a hopeful streak.

A film still from Somewhere a Destination. Celeste's diptych was part of the official selection for the experimental short category of Gawad Alternatibo 2021.

"I wrote Contestant #4 because I was afraid to come out.
I wanted to come out to my family so I thought of writing a story about an old man and a young boy and their friendship. With
Taking
, it was also a fear of mine. Where is my femininity going?" Celeste admits that fear is a big motivator behind her work. Film is her response to that feeling. It's her means for placemaking in this world.
She continues, "
Contestant
was set in just one house,
Taking
will be set in Rana's house and a club. Somewhere was just fabric and my imagination of different landscapes. So I thought, 'Why am I not going outside? Why am I afraid of the real world, [to] make my films there?' Yeah, I am afraid. But aside from that, I just want [to have] someplace else."
It struck Celeste after a particularly awful morning, right before her commute to school. She was booked for a drag show later that day. "My dad and I had a big fight. Back then, he didn't know I was doing drag. Actually, we were talking about someone who was queer and dressed up differently. I was defending that person." Celeste came out of the confrontation in tears, IKEA bag full of her drag in hand while waiting for her UV Express.
"
Ang bigat ng dala ko
!" Celeste says through her best on-cue crying, lending some levity to the moment. On that same ride to school, through all the vitriol, Celeste found the inspiration for her next film.
Enter our protagonist Rana, a young enby on the cusp of adulthood. They rummage through their lola Nanay's closet in search of something to try on. "
Taking My Time to Dance
would be synonymous to 'Taking my time to be queer. To realize, understand, and express it.' It's about not putting pressure on queer bodies to understand what it means to be queer, to have this body."
Taking
was awarded a grant from Globe Studios in 2019. Then the pandemic, as it does, threw a wrench at her plans. Film production in the Philippines is well-known for its vigor: tight schedules, long hours, and shoestring budgets are just the name of the game. Celeste had to find a way to make it work, so she got creative. In June 2021, she launched a crowdfunding campaign on
The Spark Project
, working closely with her producer Cody Abad. The two rallied the help of the local queer nightlife and film scene. It only took a village, but they raised nearly PHP 170,000 — over fifteen percent over their goal.
As of the moment, the cast and crew are complete. Most people on set will be women or queer people. The three main roles were filled out by Celeste as Rana, Lance Reblando as the older drag queen and ate figure Saada, and none other than Celeste Legaspi as Nanay, Rana's lola. "I remember being very nervous leading up to the Zoom call and I was surprised. We were both wearing pink!" The character of Nanay is partially based on Celeste's real-life lola, as the main character in
Contestant
was with her lolo. Family is another theme she likes to return to.
Celeste admits that while she wrote Rana as somewhat of a self-insert, she didn't anticipate playing the role herself. "I really wanted to get a queer dancer to do it.
Kaso
, schedule things. At one point
sabi ko
, '
sige ako nalang
.' I'll just take some dance classes, and then
baka naman magawa
. But with acting, I have no training." Dance training, actor training, changes in look, changes in disposition. Though Rana may be an introvert, Celeste is a performer. She approaches the challenge with enthusiasm, especially with going backwards in time to a pre-transition version of herself, "I'm not worried. Actually, excited
ako dun
!"
You can trace Celeste's journey as a young queer person through her work. She goes from subtle questioning to flamboyant celebration in the span of three films. I ask her what's changed about her work since
Contestant
, to which she responds, "Now I know I'll be making queer films for life, and I don't mind."
"The image of the dance floor has a strong sense of queerness to me. The presence of other queer bodies feels utopic."
Even for a moment, a dancefloor can become utopia. Gay bars have long been tauted as an example of a safe space for all identities. The act of dancing, the dynamics between a DJ and a crowd, and the temporary splendor of club nights all fall under what is formalized as the "utopian performative": to build a perfect community within the boundaries of real space and real time.

But more than that, dancing has a beauty beyond the theoretical. Different bodies lend themself to an abstraction, moving together as one. There's something so vulnerable about giving into your instincts so freely — something divine in the feeling of surrender.

Celeste explains her fascination, "I think dancing is a very queer activity since there's so much opportunity to express flamboyance and femininity through movement. The image of the dance floor has a strong sense of queerness to me. The presence of other queer bodies feels utopic."

I've crossed paths with Celeste many times on different dancefloors, but the first time we met was after a random org activity one Saturday afternoon. We met through a mutual friend at our college's dedicated tambayan, chain smoking cigarettes over conversations about fashion magazines and A Star Is Born. Somehow, that day even ended with us thrift shopping.

"Your hair was long, and mine was short!" she remembers.

So much has changed since — not even accounting for hair styles, schools, and pronouns. Some of the dancefloors we've shared no longer exist. Yet, our conversations veer to pretty much the same things: kabadingan, our favorite funny women, and, always, gossip. As of late, we've idly exchanged queer art and readings on Instagram.

Celeste shares a quote from Stryker she goes back to: "People who move away from the gender they were assigned at birth…want to strike out toward some new location, some space not yet clearly defined or concretely occupied…the movement across a socially imposed boundary away from an unchosen starting place."

Traditional theory puts forth the definition that queerness is where the individual is at odds with the world around them. We live in a world not quite built for us, so we forge our own paths.

"Ever since seeing that [quote], it took a lot of the pressure on transitioning from one body to another. Not having a final location in mind, or not knowing where your body is going, that's very liberating," shares Celeste. Perhaps, she would argue, nonbinary is not just an identity, but the truth.︎

Image courtesy of Ricardo Yan II (

@ricardoyan96

)
Andi Osmeña is a design student, writer, and DJ.