by
Emil Hofilena
Photos courtesy of Cesca Lee
Cesca Lee looks back on her young career as a cinematographer, and what she's got her eyes set on now.
Cesca Lee has been playing a game in her head from the moment a cinematic image really made sense to her. That moment occurred during a film appreciation class in her sophomore year at St. Scholastica's College, Manila. The movie was Auraeus Solito's Ang Pagdadalaga ni Maximo Oliveros. Cesca's professor singled out a shot in which the title character, played by Nathan Lopez, and JR Valentin's police officer speak to each other in a stairway before moving in opposite directions.

"Ine-explain ng professor ko: what's the difference between [their costumes]—a uniform and casual clothes?" Cesca recalls. "What's the meaning of why it was lit this way, 'yung blocking nila, na nandito 'yung pulis sa stairs, nandito si Maxi?" A look of revelation flashes across her face, as if she's sitting right back in that classroom, the gears starting to turn all over again. Where she might have once seen nothing but characters and their emotions, Cesca now noticed direction, cinematography, production design, all in dialogue with one another.

"It's like a game. It's like a puzzle," she explains. "Parang gusto kong gumawa ng ganoon. Gusto kong laruin 'yung game na 'yon, and see kung sino'ng makakalaro ko, sino 'yung makaka-gets sa kanya."

Smash cut to over a decade later, and the 29-year-old is proud to call herself a cinematographer by trade, having decided that looking through the lens and creating her own images is where she feels most fulfilled. Cesca's IMDb profile now lists over two dozen credits across several departments and an even wider variety of projects—from a mainstream romantic comedy, to intimate indie fare, to films dealing with all sorts of horror. "Gusto kong isipin na I'm a versatile DP [director of photography]," she says. "Bigyan mo ako ng kahit ano, kaya kong mag-adapt sa 'yo."


However, the young cinematographer acknowledges how new she still is to this industry; she wouldn't claim to be a master of her craft just yet. Unable to go to film school, Cesca had to build the foundations of her creative work simply by asserting herself whenever she could. "Kung hindi ako nagwo-work, nakikisali ako sa shoot ng iba, nakiki-set visit, nakikinood," she says. In order to play her game in those early days, Cesca had to chart a path through whatever good opportunities she could find.

She could have just as easily walked a very different path, though. Before graduating magna cum laude in 2011 with a degree in mass communication and a minor in broadcast journalism, Cesca thought she would follow through on her goal of heading to law school—a goal partially influenced by her early interest in social organizing. But her communication studies swerved her off that path, reviving her childhood dream of becoming a newscaster. "Nung bata ako, gusto ko lang umappear sa TV," she remembers with a laugh. "Yung pinaka-dignified [na tao], at least in my head, are journalists."

Three of those journalists who would become indirectly responsible for Cesca's film career were Cheche Lazaro, Maria Ressa, and Luchi Cruz-Valdez—who together formed the core of the acclaimed documentary TV program
Probe
. Cesca remembers finding something to aspire to in these strong women doing important work. So as soon as she graduated, Cesca applied for an internship at their show, and she was hired as a production assistant a month later. She continues to contribute to
Probe
shoots today.
"I owe a lot of my discipline to
Probe
. They taught me to be an all-around person," Cesca says, crediting the series for training her in research, conducting interviews, and writing scripts. However, being around cameras so often meant that the alluring puzzle of cinematography always found a spot at the back of her mind. Eventually, Cesca started making time for gigs on film sets.
At this point in our interview, Cesca launches into a long, impressively detailed account of nearly every step in her career so far. The thing that's really striking about her story, however, is the giddiness she still displays for every milestone. Each experience seems to be equally precious to her, no matter how long ago it may have occurred. Be it her first time observing a DP at work (Lee Briones, shooting
Anatomiya ng Korupsiyon
by Dennis Marasigan—Cesca's former professor), or her experiece doing behind-the-scenes documentation for her first Metro Manila Film Festival entry (Marlon Rivera's
My Little Bossings
in 2013), Cesca holds on to every experience and every connection made as a significant step forward.
After her stint at Probe, Cesca learned the ropes of producing and production management from director Jim Libiran, who was already familiar with her work on the TV program. From there, she found regular producing work with her first core group of collaborators: Joel Ferrer, Jet Leyco, Miko Livelo, and Phyllis Grande, as part of the production team PunchKick.

However, several projects later, Cesca felt that her producing work just couldn't scratch the particular filmmaking itch that she had. Despite the success she was beginning to enjoy, Cesca was afraid she would end up running in place, typecast. As she puts it, "If people just know you as a producer, then you're a producer." So on New Year's Day of 2013, Cesca made a resolution to herself. She grabbed a marker and wrote on a stone—quite literally, itinaga sa bato—"Magiging director-DOP ako." Around a year later, Cesca finished her final gig as a line producer, for Kip Oebanda's Tumbang Preso.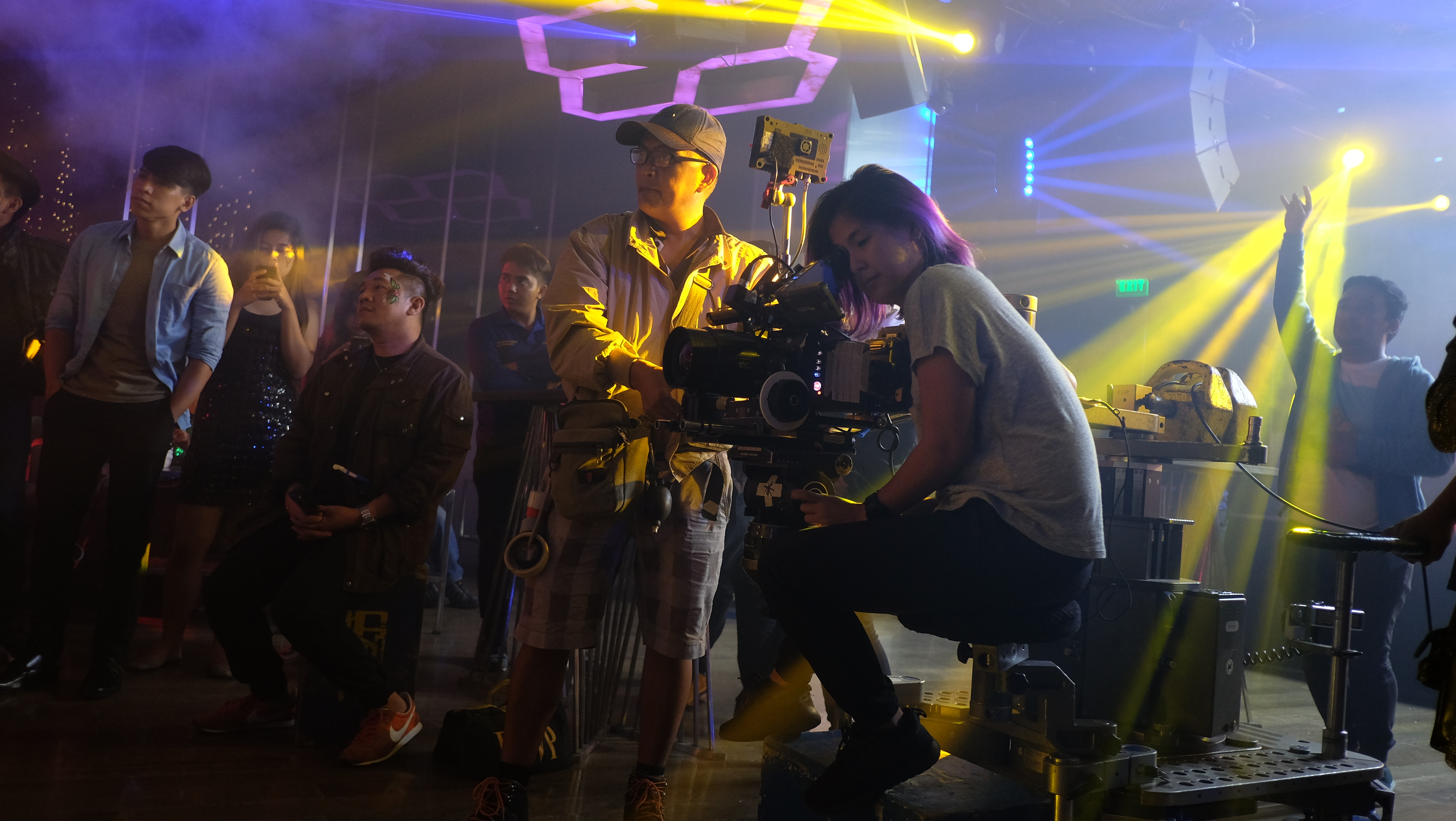 Cesca's decision to commit to cinematography full-time wasn't easy, especially for her parents. "They did not understand the long hours, they did not understand why pag-uwi ko galing shoot, tulog ako buong araw," Cesca says. For a few uncertain months as she sought out gigs with cinematographers, Cesca's mother and then-OFW father felt that it would be easier for her to resume the law school dream, or at least find a stable corporate job. After all, she had graduated with honors, which potentially meant greater employability and a higher salary. However, her friend Petersen Vargas soon pointed her toward a cinematography internship for Derick Cabrido's Children's Show, and later, for Enzo Williams' Bonifacio: Ang Unang Pangulo. There was no turning back for her now.

Cesca knew that picking up her own camera after several years of producing wasn't exactly a lateral move; she would need to prove herself all over again. But as Cesca began to take on more work, she had the good fortune of falling in with many people she would come to regard as mentors. From Lee Briones she learned the soft skills of being responsible for the people in her department. From Dan Villegas—whom she camera operated for, for English Only, Please—she found the discipline needed to manage the technical aspects of her craft.

But perhaps the best advice Cesca received—the words she carries with her especially dearly—came to her after she started to see that women cinematographers weren't trusted as easily with a job so technical and equipment-heavy. She had experienced being turned down for work because the productions wanted male DPs who could supposedly handle more complicated camera set-ups. "Everybody assumed that I was like this little girl on set, so 'pag nagbibigay ako ng instructions, boys wouldn't follow instantly," Cesca says. "I tried to change myself. That's when I started coloring my hair. I had to lessen 'me' for a certain period of time and be a bit more boyish, a bit more kanto."

Frustrated, she opened up to Bonifacio DP Carlo Mendoza, asking if she was too emotional for the job. Mendoza told her no; in fact, her emotions were her strength—valuable tools she should be able to bring with her to shoots. "How can you light a romantic scene when you do not know romance, and how are you gonna light a horror movie if you do not know fear?" Cesca recalls him saying. "Na-assure ako doon, na I might be too emotional for people, but I guess those emotions I could use." She still enjoys dyeing her hair, though.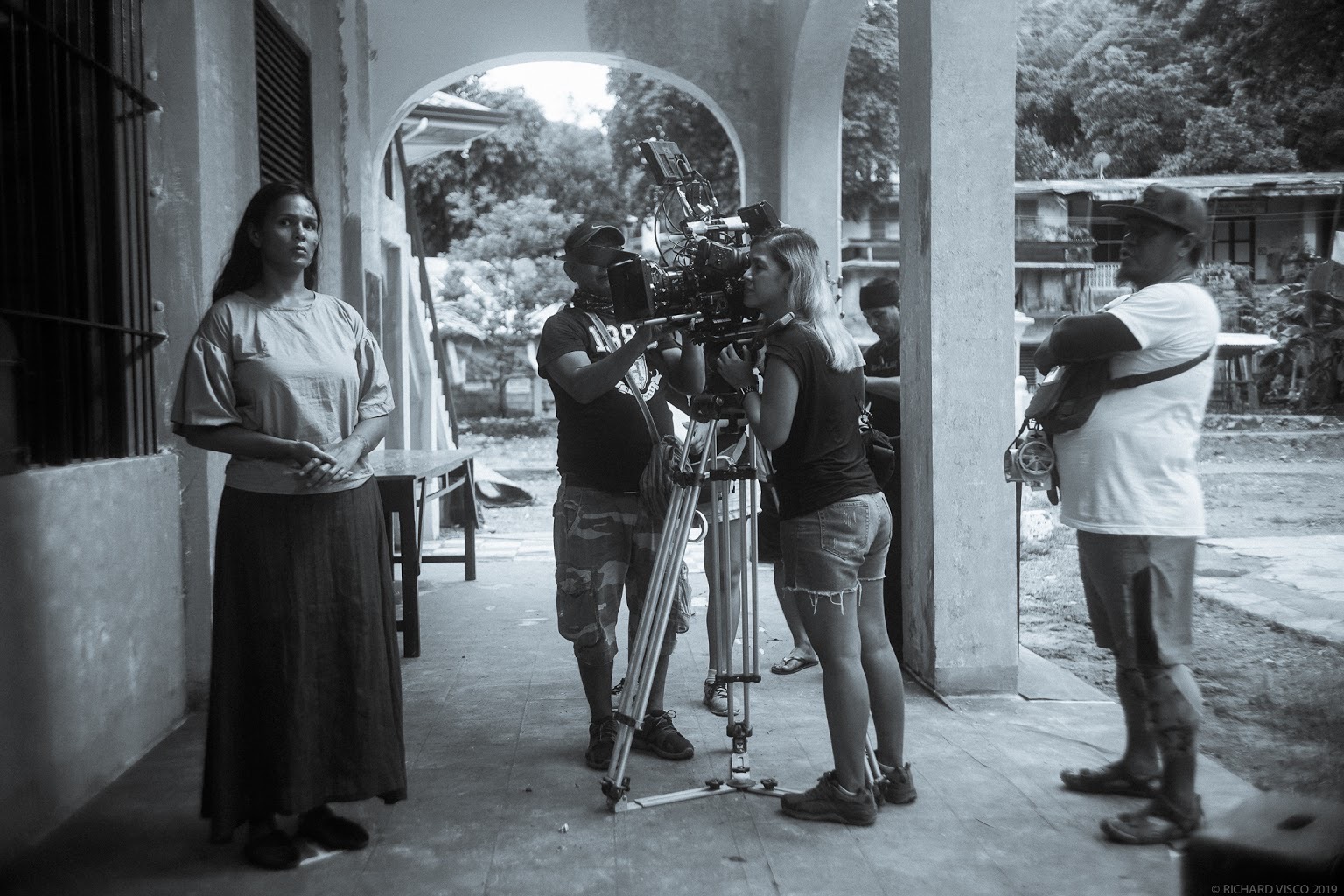 Mendoza's words resonated especially strongly with Cesca, whose creative process has always been rooted in the emotions of a scene and never deliberately patterned after the techniques of industry masters. "I didn't grow up watching film. I didn't get to see that many," she admits. "When I was starting out, mas kabisado ko ang mga Star Cinema rom-com than the works of the great directors."

Even after having learned about Ishmael Bernal and Lino Brocka, Cesca still thinks of herself as the same hopeless romantic she's always been. Her favorite movies are appropriately idealistic; she readily cites What Dreams May Come as one love story that's really stayed with her, but also sees something romantic in a film like Pan's Labyrinth. In her own words: "The innocence, the idea of a perfect world, a better world—but you have to suffer first before you get there."

There's an emotional intelligence to the way Cesca perceives and tells stories. Nowhere is this clearer than in her work for her first feature, the Sinag Maynila entry T.P.O., directed by Joselito Altarejos (whom Cesca had already camera operated for, for Jino to Mari). Working with a limited budget, Cesca suggested a cost-effective way of portraying the prison of domestic abuse: a one-camera set-up, fixed perspective, and the protagonist, Teresa (played by Mara Lopez), always on the left side of the screen—an inversion of the saying "the woman is always right," according to Cesca.
"Bigyan mo ako ng kahit ano, kaya kong mag-adapt sa 'yo."
The idea here was that the protagonist's husband, Miguel (Oliver Aquino), would be free to invade Teresa's side, while Teresa would only cross the threshold when being hurt by Miguel. "Tapos ang color lang na lalabas is red. It's romance for the guy, it's passion. But for the girl it's pain and it's heartbreak," Cesca says, and then smiles. "May game na kami doon!"

With her first feature under her belt—together with her first nomination for cinematography at the 2016 Sinag Maynila awards—Cesca diligently started expanding her filmography. She experimented with colors for Altarejos's next feature, Tale of the Lost Boys (which saw Cesca shooting in Taiwan), and for Derick Cabrido's dystopian drug war drama Purgatoryo, which she co-DPed with Mycko David.

"I have gained enough merit to be introduced by my work, or as a person."
For Cesca's first mainstream project, the 2018 rom-com Ang Pambansang Third Wheel, she found a kindred spirit in director Ivan Payawal. "Parehas kaming go-getter," she says. "It's more than just a work relationship. We really just meet and sit down and have wine on random nights." Both advocates of a more emotionally-attuned creative process, the two filmmakers decided to draw inspiration from the film's title. "Dahil third wheel siya, most of our shots are naiipit si Yassi [Pressman] in the frame," Cesca explains. "And then if not, the camera's always moving like a wheel."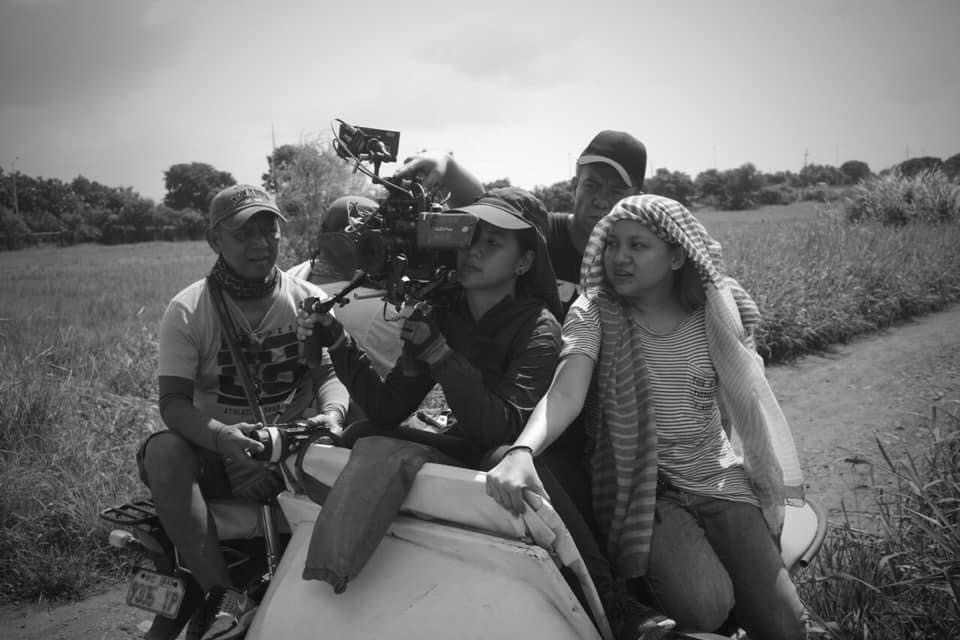 For Carlo Catu's psychological sci-fi thriller Mga Anak ng Kamote, Cesca employed the use of different lenses and aspect ratios to represent Iyong's (Katrina Halili) returning memory and expanding consciousness. For Kenneth Dagatan's horror film Ma, she had the difficult task of lighting exteriors during a typhoon. And for Dustin Celestino's 2019 Cinema One Originals entry Utopia—for which Cesca was also nominated—she kept her camera locked in place, allowing the characters to move independently within the frame.
Cesca doesn't deny that every project comes with its own difficulties, be it a limited budget or strained coordination between departments. Still, she considers herself immensely blessed that she hasn't lost herself and her sense of wonder to her filmmaking career. "One thing I'm proud of," Cesca says, "lahat kasi ng film ko [line up with] my ideals as a person. I'm doing women's stories, I'm doing children's stories, I'm doing sociopolitical stories. It's still very me."

With Cesca having proven herself as a skilled and versatile cinematographer, one would think she's finally made it. But if she's learned anything about her game, it's that it ultimately isn't about her. "You cannot do your job alone. 'Yun 'yung aaminin kong fault ko when I was younger," Cesca says. "When I was starting out, 'pag may gusto ako, ipu-push ko. And I learned it's not the right way. It's not just my film; it's our film, kasi collaborative siya."

This group effort, as Cesca has learned, must also move beyond the images on the monitor. As a young woman in the industry, she acknowledges that discrimination still occurs. Actresses still hear crude remarks aimed towards them, women on set still have to put up with inappropriate behavior from their superiors, and filmmakers like Cesca still experience being defined by their connections to men.

"We do not diminish our women into being just someone else's something. 'Yun 'yung nakakainis. At 'yun 'yung alam mo pa ring hindi pa mawawala in a set-up that is still male-dominated," Cesca says steadfastly. "I have gained enough merit to be introduced by my work, or as a person."

Cesca knows she is fortunate enough to be able to voice out her concerns about on-set conditions. And yet the battle for ideal working systems continues for the film workers under Cesca's care. Her crew barely has the time to sleep or eat breakfast in between endless, demanding shoots for multiple clients; they arrive on set earlier than everyone else, and are left behind to carry and ferry all the equipment to the next location—all for minimum wage.

"Pilay tayo 'pag wala sila. 'Yun 'yung gusto kong maintindihan ng mga producers," Cesca states. "You cannot just get mad at these people because you do not know their job." She does what she can—planning ahead so that "her boys" get ample time to rest, as well as negotiating their fees with the higher-ups. But Cesca also knows that the game needs to evolve for the entire industry.
Together with her friends and mentors in cinematography, Cesca pushes for a better working environment as part of the Lupon ng Pilipinong Sinematograpiya, formed in 2019. "Without a proper system, without a proper union, 'di siya magcha-change e. And ayokong tanggapin na ganun na lang siya," she says. Thanks to her passion and the passion of her peers across all departments, other film workers might not have to accept this status quo for much longer.

But until then, the work must continue as it always has. And Cesca's game rolls on, certainly more complicated than it had seemed when she wrote that New Year's resolution on a stone. Where she might have once seen direction, cinematography, and all the other elements of filmmaking, she now sees forces that push the industry forward, but also hold it back. And she now recognizes the faces of those worth fighting for. Cesca knows she's done trying to prove her worth; she has what it takes to write the rules herself.︎

Emil Hofileña is a writer and graduate student based in Quezon City. His work has been published in the Philippine Daily Inquirer, Rappler, Young STAR, and Rogue Magazine.