Dan Matutina's Moment of Zen


by Jonty Cruz
Photos courtesy of Dan Matutina.


Designer and co-founder of Plus63 Design Co. Dan Matutina talks about working his way through 2020, what he wants to see in 2021, and how he views his career today.
A
t the start of the year, I texted a colleague asking how he was. "Tired," he replied. I wrote back: Do you feel like everyone exhausted themselves creatively last year to cope with the pandemic—to the point where we're all looking at 2021 and it feels pointless to do it all over again? We discussed it for quite some time but I still found myself wanting. The question still stuck in my head as I felt compelled to ask it to someone else. What can we do and where can our creativity take us, especially when we continue to be stuck at home? If 2020 acted as some blank page for us to try new things, what is it that awaits us once we turn it? What, if anything, does 2021 offer us that isn't just a sadder version of 2020?
I decided I wanted to talk to Dan Matutina of
Plus63 Design Co.
about all of it. I've come to think of design as a means to articulate the abstract. Can the designer's ability to make sense of things work as a kind of philosophy to explain what we're all going through? That may be a lot to ask of Dan Matutina, but from his work alone one can see a natural sense of structure and balance. Perhaps Dan could provide some insight on 2020 and, more importantly, on things to come.
︎


Dan has been a designer since 2003. His work has been published in Wired, Fast Company, and The Wall Street Journal, just to name a few. He was an art director at Harrison Communications, and then a partner at Idea!s from 2006 to 2011. He co-founded Plus63 Design Co. in 2011, and to this day serves as partner and designer. Dan (and by extension Plus63) is seen as one of the top names in Philippine design. The studio has worked with everyone from the country's best restaurants and publishing companies to the biggest conglomerates both here and abroad. In 2018, Plus63 joined three other design studios (Inksurge, The Acid House, and KM Interior Design) to form the
Hydra Design Group
.
While working as a graphic designer, Dan was also a lecturer at U.P.'s famed College of Fine Arts from 2006 to 2011. Perhaps that's why, when Dan speaks, it's easy to imagine that I'm part of a design masterclass. There's an authority to his words that's neither pompous nor patronising. You feel you're being taught and not told. And for a topic as overwrought with stress and heartbreak as surviving a pandemic, a calming voice can be that beaming light just beyond the storm.
I talk to Dan over Zoom in early January as he shares his experience working through the difficulties of 2020, the things he wants to see in 2021, and how he wants to reshape Plus63.
The following has been edited for publication.
Dan at his office in Hydra Design Group.
Out of Print:
Do you feel your creativity was exhausted last year?

Dan Matutina: The first few days
nung
lockdown,
grabe 'yung
anxiety
ko
. I think one of the rare moments
'yon. Hindi naman sa hindi ako nase
-stress, but ever since I was a student, after graduation, even
sa
stressful situations,
hindi naman ako nagkaka-
anxiety attacks. In general, even-keeled
ako
. But
'yung
first two or three days [of lockdown], first time
ko na
feel
'yon. May
friend
ako nung
start
ng
lockdown who asked if I wanted to help frontliners through PHCAN [Public Health Communications Advisory Network].
Tapos nung dini
-discuss
'yung
[potential] numbers
ng
cases,
dun ako na-
overwhelm.
Dun ako napaisip na,
"Oh shit,
mamamatay tayong lahat!
" That time
na sa
condo
lang ako sa
Makati and
ini-
imagine
ko ilang buwan ako dito sa kahon na 'to?
So
buti nakalipat ako
and
ngayon may
open space and
nakakalabas-labas ako
. So
nakabalik na ako sa medyo luma kong lagay na
even with all the stressful situations.
Medyo naka-
adjust
na 'ko.
I won't say
na hindi naman ako pagod
but
ang
natural reaction
ko kasi
—apart from
'yung
anxiety attack—during stressful periods or moments is,
ano 'yung puwede kong gawin para sabayan 'yung
situation? Compared to [pre-pandemic],
mas
productive
ako
now.
It's funny you say that that's what you felt at the start of the lockdown because that's what I feel now at the start of the year. Parang nung start ng lockdown and the months after, people got to try and create new things while under quarantine. Now I keep thinking: Do people still have that sense now? Or do they want to go back to what they left behind before the pandemic? How are you approaching your 2021?

Coming into this year, one of the things I'm looking forward to is hiring new people. Since
umalis na si
Rax [Maniqiuz]
, and hopefully
si
Jo [Malinis]
mag-sarili na rin
soon. [
Ed's note: Since this interview, Plus63 has hired a new designer.]
Naisip ko
, at this moment,
puwede kong i-
reform or reshape
'yung
studio. I guess the reason why this works for us is because we're so small.
Parang ine
-embrace
ko 'yung
possible changes.
What changes exactly?

Ang dami ko ring naisip. Syempre
over the lockdown
ang dami kong binasa
, and I talked to different designer friends all over the world. And
'yung
one constant
nun
was: what could we do to make the studio more adaptive to what's happening?
Ngayon wala pang
clarity
'yan
but
maraming
"what ifs."
Gusto ko kasi talagang gawin
since before
na maging parang
"investor"
pero
design
'yung magiging
contribution
ko. Kasi wala naman kaming pera
so
'yung
contribution
ko 'yung
design thinking. So one thing I'm looking forward to is a different interpretation of that idea.
'Yung isa pa, ang dami naming
client work
na hindi na pala kailangan ng
face-to-face meetings. [Laughs] And well,
ako, hindi ko rin naman pinilit lahat sa
studio
maging
productive.
Sinabi ko nga sa kanila na huwag kayo ma
-pressure.
Iba-iba talaga tayo mag
-deal with stress and anxiety.
If hindi kayo
as busy as me, okay
lang sa'kin
. Okay
lang ako na marami akong ginagawa
. [Laughs]
That's one of the things I was hoping to talk about. You never seem to run out of work. Like for one thing, you do a lot of talks.

I think the reason why you see me in a lot of talks, [laughs] is because
nagye
-yes
lang ako sa lahat
especially
sa
schools. Super rare
ako mag
-no. 90% of the time
nagye
-yes
lang talaga ako.
I guess
kung sa
school,
iniisip ko
maybe
may maitutulong ako
and
masha
-share
'yung
experiences ko with students. During this pandemic, once
lang ako nag
-no to join a talk
kasi wala talaga akong maco
-contribute
dun sa
talk. It was about industrial design and ergonomics. [Laughs]
You've been part of talks about the state or future of design. So in your opinion, what's the future of design?

I think it's very apparent now
na sobrang
necessary
talaga nung
way of thinking of creatives and designers in uncertain times. We always say the advantage of designers and people who think creatively is their ability to adapt. Specifically these last several months
ang dami talagang mga
designers
na nandun
to support the frontliners. From facemasks to communications,
nakita mo talaga na sobrang
necessary
ng
designers in times of uncertainty. So
'yung
future, to answer your question,
medyo
optimistic
ako
in terms of what we can do.
'Yung hindi ako
optimistic is obviously the things we can't control like governments and policies.
[In some ways] I think that's going to change soon. In the last five years, we've seen the government interfacing with the creative industries. So
parang
we're getting a seat at the table
na rin naman.
Dan at a talk he did for Fabrica in 2016.
From an outsider's perspective, there's something about the way designers think that might be useful for people who aren't in that industry. Over the last several years, you've grown to be seen as one of the leading voices in design, and even as a mentor to younger designers. And I'm really interested to know how you feel about that.

I guess
may
sense
na sobrang
approachable
ko lang sa
younger designers who want to reach out and ask for help.
Hindi lang
from the ones who worked or interned here
sa
studio, but
'yung mga nagse
-send
lang ng
questions or
nage
-email. I think it's brought about from my experience as a young designer.
Isa kasi 'yon sa mga
hurtful things
na na
-experience ko
kapag nage
-email
ako sa mga
idol
kong
designer,
tapos hindi sila nagre
-reply.
Hindi naman nila kasalanan 'yon.
I'm sure super busy
sila
, but
inisip ko
, if I were in their situation,
inisip ko rereplayan ko lahat ng nage
-email
sa'kin. Hindi ko alam 'yung
percentage
ko
, but tingin
ko hindi bababa ng
90%
'yung
rate
ko
of replying to emails.
And over the pandemic, [I participated] in Indonesian designer
Januar Rianto's
Design Drive-Thru
—
nagbigay kami ng
advice
sa
businesses and
sa
designers.
Ang dami rin
at that time
na hindi ko kilala
asking for portfolio reviews. I guess
'yon 'yung pagiging
"mentor"
ko
but
hindi siya tipong
formal mentorship.
Kasi 'yung
actual advice
na binibigay ko
is never really specifically about the actual work but more of the general thinking or how to deal with certain things related to the industry.
It's clear how you help those who ask you over email, but how are you with your team in the studio?

'Yung
context of our set-up sa studio, I think
malaking
factor siya.
'Yung iniisip ko kasi
as someone who owns a small studio,
paano magle
-level-up
'yung mga tao
in that company?
Syempre andyan na 'yung may-ari
and then
kayo
. So
kahit na mas magaling ka sa may-ari, 'yung may-ari pa rin 'yung
top. [Laughs]
May
dead-end
talaga
. So
'yung
idea
ko
is for them to grow out of it.
Ganun sila magle
-level-up.
'Yung
"secrets"
ng
studio,
'yung
pricing
namin sa
clients,
sinasabi ko sa kanila. Halos wala kaming
secrets to our designers of how we run our studio. The idea is for them to care about the studio but not be burdened by it. And I encourage them
na mag-raket sila
. One thing I learned as the head of the studio —even if
may nagkamali na
designer,
na may nakalimutan or naiwan, hindi naman nila kasalanan 'yon, kasalanan ko 'yon. Ako 'yung
head
ng
studio and
ako 'yung nag
-approve
ng
work.
'Yung
idea of "command responsibility,"
gusto ko ma
-experience
nila 'yung
feeling
na 'yon
but on their own terms or in their own work. If
rumaraket sila, lahat nung
weight of the decisions
nasa kanila. 'Yon 'yung dalawang
parallels of working with us in the studio. In some ways the studio was built for them to eventually start their own thing. Invested
ako sa
future
nila
and
kung anong puwede nilang gawin
.
Dan with the Plus63 team back in 2017: (L-R) Jo Malinis, Bernice de Leon-Yumul, Sheena Hotz, and Raxenne Maniquiz.

There's a sense na hindi ka nagagalit, o nahihirapan kang magalit. Ganyan ka na ba talaga dati pa—or did it stem from an experience like emailing your idols?
Hindi ko alam kung masasagot ko siya
but even
nung bata pa talaga ako, ganun na 'yung
temperament
ko
. Obviously
hindi naman siya
genetic but
hindi ko alam kung bakit ganun ang
temperament
ko. Pero mahaba talaga pasensya ko. Iniisip ko rin na, dahil ba hindi ako
natural leader? Looking back at it,
nung nasa
grade school, high school, and
sa
university,
hindi ako 'yung mahilig maging
leader
sa
group work.
May sarili akong iniisip
, and clear
sa'kin ano 'yung gusto kong gawin
. And I think
'yon 'yung nakatulong sa'kin
working with other people—
na dahil
never
din talaga ako naging
leader,
kung ano 'yung
role
na gusto niyong ibigay sa'kin, gagawin ko 'yon
. Maybe
'yung
assumption
ko lang
—since I've been in a lot of positions where I was a follower, the rank-and-file—
naiintindihan ko 'yung pinagdadaanan nila.


I do see that reflect in your work. It's very calm from the sense of structure and order. I'm curious if that's what brands look for when they go to you. Or is there a sense—to put it bluntly—that they go to Dan Matutina because he's Dan Matutina? Without knowing what your style is?

[Laughs] I think
maraming
client
nga na ganun
.
Does that bother you?
Hindi ko alam kung lahat ng
studio
parang kami, pero ako pakialamero talaga ako e. 'Yon 'yung wina
-warn
ko sa lahat ng
clients
namin: na nakikialam kami sa lahat ng
aspect
ng
work
at nagtatanong kami.
Obviously
kung ayaw nilang sagutin 'yung mga tanong namin
, okay
naman
. But
may
times
na sasabihin nila kung ano'ng gusto nilang mangyari, tapos parang sasabihin ko
, okay
dahil 'yan 'yung gusto niyong mangyari, parang ayoko na siyang gawin.
[Laughs]
Hindi naman ako mahu
-hurt
kung hindi mo gusto 'yung ginawa namin pero 'yung
point
ko lang, dapat klaro kung ano 'yung gusto mong sabihin. Hindi puwedeng
subjective
na hindi mo lang
type. In a way
, diyan ako
strict.
Hindi naman ako nakikipag-away pero
strict
ako
whether big or small client
'yan
or conglomerate, same
'yung
response
ko na
explain
mo sa'kin kung bakit 'yan 'yung
comment
mo
. In that regard,
kung gaano ako ka
-loose with how I run the studio,
ayaw ko ng
subjective comment like "cool" or "
hindi ko
type." [Laughs]
Ang hirap mag
-move forward or improve
kung hindi klaro 'yung
comments.
'Yan 'yung natutunan ko
when I worked in advertising. One thing I really learned is it's only about the work and
ano 'yung ikakaganda nung
work. It's never about the feelings.
Hindi naman
personal
'yung
comment
sa
work.
Nakakatulong 'yung ganung
open line of communication.
Mas
clear and
mas
transparent.
"Nae-excite ako na maraming bata na magagaling na parang gusto ko silang "labanan" sa laro. Gusto kong malaman kung hanggang saan ako makaka-compete sa kanila. "


I'd like to ask about where you are now in your career. I was talking to a veteran designer and he said that design is really a young person's game. 'Di ko naman sinasabi na hindi ka na young, but how do you feel about that statement?

Personally,
nae
-excite
ako. Nae
-excite
ako na maraming bata na magagaling na parang gusto ko silang "labanan" sa laro. Gusto kong malaman kung hanggang saan ako makaka-
compete
sa kanila. Hindi ko alam kung
sustainable
siyang gawin
. [Laughs] It may not seem like it
pero sobrang
competitive
ko
.
'Yung
creative business, it's built on you sustaining that creative energy all throughout. No matter what the output of that energy is.
'Yon 'yung nagda
-drive
sa akin. Kasi hindi lang naman sila yung mga gusto kong
—for the lack of a better term—
sabayan. Kasi
even
'yung mg
a designer friends
ko sa ibang bansa, gusto ko ring sabayan. 'Yon 'yung
thinking
ko
all the time,
na gusto kong subukan, gusto kong makita hanggang saan 'yung kaya ko
.
Is there a young designer right now who's really caught your attention?

Actually,
marami
. Like
si
Karl Aguro ng Uncurated Studio.
'Yung ginagawa niya gustong-gusto ko, pero mas gusto kong makita kung anong gagawin niya
after
ng
stage n
a 'to. Si
CMYKa
, she's based in Cebu.
'Yung
work
niya, kumbaga stino
-stoke
'yung
fires
ko
to try something like that.
Para lang makita ko kung kaya ko 'yung ganyang linya na 'yan. Sila
Bad Student
.
Sobrang gusto ko 'yung ginagawa nila at gusto ko rin makita 'yung
expression
nila
more,
kasi nagbu
-blur
'yung
lines
na
printer
sila
and
'yung pagka-
designers.
To flip the question a bit, nung student ka pa lang or when you were just starting your career, sino 'yung mga iniidolo mo?

Nung estudyante pa ko sa
U.P.,
sina
Rex Advincula (Zylonzoo)
talaga 'yung mga
badass.
'Yung pinakasikat na
forum for local designers then was
PhilWeavers
. Mostly
mga
Filipino web designers
'yung nandyan. 'Yan 'yung
forum or org
na gusto ko maging
member
kasi lahat ng mga
idol
ko, andun silang lahat. Nung bata ako, may isang
website
na tinitingnan ng lahat ng
designers
sa buong mundo, 'yung
Halfproject
.
'Yung gumawa nun sina
Drew Europeo (Grafikas)

at si Rex. 'Yung isa, naging
friend
ko pa siya sa
U.P.,
si
Niccolo Balce
, illustrator
siya. Silang tatlo 'yon. Si
Nicc,
siya 'yung nagturo sa'kin nung
blogger, and
kung paano siyang gamiting
CMS. So
kahit nung umuwi ako sa Tacloban, nagagawa ko pa rin siya. Ngayon
typical
na siya with
WordPress,
pero nung
time
na 'yon wala pa
, and
siya 'yung nagturo sa'kin.
Marami talagang
designers
noon
like
si
J Lucas Reyes
(SushiHendrix). Wedding photographer
na siya ngayon, pero
before
'yung
designs
niya 'yung medyo
"classy"
na
graphic design
na gusto ko. Isa pa 'yung
PageDown.
Si
Aram Beheshti
at si
Randell Centeno
, and
Jayson Arquiza
,
sila 'yung
pagedown.net, and
'yung
claim to fame
nila, sila 'yung
first PDF-based website.
Ang ganda, parang
magazine
'yung ginawa nila.
Inisip ko talaga na gusto ko maging ganyan, katulad nila. Sila
Rex
at si
Drew,
grabe 'yung mga ginagawa nila
before.
Parang sinasamba talaga 'yan ng mga
designers. I guess
napaka-
niche
siya nung
time
na 'yon na kami-kami lang nakaka-
appreciate compared to now.
'Yung
timing
lang talaga na hindi pa medyo
viable
noon
for a career,
kaya ngayon 'yung nagde
-design
na lang talaga
from that batch is Rex and Team Manila.
I heard legendary rin ang batch mo sa U.P.

Karamihan ng nasa
batch
ko naging
artist or
nasa
advertising. VisComm
yung
major
ko
,
mga
batchmates
ko nun
:
si
Mark Nicdao, Manix Abrera, JP Cuison, Jinggoy Buensuceso, Aileen Lanuza, Marielle Nadal of CraftMNL, and Bernice Yumul
na
partner
ko sa
Plus63.
Si
Mark Nicdao, seatmate and blockmate
ko
. Friend
na
friend
ko talaga si
Mark.
Sobrang
happy
talaga ako na naging sobrang
successful
niya. May mga lumang
drawing
pa nga ako ni
Mark e.
Mahilig siya mag-
drawing
ng
figures.
Si
Manix
ka-
batch
ko rin. Sobrang
good friend
ko rin. Si
Raffy Lerma
rin pala.
[And then]
Sa
Fine Arts
na
Major in Painting,
sina
Marina Cruz, Maria Taniguchi,
tsaka si
Paulo Vinluan.
'Di ko na maalala
if
meron pang iba. Si
Maria Taniguchi,
magkaklase kami
for a few days before
silang nilipat sa
painting bloc
nila. Na-
intimidate
talaga ako kay
Maria
kasi magaling talaga siya. Ibang
level
talaga 'yung galing niya. Pati 'yung mga
professors
galing na galing sa kanya. Hindi ko makalimutan 'yung isang
time,
may
talent test.
Sina
Maria and
'yung ibang kasama niya, si
Anna Cabardo and Miguel Lorica from Makiling Philippine High School for the Arts,
sila 'yung nasa harap ko sa
test.
Tapos lahat kaming iba takot na takot sa
test and
sila 'yung magagaling. Tapos kinakabahan ako sa likod, na
—shit,
uuwi na 'ko sa
Tacloban
nito. Hindi ako papasa sa
test. So
nung nag-
start
'yung
test
tapos nakita ko 'yung ginagawa nila, mukhang
high school
'yung gawa ko
and
'yung sa kanila ang gaganda.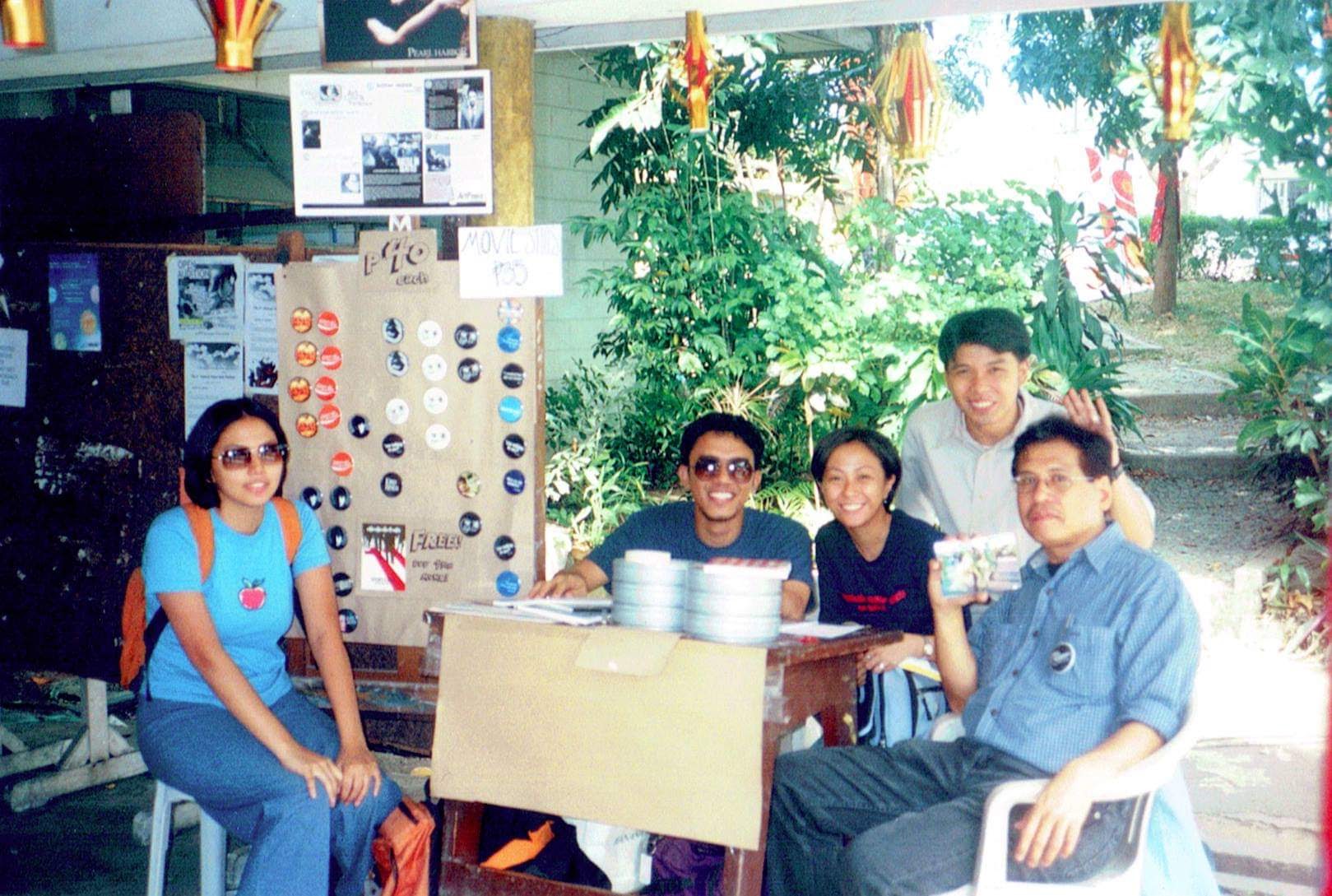 Dan back in his college days: (L-R) Niño Mateo, Ken Bautista, Dan, and Reybert Ramos. Second photo: (L-R) Joy Sta Maria, Mark Nicdao, Abby Frias-Teotico, Dan, and the late Professor Cesar Hernando.
Speaking of Tacloban, you did

an interview recently

where you talked about being in New York to receive the ACD Young Gun award when Typhoon Yolanda hit the Philippines. You mentioned how this achievement was overshadowed with all the concerns of waiting to find out if your family was alive back home. May I ask how did those events shape you moving forward?

Yung
experience
na yun
has made me become more involved in projects related to disasters or calamities. Prior to Yolanda (Haiyan) I've always worked with cause-driven organizations
na rin naman
, but
mas nagkaroon lang talaga ako ng
focus to disaster preparedness and response. The studio was involved with
Move Philippines
and
Earth Manual Project
with the Japan Foundation. I was also a participant in
Door to Asia
sa
Tohoku
nung
2015,
eto yung lugar sa
Japan
na tinamaan ng matinding
earthquake and tsunami. I went back in 2017 as the design director.
Tapos
, me and Dang Sering also did one here,
sa
Bataan
with the support of Japan Foundation, Bellas Artes Project, and Design Center of the Philippines.
'Yung
involvement
na 'to
was also apparent
nitong
pandemic,
dami kong ginawa
related to covid-19 (and its effects) from communication, to working with groups giving food to frontliners, fundraisers, campaigns, consultations with small businesses etc. We are also doing a project called the
Design Assistance Program
to help
small
food businesses
cope with the effects of the pandemic. This is a Hydra Design Group, Curiosity, and Photokitchen initiative.
Not to go super off-topic, but before I forget, a friend wanted to ask how would you design heaven?

Ang ganda nung tanong niya ah
. I think
kung ako 'yung gagawa
ng heaven…
kasi 'yung
usual
na ipapakita nila sa 'yo, puro
clouds and angels.
Ang gusto kong mangyari, lahat ng
good memories
mo nung nandun ka sa
Earth,
nandun sila sa 'yo
to experience again.
Isa kong naisip sana sa
heaven, borderless
lahat.
I guess
walang
hierarchy
rin dapat. Dapat
flat
lang. Ang iniisip ko pa, gusto mo ba talaga na puro
clouds
lang andun? Gusto ko naman sana may
specialty coffee shop
'di ba?
[Laughs]
I get the sense na religious ka dati pero baka mas spiritual ka na ngayon?

Well,
sobrang
religious
ng
parents
ko
so obviously
sobrang
religious
din ako pinalaki. Sakristan pa ako nun
. Memorize
ko pa lahat nun.
I think one of the reasons why
hindi na 'ko
religious like before,
kasi hindi na nagco
-connect
sa'kin 'yung bakit 'yung mga
religious
na kakilala ko, parang hindi naman sila
okay
sa mga ibang tao? 'Yung sa pagiging
spiritual, I guess half-true
siya. Ako kasi, sobrang
importante
sa'kin
how you treat people when other people aren't looking.
Dan in the fields of Donnellys Crossing, New Zealand.
"I think one of the reasons why hindi na 'ko religious like before, kasi hindi na nagco-connect sa'kin 'yung bakit 'yung mga religious na kakilala ko, parang hindi naman sila okay sa mga ibang tao?"
To bring it back to my original question: I was looking for answers from different places, and I felt design was a kind of philosophy that can maybe provide some guidance on what to do. It seems you were able to "survive" through work, and in a sense that's a blessing—that you had the opportunity to find work or projects during the pandemic. But for some, they weren't able to find the answer maybe because they didn't have similar opportunities. But what is it about being a designer that you can share as advice or as comfort?
Actually
maganda nga 'yung sinabi mo, kasi
obviously
may
advantage
nga ako
because people know me and my work.
Pero 'yun nga,
what if
baguhan ka lang, at hindi mo alam
how to navigate
'yung
situation or
kung ano'ng puwede mong gawin? 'Yan 'yung isang
reason why Plus63 did
The Design Graduate's Toolkit
.
Kasi inisip namin sa mga magga
-graduate,
ano 'yung puwede nilang gawin?
To go back to your question,
siguro 'yung
time
na 'to
, it's the perfect time to learn new things.
Parang naging
blank canvas
lahat. Naging
excuse
siya
or opportunity to learn new skills.
Kasi na-
experience
ko
before
na 'yung
thinking
ko
and
'yung
passion
ko sobrang
intense. And
dumating 'yung
point
na lahat nung
passion and
'yung
ideas,
hindi ko na ma
-execute
dahil wala ako nung
skill. The other thing I would say is read. Obviously, better if
marami tayong ginagawa
. If this year
magkaroon tayo ng maraming
time,
maganda magbasa. Malaki 'yung
effect
ng nagbabasa ka
and figuring out how you want to apply the ideas you've learned after.
Nakakatulong talaga siya sa 'yo
to deal with things.
What do you want to see in design, or what do you want to see from designers, in 2021?

Ang tingin kong maganda sa
design, or
isa sa mga puwede niyang magagawa
, is to respond to what's happening.
Ang
thinking
ko
whenever
may nangyayari, paano ko siya pwedeng ma-solusyunan
using design. For me
'yung
design thinking is more of the thought process of dealing with things and not necessarily
na may
concrete kang
magagawa.
If we all survive this pandemic,
ano 'yung nangyari, ano 'yung nag-
work,
ano 'yung hindi nag-
work. I guess
'yung isa na sobrang
interested
ako
—and I don't know
kung bago siya—naisip ko
is documenting
ano 'yung mga nangyari.
In terms of what the government did, or something else?

It doesn't have to be the government.
Lahat ng mga
things
na puwede nating matutunan
later on. I'm sure
'yung s
cientific community here in the Philippines is already doing this but maybe
'yung
creative community can also try and collate information and make it understandable for the general public.
The second thing I'd want to see is related to
the CIA rebrand
.
May isang
type foundry—
'yung
Grilli Type—'y
ung
font
nila ginamit ng
CIA for the rebrand.
Wala naman silang alam na ginamit 'yung
font
nila. Baka ginamit nung
agency who worked with the CIA but it brought about a discussion
na
maybe
'yung
end-user agreement
ng
fonts can say
na bawal 'tong gamitin
for certain organizations. The discussion became about the ethics of design. Interesting
siya
for me,
kasi 'yung
morality
iba-iba naman 'yon
for different designers. So where do you draw the line? Or PR
lang ba 'yan, na
you put on your site
na bawal 'tong gamitin ng diktador or apo ng diktador?
So I think
'yung
harder discussions of the ethics of design,
'yon 'yung gusto kong makitang pag-usapan
this year. Discussion—meaning
hindi 'yung i
-cancel
'yung mga nagkamali,
but
kung ano 'yung puwedeng matutunan.
Saan 'yung linya na ida
-draw
mo
for these things?
Ako rin, hindi ko alam 'yung
answer that will be applicable for everyone.
Klaro sa akin 'yung gusto at hindi ko gustong gawin
. As the design industry matures,
darating ka rin sa mga mahirap na
topics
na dapat pag-usapan.
Would you say design is inherently good?

Tingin ko, 'yung
design,
hindi siya
inherently good.
Tingin ko
neutral
siya.
But the designer is not. For me, the core of designing is to create solutions for problems presented to you. It can be used for both good or bad. You can use it for a dictator and you can use it for a human rights lawyer. But I'm hoping designers will use it for good!︎
Jonty Cruz is a writer and creative consultant based in Manila.