Growing Up with Rome Gomez


by Andi Osmeña

Banner photo by Telle Ramos.
Photos courtesy of Rome Gomez.


The 25-year-old musician reflects on his early career while drawing up plans for more intentional creativity.
R
ome Gomez is back where he started — literally. For the past few months, he'd been renting a unit near his parents' house.
"I'm talking about the same radius. Like bro, can you not? Can you try something else?" he jokes. Rome returned to the Philippines to play a show at Wanderland 2020 when the notion of a pandemic was all but a distant threat. That is, until quarantine swept over the country prompting event cancellations for the foreseeable future. What was supposed to be a two-month stay in Manila turned into several (spent mostly under lockdown) but he doesn't mind at all.
"Manila will always be home to me. If I say I'm going home, I mean I'm going to the Philippines." Rome tells me of plans to move to a larger spot, in a different part of Metro Manila this time. Something new. Something more permanent. A place where he can rest and record. He didn't quite have the chance to travel within the country when he was younger, so last year, he set up camp in Subic for a change of scenery. There, he wrote and arranged a large part of his music project No Rome's debut album
It's All Smiles
with a couple of friends and bandmates.
Rome spent most of the past few months polishing the album and its visuals between Manila and London, using the best of what both cities had to offer. Recording vocals in Abbey Road Studios in Camden. Shooting music videos in Manila. Taking in culture and inspiration wherever he stepped. It was a chance for him to cultivate a continuous working relationship with The 1975, one that led Rome to impressive feats: an appearance at Coachella and a BRITS award, just to name a few. But after a five-year whirlwind of recording and tours, he's just happy to be here. Rome now no longer resembled the teal-haired neophyte I recognized from YouTube videos and the handful of live shows I managed to catch. Hair back to its natural color, but still cropped neatly into his signature bowl-cut. Rome wipes his glasses as we speak outside a cafe in Makati City.
"What's changed since you've come back?" I ask him.
"Now I feel like I'm ten times older," the 25-year-old musician replies.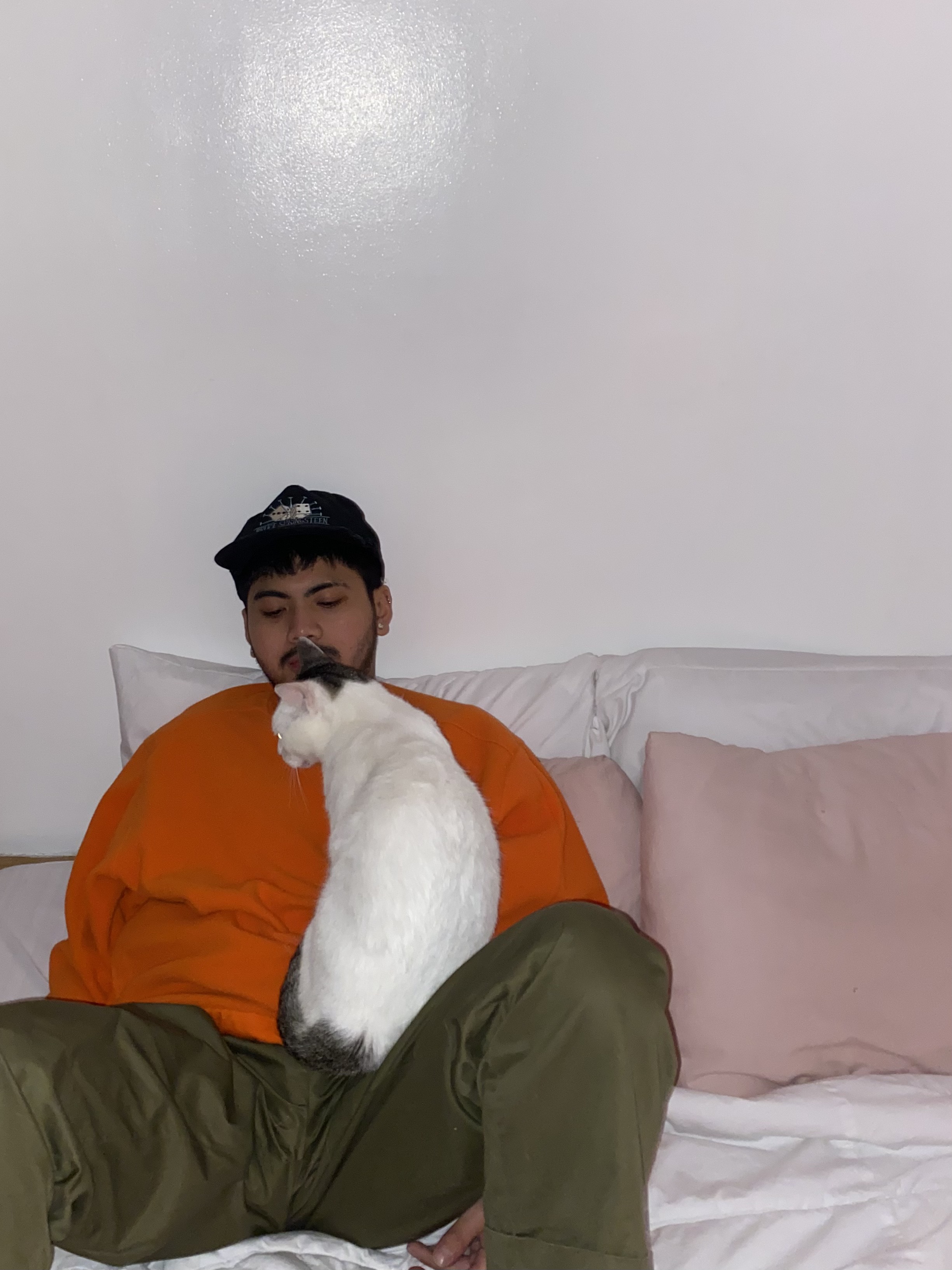 A self-portrait of Rome Gomez in his apartment.
"Dance! 123, Dance!"
Rome distinctly remembers this phrase from a beat his father made: an '80s new jack swing track that sampled him and his brother's voices. Everyone in Rome's family is a musician: his older brother, Zeon, performs as
U-Pistol
and leads the band
moon mask
while their younger sister, Gabriel, releases music under the name
aunt robert
. Rome's father was an avid hobbyist and devotee of '80s new wave — a former DJ boasting a collection of keyboards and synthesizers that would become his first tools for experimentation. Meanwhile, his mother worked lending her vocals to church events. Rome would cite Christian music played at home, the likes of Don Moen and Hillsong, as early exposures to folk and gospel. But impressions stopped there. He would later sing his praises at a different altar, spending his teenage years at local shows.
"I was like…the youngest kid in the room," Rome tells me of live gigs thrown by
Number Line Records
at Cubao Z, around the height of indie-electro. He would release his first two EPs, Fantasy and Hurry Home & Rest through the label. After that, the act No Rome became a regular fixture at Heima Brixton's barbecues, where he started to gain more recognition as a local artist. "Bong Rojales, the owner, would always book people like me. Me? I had nothing on my background. I was just a Soundcloud dude. It was cool that he put us on then," says Rome. "I got to meet people that I didn't even know existed."
When asked to clarify, Rome asserts that those weren't his first shows. He started on the noble path of a high school cover band. His then-bandmate Zeon recalls when they started to push past that, trying to impress a prominent local figure in local music who wanted to know if they had any original music to show. They didn't, but to Zeon's surprise, Rome said yes and started playing a loop he was working on. He was still learning the synthesizer at the time. "Since he and I kind of connect on a deeper level, I immediately took the hint and started improvising the melody on the spot." Zeon recalls. "I guess that person thought we were for real, and we got through the next round of auditions."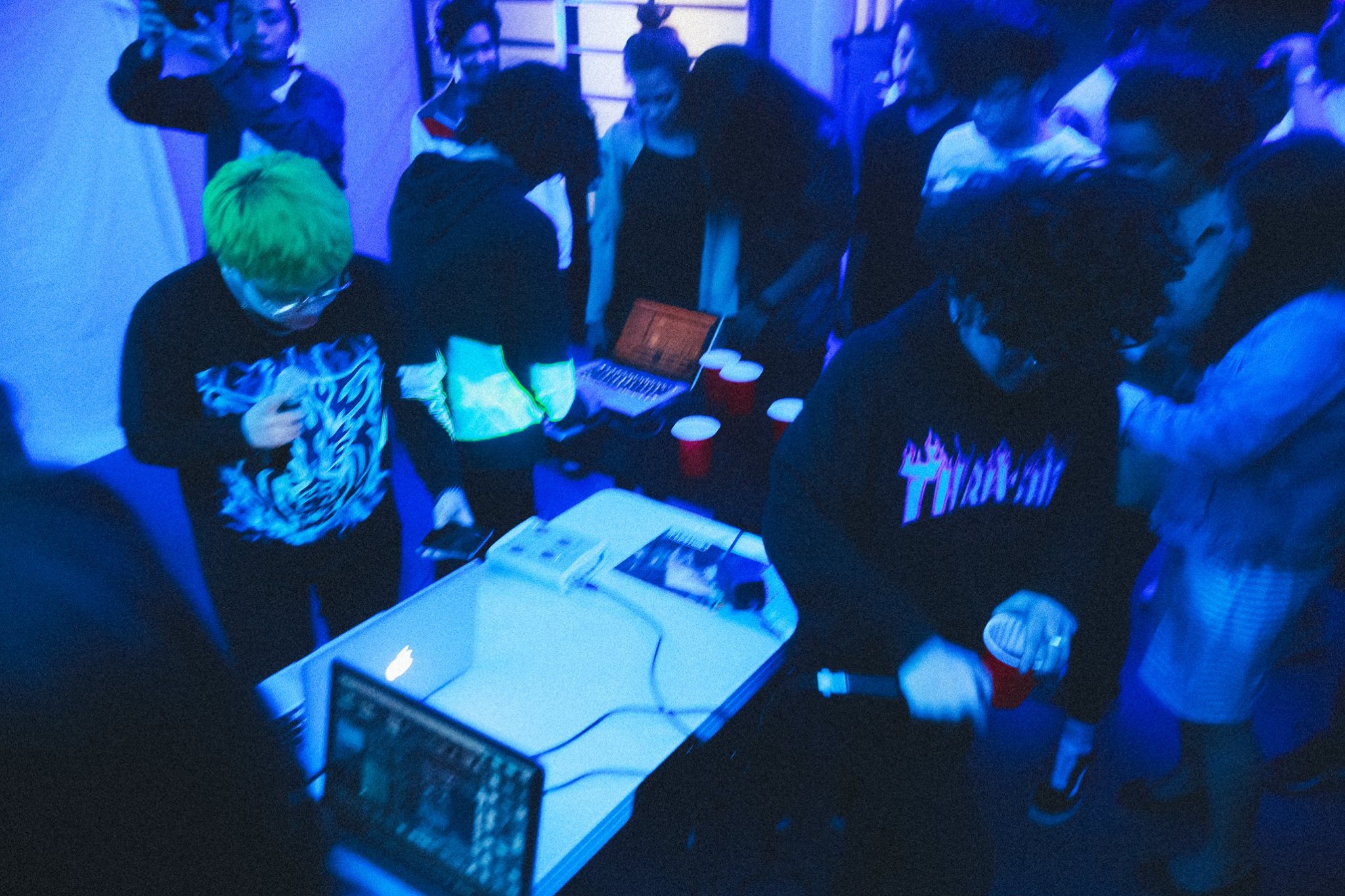 Rome and Zeon performing at a clothing launch in Parañaque.
As they moved through projects and monikers, the two brothers continued to collaborate. It often happened through skill trade: Zeon taught his brother how to arrange melodies while Rome shared his knowledge of music production. Together, they founded
Young Liquid Gang
along with Ethan Namoch (
What is Project Andromeda?
and
COEXIST
). "I guess growing up, the three of us didn't really meet a lot of people who were into the same shit we were doing," says Rome. So they used the internet to bridge the gap. Between the years 2012 and 2015, YLG ran as a collective of musicians, visual artists, photographers, managers, and graphic designers defying genre conventions and pushing leftfield ideas.
Musician Lean Ordinario (
LONER
) is one of many who were able to come into their own through YLG. The collective helped him recognize the value of his output, and allowed him to trust himself as an artist even more. He first met Rome by chance, making beats in a McDonald's outside their college. The two became fast friends, and Lean became No Rome's MIDI programmer and drummer for live shows, as he still is today. Lean tells me over email, "One thing I loved about Rome's gigs was how he took his visual presence seriously. He got Chris (another bandmate of ours at the time) to control a projector live and flash moving images on us while we were playing. No artist in Manila thought of that at the time for a performance and I believe that made Rome stand out a lot."
Around that time, Rome tells me they'd play "fuck knows, whatever" venue. Sometimes empty rooms. No matter what, Rome made sure to put on a proper show. "Me and my mates didn't have a car. So I'd be riding the bus with MIDI controllers," he recalls. "One of those big no-aircon buses, with 150 pesos in my pocket. And I'm scared for my life that somebody might steal my keyboard because it looks like, you know, something you could just grab and sell on the internet." Later in 2016, Rome spent seven months working in a call center to keep his musical endeavors going. Cashflow went into buying a digital audio workstation, gear, and spending on transportation. The shows were fulfilling (the job was not) but Rome was stuck with the puzzle of balancing it all. He was failing his classes at school. Circumstances were pushing him towards working at the call center full-time. On top of all of that, a breakup.
"Oh yeah, these were all the signs I needed to leave," says Rome. At the time, he had been talking to Sam Burgess-Johnson, a graphic designer who had worked with UK music label Dirty Hit. Though not expecting much from the exchange, Rome received the best news he's heard in a while: his demos had reached The 1975 frontman Matty Healy, who was incredibly impressed. An offer was now on the table. Rome threw one last farewell party, and packed his bags for London to join Dirty Hit's roster of artists alongside Rina Sawayama and Wolf Alice. "And it was a very 18-year-old thing to do," he says. "I didn't think about it. I don't know anybody. I don't know how the UK worked. I don't know what the groceries were called. I don't know where the pub is. I had nothing. All I knew was that I had to get out of here. And I had to make the most of it."
"All I knew was that I had to get out of here. And I had to make the most of it."
The last show No Rome played in the Philippines was in October 2019.
I watched from the ground floor of the Market! Market! Activity Center, the concert grounds for the night. My friends and I came early for a meet-and-greet. There was something about that situation that made us feel extra young.
Rome had been touring the US and Europe with his band, a lineup consisting of his close friends from college. That summer, I idly sifted through the online documentation of their life on tour. Photos taken by
Telle Ramos
at Jersey suburbs and England beaches. Some posed ones, some candid in front of an ever-changing backdrop of green rooms and tour buses. Rome tells me touring is his favorite part of being a musician if it weren't for all the waiting. If only he could hear the crowd singing back to him over-and-over again.
Rome in the UK with his 2019 touring band: Mark Paredes, Lean Ordinaro, and Marty Carsi-Cruz. Photos by Telle Ramos.
A month earlier, they opened for The 1975 at the Mall of Asia Arena, their biggest local show to date, but Market! Market! was their first homecoming solo show since Rome was signed to Dirty Hit. A little more personal. Rome pulled the stops to get as many of his friends involved. His friend and fellow musician
BP Valenzuela
supported the opening act and had previously done the same earlier that summer at Rough Trade, in their old Brooklyn outpost.
Lights out. The stage was empty again save for a neon sign of the No Rome logo glowing in electric blue. The band walked on to warm up their instruments, prompting a round of applause. From the front row I heard a man affectionately holler, "BABY BOY!" Rome — clad in a Slipknot shirt, 501s, and Doc Martens — tinkered with his guitar and keyboard as the swells of an ambient interlude cut through audience chatter, then the opening vocal chops of "Do It Again." He sang the opening lines while an animated visual by
Mich Cervantes
flashed on the LED screen behind him, and for the next 45 minutes, he let us into his world.
Rome sings devotedly, and spiels with a casual confidence. Rockstar demeanor, fitting for the arrangements that were retrofitted to No Rome's band setup. They ran through most of his Dirty Hit catalog, but what struck me most were hearing the songs that you couldn't find on Spotify. Rome brought Zeon onstage to perform their rap track "I'm here" — a secret demo recorded over a lo-fi beat. Zeon rapped with a ferocity that complemented Rome's sweeping tenor. A few tracks later, Rome winds down with the guitar-centered 2016 Soundcloud release "flowers on my neck", stripped down from the original recording. He sings:
shoutout to the people who are rolling with me
shoutout to the women, you know they og
flowers on my neck, i couldn't feel i couldn't breathe
it don't even matter what they say about me

wish i could be better but i'm running with me
mommy used to tell gotta keep it low-key
now i'm in the corner, couldn't feel my mouth breathe
wish im dying sooner, they don't know about me

It was actually the youngest I had ever felt in a while, as we sang along to "Seventeen", not knowing this moment would be one of the bookends of pre-pandemic life. As if it were the swan song of youth as we knew it. This show was a cumulation of sorts. For Rome, a tribute to the people he calls "his wings".
A few days later, my friend sent a picture from our meet-and-greet to our group chat. I recently sent it back to him, prompting the only response I myself could fathom:
what a time
.
That same year, Rome broke ground as the first Filipino to perform on the Coachella stage to perform his track "Narcissist" alongside The 1975. He had also produced their track "TOOTIMETOOTIMETOOTIME" from their 2018 record
A Brief Inquiry Into Online Relationships
, which won the 2019 Brit Award for Best Album. Being farther from those events allowed Rome to appreciate them more. Out of everything he had done, Brits had stuck the most. It was the first album he helped work on.
"And for a moment I got to tell myself, You're doing okay, you know. You're not all that bad." says Rome.
"And for a moment I got to tell myself, You're doing okay, you know. You're not all that bad."
There's always been an artfulness to pop music.
An obvious or surprising fact depending on who you ask. As the artist Lorde puts it, "A lot of musicians think they can do pop, and the ones who don't succeed are the ones that don't have the reverence." It takes a certain level of obsession to be able to distill the human experience so concisely. To speak on such a scale.
I notice Rome is most dialed-in when he talks about his influences: spanning the band Deftones, to jungle producer Goldie, to the light art pioneers Jenny Holzer and Nam June Paik. Peg-wise,
It's All Smiles
leans most into the former, fronting dreamy distorted guitars that go perfectly with George Daniel's head-turning production flourishes. Rome admits he's not much of a guitarist. His ultimate musical hero is Kim Gordon, who only picked up the bass "as a byproduct of wanting to make something exciting." In a similar vein, he just went for it.
But despite the
fuck it
mentality, Rome approaches his craft with a scholarly enthusiasm. Visual art was his first love, before music came pulsing through his life, which he "thinks about 24/7". Now it's the framework with which he constructs elaborate worlds. To Rome, pop is greater than the sum of its parts, so he makes sure to polish every aspect. "I thought music was the one thing I was kind of good at, and I wanted to use everything else that I was interested in to apply it to that," he explains. But Rome rejects the label "popstar". Instead, he thinks of it all as an art project — working across mediums to capture a feeling of ethereality. During the rollout of his third EP
RIP Indo Hisashi
, he designed a light installation: a lush array of flowers hanging from an halo-shaped LED screen. They frame his silhouette in the "Seventeen" and "Saint Laurent" music videos as well as his 3rd and 4th EP artworks. His tribute to the likes of Holzer and Paik.
Rome's interdisciplinary approach imbues his work with a more personal touch, but above the many hats he wears, he thinks himself as a songwriter first. A No Rome song weaves narratives around the nightlife's chaos. Illicit substances, dim recollections, and crude exchanges — if only to allow for moments of complete vulnerability. Rome half-jokes that he writes for softboys. Partly sincere, since he's happy to speak on behalf of people sometimes too scared to express themselves.
"I'm not much of a talker myself," Rome explains. He had long self-identified as a misfit, so ultimately, he wants his listeners to feel comfortable in their own skin. "That's why I feel like my songwriting grew up because I grew up. I started to learn things like accepting yourself, and [being able] to change again, then accept that new self. It's just that constant thing."
Rome behind-the-scenes at the Manila trilogy music video shoot. Photo by Aya Cabauatan.
Rome feels a little relief about working less than he did in his early twenties.
The pandemic forced him to slow down, but it's allowed him space for more lateral growth. He's given himself more time to find inspiration. Living as a part of the process.
He tells me, "I think with music, there's this pressure to make it while you're young. People are more impressed when you're younger, making this kind of music: at 18,19, 20, 21. I'm kind of past that. So all that matters now is making shit." Lately, he's gotten to work with even more Filipino artists. A trilogy of music videos accompanied each of No Rome's singles from
It's All Smiles
, all directed by
Paco Raterta
. Rome helped co-develop the concept for the reference-heavy visuals, which render Manila City as a neo-noir cinematic playground — characteristically shot at night. He also released a zine to accompany the album, consisting of film photos taken on-set by
Aya Cabauatan
. There are hints of more self-directed visuals in the pipeline.
Rome describes his first album as "an exhale". Now, he looks at each project from a bird's eye perspective. There's still another album in the works: mainly electronic this time. More in his wheelhouse. He's been toying with the theme of probability for it, because despite everything, Rome still attributes much of his success to sheer luck. He's been looking into doing more installation art, maybe an editorial. Who knows? Rome admits he's sort of been fucking around. He has nothing left to prove. Back where he started — but hardly a step backwards. He tells me, "Now, I'm not afraid to grow old and make art." ︎