Travel Will Find Me


by Jonty Cruz Photos courtesy of Kissa Castañeda and Checking In: Bringing the Hotel Home


With a new digital coffee table book she co-created, editor and lifestyle journalist Kissa Castañeda hopes to do more with the position she's been given.


K
issa Castañeda had just finished her fourth Zoom call of the day when she submitted her answers to this interview. "I'm a Zoombie now," she jokes, and tells me she still had a couple more meetings to go.
This kind of workload has been par for the course ever since Kissa's career skyrocketed after moving to Hong Kong in 2014 to be the editor of
Home Journal Magazine
. She then joined
Tatler Singapore
and became its Editor-in-Chief in 2017. She was also named
Tatler Asia
's Regional Travel and Design Editor this year.
Her current job has taken Kissa all over the world to cover some of today's most interesting people and places, for example a much-anticipated Chanel show. "One of the main things I love about this job is that I encounter inspiring people and boundary-pushing work first-hand," she says. "For instance, I attended the first runway show of Virginie Viard of Chanel, who took over as creative director after Karl Lagerfeld passed away. That show is one for the history books!"
Apart from the glamour and allure of being an editor, she knows the weight of her role and understands its challenges and opportunities in today's world. "I think being open to learning from everyone and every experience is key to being successful in any industry. There's always something to learn from people—be it your bosses, peers, or subordinates," says Kissa. "Being open to change is also important. I've embraced the evolving role of the editor quite happily and that has been integral to my growth. Today, a good editor does not just edit, but also strives to engage the community and be a thought leader."
But what does any of that mean now in a world changed by a global pandemic? What can an editor and lifestyle journalist do beyond covering the issues? And what kind of support can someone in her position contribute? With so many things still left uncertain, and seismic shifts happening in and out of her industry, it seems next to impossible to add even more responsibility to a career that already demands so much out of Kissa. Nevertheless, she persists.
The following interview was conducted via email and edited for publication.
︎


"When you travel, you see all sides of the person and reveal more of yourself. In a sense, it's the most 'naked' you'd ever be without taking your clothes off."


Jonty Cruz: Back in the Philippines, you worked at Preview and Elle Decoration among others. Out of everything you've worked on—fashion, design, food, and travel—is there one interest that's most special to you? Kissa Castañeda: I started my career at Preview in 2005 and I was really into fashion then. My goal was to be like Vanessa Friedman at one point. I quickly realized, however, that my real calling is lifestyle journalism. Out of all the verticals, design and travel are the closest to my heart. My work mostly focuses on interior design, and it's great to know that so many others are realizing how important design is to live a better life. As for travel, I see it as the best form of education. I will never tire of travelling because there is so much to learn when the world is your classroom!

You're based in Singapore now and are, for the most part, sheltering in place and working from home. How has the country dealt with the pandemic and what has been your experience of quarantine life so far?
I applaud the way Singapore has dealt with the pandemic so far—the government has been transparent and organized in their approach. For instance, a contact tracing app has been in place since March and it was launched without the political fanfare they do in other countries. Most importantly, the government values the advice of experts and scientists, which means residents are assured that their input is used to create the policies that we adhere to every day.

We were on lockdown (or "circuit breaker" as they call it here) between April until mid-June, and like everyone else I had to adjust to working from home full-time. It deeply changed my perspective of life. I relished the slower pace at the start of lockdown, and I hope some of the changes (such as remote working) [will be] here to stay.

"The people are the most integral part of the hotel experience—it makes the difference [between] you visiting once and returning time and time again."
You've really made a name for yourself as an international food and travel editor. Perhaps those are the two industries that really took the biggest hit during the pandemic. When did you realize that your life as you knew it had changed?
There are two moments that come to mind: First, we were having a large event, Tatler Design Awards, on February 7th and the local government called orange alert the very same day. So, we had to quickly establish temperature-taking protocols and more. The other moment was when they sealed the borders in Singapore on March 17th. It was lucky that my husband was home for the weekend from Jakarta and we were able to be together because otherwise we'd be apart until today, as the borders remain closed.
As soon as restaurants and bars were ordered to close, I knew the impact would be disastrous to an industry that already survives on small margins. At
Tatler Dining
, we launched a
United We Dine campaign
to encourage people to order food and dine-in responsibly—diners send in their receipts as a "raffle entry" and get the chance to win great prizes. Even with so many initiatives trying to save F&B, a lot of restaurants have closed given the competitive environment in Singapore (rent can be atrocious!).
For travel, well, I haven't travelled in over four months—the longest I haven't been on a plane. The pandemic is ravaging all aspects of the travel industry, from aviation (there are three pilots within my immediate family, so I see the effects first-hand) to hospitality. That's why my co-creator [Alexandra Seitz] and I started the project,
Checking In: Bringing the Hotel Home
.
Could you talk about the origins of Checking In and working with Alexandra Seitz? How'd you guys get together and how did your collaboration inspire and challenge you creatively?
Alex and I met in Hong Kong through mutual friends and kept in touch when I moved to Singapore and she moved to the UK. Earlier this year, we were already in conversation about doing a project revolving around travel. When COVID-19 became a pandemic and we saw how much devastation it caused (and is continually causing), we wanted our first collaboration to focus on helping the travel industry.
Alex came up with the idea of doing a charity-driven book and I suggested doing it on hotels, with the angle of replicating that magical hotel experience at home. We both thought this angle achieves three main things: 1. It's a great form of armchair travelling, generates wanderlust, and showcases the importance of travel in our lives; 2. It helps you improve your home life and your wellbeing, two things that are so much more important today; and 3. It ultimately supports the travel industry as all the proceeds go to the
four causes we chose
. As we are all holidaying at home for the foreseeable, I think the concept is timely, relevant, and hopefully resonates with many travelers.
Challenge-wise, we put together everything over Zoom and WhatsApp, and as you know these things are easier done in person. I was also doing it over the weekend, so I didn't get much rest (or exercise) for about two months. According to the World Travel & Tourism Council (WTTC), the Travel & Tourism sector faces a staggering 100 million job losses due to the coronavirus pandemic, so that kept Alex, [designer Husam Elfaki], and I going. It was handy to have my furkid Oscar nearby, as he helped relieve the stress a bit.
How and why did you decide to make or call it a digital coffee table book?
As this book is primarily a fund-raising initiative, time is of the essence. We wanted something immediate but also a project that people could keep—hence a digital book became the ideal format. What I love about books is that they take you to different worlds. They're also a favorite travel companion.
In designing it for digital, we were able to do things differently than a printed book. For instance, we were able to use the space for the spine (which would never happen in printed matter), embed and link to audio and video, but also make the pictures shine via the clever use of negative space. Of course, we hope to print a version of this book sooner rather than later.
Writing about travel while on lockdown must have been difficult at times but would also maybe offer some sense of clarity. What are things you discovered about travel while stuck in quarantine that you didn't know before?
A lot of us are hashtagging "Travel is a state of mind" and it's so true. One must adopt the spirit of travel and a sense of curiosity in everyday life. I'm making the most of being in Singapore by taking my new bicycle around the city and going to places I've never been to before. I didn't know that there are 62 islands in Singapore—and I plan to visit some of them in the next few months.
This pause also drives home the fact that travel is truly a privilege. As such, those of us who are fortunate to travel need to use it as a force for good—make smarter, more sustainable choices for the environment; foster a greater understanding and acceptance of our differences; and also use it as a way of giving back to communities.
"The publishing industry should walk the talk. Champion diversity and equality within their respective organizations. Change needs to come from within."
We rarely get to know the people behind the destinations we go to and Checking In gives us a glimpse into their lives and work. In your opinion, what are they most struggling with now during the pandemic?
Well, for one, a lot of them have lost their livelihood and their "work families" at the same time so that is a big blow. For those who remain, it's about integrating the new protocols, making sure they and their guests are safe, but also keeping the essence of the experience. It's a careful balancing act.
I believe hospitality is a calling, and those working in the industry are fueled by their genuine desire to make people smile. The people are the most integral part of the hotel experience—it makes the difference [between] you visiting once and returning time and time again.
Having talked to different leaders in the food and travel industry, what kind of future do you see for the two?
It's difficult to talk about the future right now as we are still in the middle of the pandemic. But I think there will be a resetting of values, and that's not a bad thing. There will be a greater focus on local—be it from sourcing ingredients to hiring staff. There will also be a slower pace in general, and that will hopefully align with sustainability goals. Most importantly, more people will look for purposeful companies and experiences, which our friends at Design Hotels call the
"promadic" traveller / consumer.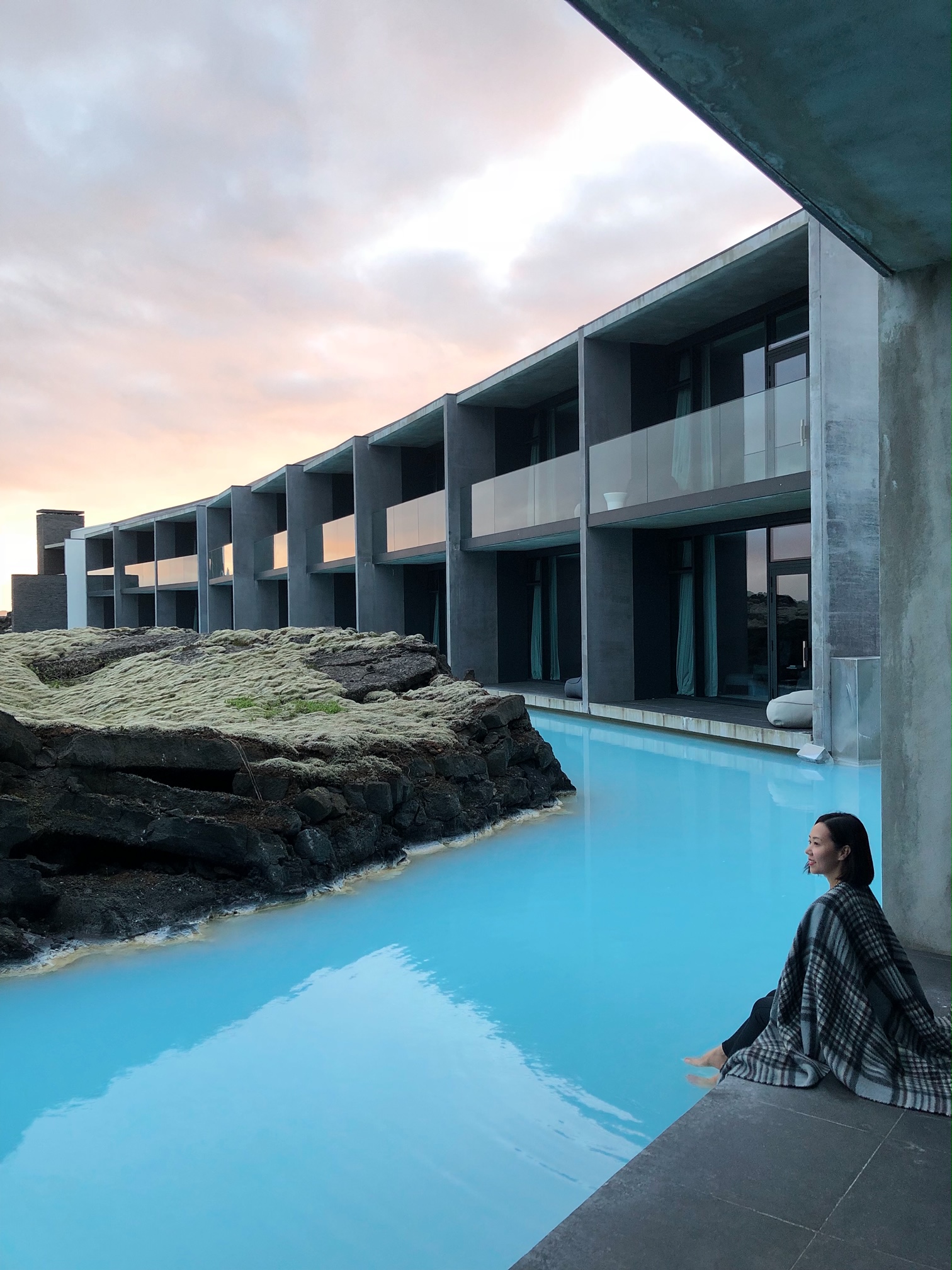 What scares you the most about the future of travel?
The pandemic is making us suspicious of other people (as they may carry the virus) and it's coupled with a lot of populist movements worldwide. Travel, as I mentioned earlier, helps open people's minds. It helps you see that we are different but also the same. The lack of travel opportunities might contribute to an inward-looking mindset, which hopefully won't be the case.

I want to ask you about an article you wrote for Esquire Philippines several years ago about how travelling is sort of a relationship test for couples, whether they should stay together or not. Could you share the thinking behind that statement and what are some things couples need to pay close attention to?
When you travel, you see all sides of the person and reveal more of yourself. In a sense, it's the most "naked" you'd ever be without taking your clothes off. It's also a microcosm of living together because you face ups and downs throughout the journey. On a trip, you'll be able to feel whether you share the same values and have the same approach. It doesn't mean that you must be the same but just have complimentary tastes and skills. For example, between my husband and I, I'm the planner but he's the navigator.

What do you look for in a travel companion?
I need someone who's open-minded and has a sense of adventure. The point of travelling is to try new things so I look for someone who enjoys walking aimlessly, wants to try a new dish, and is game to strike up a conversation with a stranger. Plus, they need to be willing to wait for me while I take pictures (or sometimes take a picture of me, haha).

Are you someone who prefers to travel alone, with a few people, or in large groups?
I like travelling alone or with a few people. When you travel alone, you purposely take your time; it's the freest you can be. There are zero restrictions on what time you'd get up, where you'll go, etc. But I think I enjoy travelling in a small group best. This way, you can have people to share the experience with. Meals, for example, are best enjoyed with a group.

Travelling lets you encounter the world and learn about other cultures, but it also allows the world to encounter you—in good and bad ways. Being an Asian woman, have you ever experienced any feeling of being stereotyped or any kind of prejudice when abroad?
Nothing overtly negative, thankfully. There's the experience of being catcalled while walking in New York (where I got men shouting "moshi moshi" and "ni hao"). When shopping in Europe, you get extra good treatment because there's the assumption that Asian women are big spenders.

There have been multiple reports of abuse and inequality in the publishing industry the last couple of months. As an experienced and accomplished editor, what steps do you think media and publishing have to take moving forward?
Apart from reporting on this, the publishing industry should walk the talk. Champion diversity and equality within their respective organizations. Change needs to come from within. ︎

Jonty Cruz has worked at Esquire Philippines, The Philippine Star, and Rogue Magazine. He also co-founded All Good, a social-impact storytelling platform.