Keeps Getting Better


by Oliver Emocling
Photos courtesy of Martin Bautista.



How an obsession with a pop star helped fashion designer Martin Bautista discover what a girl wants.

I
n Paris last year, designer Martin Bautista, along with a horde of fans, watched Christina Aguilera step out of a building in an oversize Viktor and Rolf tulle trench dress bearing the words "F* this I'm going to Paris." The performer was on her way to Viktor and Rolf's haute couture show. The next day, she would be on stage for the first show of The X Tour, the follow-up to her Liberation Tour in 2018. "See you tomorrow," Martin called out as she walked in front of him.
Calm is not exactly the reaction of a fan when the subject of their devotion appears before them. But there was calmness in the way Martin said those words to Christina that July afternoon as if he was telling it to a friend whom he sees regularly.
Well, he did see her quite regularly in the last two years. The number of times Martin posted images of Christina might even have you think that he was part of the wardrobe team. But he wasn't; he was on pilgrimage.
In 2018, when Christina went on tour for her eighth studio album
Liberation
, Martin flew to the US to catch four shows. (He would have watched all 21 shows if he could but thought that would be "exag.") In one show, he was so close to the stage that he even got hold of Christina's Fiji Water. When the pop superstar had her Las Vegas residency in 2019, Martin attended three shows—he was chosen to sing the title line of "Can't Hold Us Down" in one show. "I love you," Martin screamed before returning the microphone.
Christina's show in Paris was the fourth time Martin saw her in concert in 2019 alone. After that, he attended five more shows in Europe last year and another two in Las Vegas this year. If the pandemic did not disrupt our old sense of normalcy, Martin would have traveled again to Las Vegas in November for the closing of Christina's residency.
︎



"I didn't have plans [after fashion school]," says Martin Bautista. Before fully making a career as a fashion designer, he did some work at a call center and then at an advertising agency with little to no long-term plans for himself. "Parang kung anong mangyari bukas, 'yun na 'yung gagawin ko."
Martin discovered Christina when her version of Mulan's "Reflection" came out in 1998. But he believes that the music video for "What a Girl Wants" sparked his devotion to the then-emerging 19-year-old popstar. "[I loved] that she was really dancing and mas kita talaga 'yung beauty niya," Martin says over a Zoom call.

Christina is just one in the long line of women who have inspired him. Before her, there was the Blessed Virgin Mary.

When he was a child, Martin would often get lost after following the karosa of the Blessed Virgin around their village every fiesta."I was very religious. I wasn't sure if it was because of faith or because I wanted to always see Mama Mary in the church," he says. At home after the procession, he would find himself sketching whatever the statue was wearing that day on the karosa.

He would do the same for the girls of Sailor Moon. Although they had their uniforms, Martin would picture them in other outfits. Later in life, he would also obsess over the 2010 teleserye Magkaribal and various iterations of the reality show franchise Real Housewives.

It was the start of his interest in fashion.

By the time he was in high school, Martin would religiously watch Style with Elsa Klensch on CNN. He also started collecting runway photos, and one of the looks that piqued his fascination was the famous Versace jungle print gown first worn by supermodel Amber Valletta and then by Jennifer Lopez at the Grammys.

Although he loved fashion early on, Martin didn't consider it to be a potential career path even after he graduated with a fashion degree from Slim's.

"I didn't have plans [after fashion school]. Parang kung anong mangyari bukas, 'yun na 'yung gagawin ko. But I remember I worked for a while at a call center. Then, I worked for an online advertising company where I wrote about fashion."

In 2007, Martin learned through his friend and fellow designer Veejay Floresca that it was possible to participate in fashion weeks even if he was young and had little experience. He submitted his portfolio to the Philippine Fashion Week committee and managed to get a slot.

Martin describes his first collection as a "marriage between sportswear and—no, not glamour. I would say sportswear elegance." He took inspiration from Grecian dressing, which perhaps is the basis of the exquisite draping technique he employs in his practice until today. Even then, Martin had the intention of making elegant clothes without losing a sense of utility.

After his show, Martin was surprised to receive messages from potential clients who saw his work in fashion magazines like Mega and Preview. Stylists frequently featured his work on shoots. Celebrities, too, approached him to have their clothes made. "It was a good year for me as someone who was just starting," he says.

That year, too, was the first time Martin saw Christina live.


From Martin's first show at Philippine Fashion Week 2007.
"I'm not the biggest Christina Aguilera fan,"
I confess early in our conversation. Martin stares at me as if I had just said something blasphemous. But despite my lack of knowledge of Christina's oeuvre, I tell Martin how much I loved "Dirrty."
Back when there were still music channels on free TV, I would wait for Christina to appear on the screen, riding a motorcycle in leather chaps. The video, which had sweaty bodies in minimal clothing gyrating in some grimy basement, was grittier than anything she had done before.
The video for "Dirrty," which was of course met with controversy, was an unapologetic departure from the manufactured virginal teen persona of Christina's debut album, and it was an apt introduction to that era of her career. Not only did she liberate herself in
Stripped
, but she also empowered other women, the LGBTQ+ community, and the misfits through hits like "Can't Hold Us Down," "Fighter," and "Beautiful."
Martin says it's his favorite era of Christina's career. "It's the blueprint for young female artists [transitioning] from teen idol to adult popstar, from outfits, hair, makeup, and shoots. I can't believe she was only 21 years old when she did all that. She was ahead of her time."
That boldness and courage somehow reflect on how Martin envisions the women who wear his clothes.
In interviews for previous collections, Martin often spoke of his work with a desire to empower women.
When he presented the Lady Danger collection in 2010,
Martin told YStyle
that he imagined the wearer as a "risk-taker, someone who's not worried of getting in trouble." The play on pinks and yellows in his 2014 collection, on the other hand, encouraged women "to wear something happy and joyful." That desire to urge women to be fearless would again figure into his 2016 collection: "[The woman I imagine] is very bold and unafraid, yet at the same time, very wise when it comes to her wardrobe."
Martin, as he once said, has always been attracted to the idea of women as strong, rational, unpretentious beings.
This desire to make clothes that would make women feel stronger is perhaps a response to Martin's observation on how women are pressured to dress up to fit a certain mold or impress other people around them. He tells me of an instance from many years ago where a client had to get the sketch of her dress approved by her partner, whether it was a boyfriend or husband.
"I feel like there's a big shift from that. Women are now more independent and liberated with their choices on how to dress up," Martin says. "I always make sure that what I create is perfect because I'm sure it's not easy for women to spend."
Martin doesn't picture a specific woman in mind when he works on a collection. "I don't want to set the limit for who can wear the collection or who I envision when I make a collection," he says. If anything, what he imagines are her traits: "She is someone who doesn't want to be the center of attention. She's very understated; there's always a step back.
Pero 'yung pagiging
relaxed
ng
look
niya
will make her shine."
Martin's gift as a designer lies in his strong sense of simplicity. This is what enticed fitness instructor and paper florist Victoria Velasco to wear a Martin Bautista dress to her wedding in 2018. "I think what I like about his work is that the silhouettes and designs stand out but don't overpower the person wearing them," she says. The result of her design sessions with Martin was a classic serpentine dress with a halter cut.

Victoria's entourage also wore outfits by Martin. "I actually hoped they could still use the dresses and outfits again. They're not all dresses, some are pants. I think some of them have worn them again already. I wore my sister's one to an all-white wedding," she says.

Creative director Paulina Ortega got acquainted with Martin Bautista's work when her cousin Stefanie Walmsley wore a green dress by the designer to the Academy Awards in 2011. What ultimately attracted Paulina to get a custom Martin Bautista dress—a dreamy purple tulle dress—is the inherent effervescence found in his creations.

"There is such a sense of joy to Martin's designs. You can really feel his enthusiasm, even when you watch him sketch. His pieces always make me want to dance or move around a room, like I want to lend the life they were meant to have," she says.
"Women are now more independent and liberated with their choices on how to dress up.
Christina had not been on tour since 2008, cancelling her 2010 touring plans for the album Bionic to focus on her first feature film. In the period between Bionic and Liberation, she released Lotus, starred with Cher in Burlesque, collaborated with other artists, and dabbled in television projects. Away from the spotlight, life happened: Christina went through a divorce, loved again, and had her second child.

Martin realized that it might take a long time before Christina returns to the stage after The X Tour, which explains the number of shows he saw last year. When he told his friends about his plan, they encouraged him to create something for Christina.

"I never thought of making something for her. I was very happy just being a fan. As long as she's making music, that's enough for me," Martin says. Even so, Martin played with the idea of dressing the superstar and made sketches for her.

Three days before his flight to Europe, Martin messaged Karen Clarkson, Christina's stylist, on Instagram to ask for her measurements. He explained that he wanted to hand a dress to Christina at the meet-and-greet in Paris. To make a stronger case for his request, Martin sent the sketches he made.

Martin did not expect to receive a reply from Karen, but he did.

"I was shaking when she replied," Martin recalls and then squeals. "As in oh my god! I have her measurements!"

With only two days left, Martin managed to work on not just one but two black looks—a rarity as Martin is best known for his bold use of colors. The first is a coat dress with feathers lining the shoulders and the sleeves, while the second is a silk organza top with puffed sleeves and a long skirt done in Martin's familiar feminine draping style.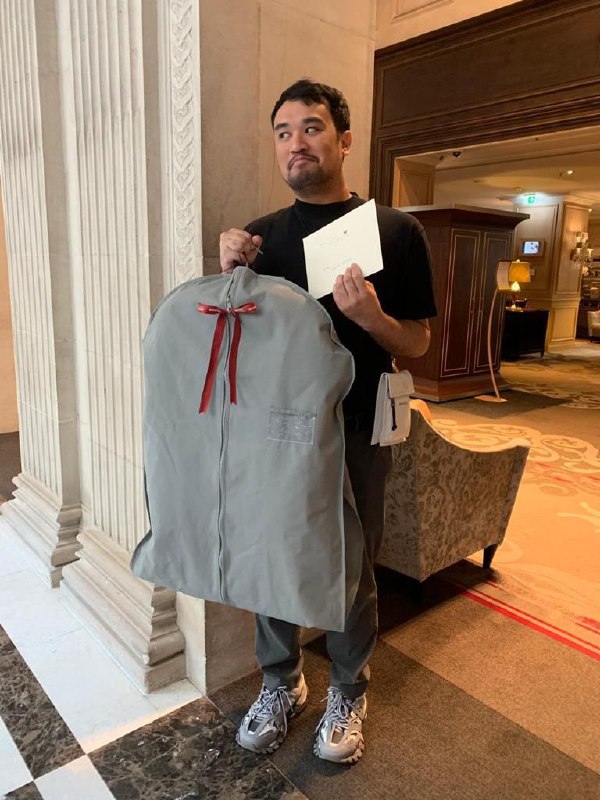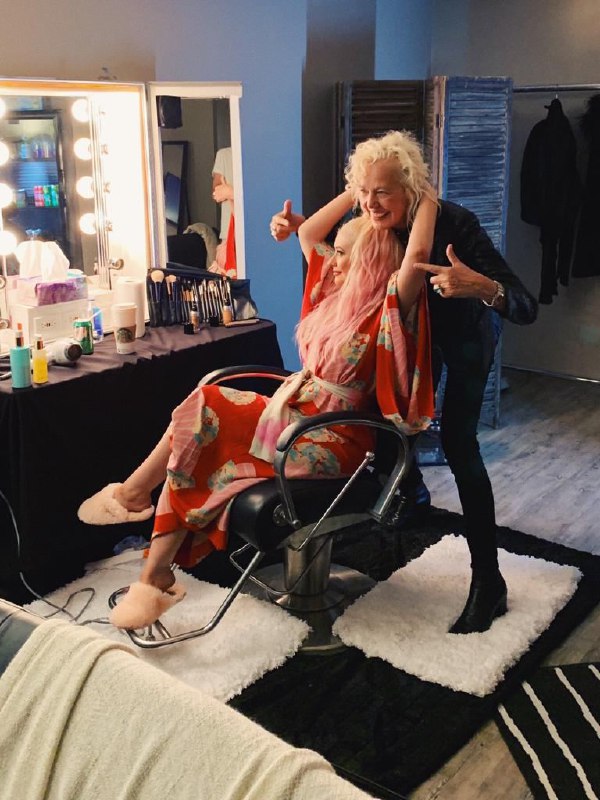 Clockwise from top left: Martin with the dress outfits he made for Christina Aguilera, photos of the outfits he made, an Instagram story screengrabbed by Martin of Christina and Ellen Von Unwerth with the outfits Martin made hanging in the background.
On the day of the meet-and-greet, Martin was caught in traffic. When he arrived at AccorHotels Arena, Martin, carrying the gray garment bag, was stopped by French security personnel from entering the location. He was told that he could not bring the clothes to the venue. Martin tried to explain that he had some correspondence with someone from Christina's team days before the show. Of course, the language barrier turned it into an ordeal. But it was also language that would make his ultimate fan moment possible.

Martin was wearing a black Vetements logo shirt that day. In French, vetements means clothes. Someone from the security team noticed his shirt, inferred that he was referring to the wardrobe team, and allowed him to enter the venue. But not long after he queued up for the meet-and-greet, Martin encountered another set of security, telling him gifts were not allowed.

Martin knew that he couldn't just give up at that point, and fate was on his side. Somewhere near the line for the meet-and-greet, Martin spotted one of Christina's dancers who—perhaps because of the number of times Martin occupied a front-row spot in several shows before the one in Paris—somewhat recognized him. He asked the dancer to pass the clothes to Karen. Luckily, he agreed.

Martin hasn't seen Christina wear the clothes yet. But he knows that she has received them, from a backstage image of Christina and photographer Ellen von Unwerth he found on Instagram, in which a clothing rack can be seen behind the pair. On the rack hangs two sets of black clothes that look exactly like what Martin made for Christina.

The ultimate confirmation came from Christina herself. Four days after the Paris show, Martin had another meet-and-greet with Christina in Amsterdam. "I told her, 'Christina, I was the one who gave you the dresses in Paris.' She remembered and told me she loved them," Martin says.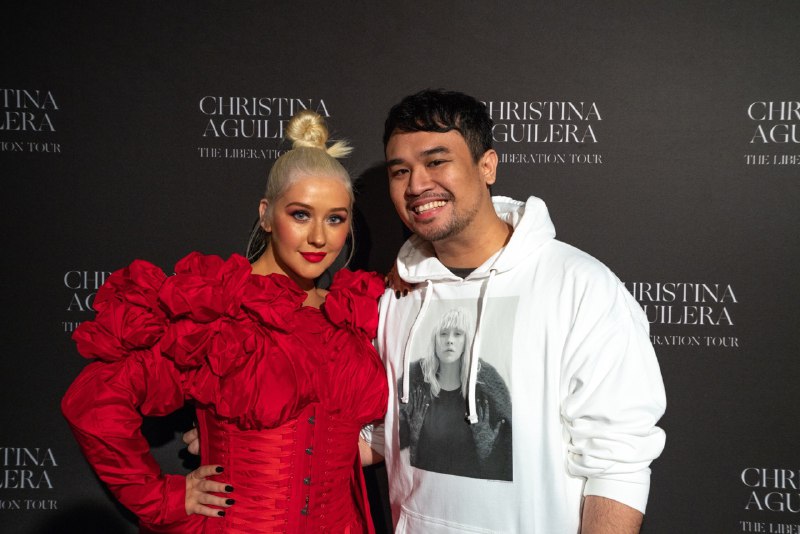 Martin's first (and favorite) photo with Christina Aguilera in 2018.
The year 2019 was one of rest and relaxation for Martin. After two shows—one for Style Fest and another for Panasonic Fashion Festival—the previous year, the designer did a collaboration with Plains and Prints for the brand's 25th anniversary. But he did not present a personal collection.

"If I don't have something to say or I'm not inspired, I don't force myself to do a collection," Martin explains. It's a trait that he also finds in Christina, who only put out her most recent album Liberation six years after her last. "I appreciate that she only makes music when she has something to say, not just because she needs to make hit records. I kind of feel the same with my creative process. I only work on a collection when it's realized, and it comes from a real, honest place."

Of course, Martin was also collecting inspiration during his vacation. In Lisbon, where he admired the vibrant architecture, he sourced fabrics to use in his next collection. Then, two months before his last Christina show in Las Vegas, Martin went to see the collection of fashion historian and collector Sandy Schreier at the Met in New York. The exhibit featured pieces by 20th century designers including Madeleine Vionnet, one of his inspirations.

Vionnet is best known for her bias cut dresses that fluidly drape around a woman's figure. But it wasn't the iconic tulle gown that he spent the most time with; what captured his attention the most were more sculptural forms, like a black dress from 1949 by Jacque Griffe, who worked as a cutter for Vionnet before establishing his own label. The shirred bands of taffeta on the expansive skirt were a showcase of the designer's intricate handiwork. Beside it was a black Balenciaga dress with layers of ruffles towards the skirt's hem. Martin also shows me a shiny gray Dior gown with a dome-shaped dress from the house's 1957 collection.

"I stared at them for so long. The way these pieces were structured, I felt like an X-ray machine trying to analyze what was under these dresses," he says. The exhibit sparked in him a desire to play with larger shapes and silhouettes.

Before the pandemic steadily upended one plan after another, Martin was set to present a new collection at the Bench Fashion Week last March, a culmination of what the designer gathered throughout his travels. But when he arrived in Manila, the entire population was already required to wear masks. Bench Fashion Week was postponed until it became a virtual event in November, but Martin decided to shelve the collection.

As restrictions on gatherings were imposed, fashion, an industry that relies on tactile experience, scrambled in the shadows during the earlier period of the lockdown. Martin, whose client work is largely focused on special occasion dressing, had no work until safety protocols were eased in July, allowing for socially distanced weddings.

His first few clients were brides. Gradually, the list grew to include mothers and ninangs, and finally celebs. "It's slowly picking up but not as many as before," Martin says. "Still, it's better than nothing."

Martin's atelier still operates on a skeleton workforce. From his team of eight, Martin only asks one cutter and one sewer to report at the atelier in Mandaluyong. When there's a large number of pieces to be finished, the rest of the team works from home.

He wants to continue the work he started earlier this year for 2021, maybe a runway collection, another lookbook, possibly a fashion film. But nothing is sure yet.

"I'm the kind of person na hindi mahilig mag-plano lalo na this year," he says. Right now, the plan is "to survive by the day, by the week, by the month." And when the future arrives? "Just embrace what's going to come." But he hopes he won't have to wait another decade to see Christina again. ︎

Oliver Emocling is a freelance writer.