Why Mike Parker is Stepping Away from Design


by Gian Lao
Photos courtesy of Mark Andres and Toni Potenciano of And a Half.



What's next for Mike Parker? Nobody knows. Not even him.

T
a
ngina, 'wag ka magsusulat tungkol sa mga
design
ko. Panget lahat 'yun
," Mike Parker says on our call before proceeding to laugh.
"
Ano ka ba
," I say, reminding him that everyone seems to disagree with his assessment: colleagues, clients, the faceless people who decide on awards; and the who's who of the design scene, who often leave fire and 100 emojis on his Instagram's comment sections.
I felt like a trainer splashing water on a boxer's face. Hey, you're Mike Parker, I would say. You co-founded one of the country's
best known branding and design studios
. You served as mentor to what seems like a generation of Atenean designers. You spoke at Graphika Manila 2019 and shared a hug with
the
Aaron Draplin, perhaps more familiar to many as the founder of the Field Notes brand. Eventually, Parker relents.
"
Pare, ang lambot ni
Draplin," he says with a big smile, before acknowledging the necessity of accepting at least some praise.
"
Sa bagay, kailangan mo rin gawin yun
," he says. "
Ginagawa ko naman kasi 'yung
work. I never hold back. When I do work
kasi
, especially client work,
binibigay ko talaga lahat
."
"But honestly, I hate looking back at my work.
Tangina, pagjajakol 'yun, e
.
Ang
feeling
ko lang talaga
—right after
ko matapos 'yung
project—
napagdaanan ko na siya
; I have to do even better."
"Ang feeling ko lang talaga—right after ko matapos 'yung project—napagdaanan ko na siya; I have to do even better."


In the years I spent in school
, there seemed to be these archetypes of the Atenean design student. They had their own lounge, which had crates of comic books. Their homework was to design typefaces and posters, which populated their Deviant Art pages. They were photographers and cosplayers; early Tumblr adopters and illustrators; org collateral photoshoppers and weebs before the invention of the word weeb. Of course, it's unfair to try and capture the diversity of an entire college course, but the course had a distinct character. And for a long time, Ateneo's design identity was within the gravitational pull of the mononymous "Parker."
"I have to submit this to Parker," friends would tell me, foreheads creased, eyes focused on their computers. "Parker said this isn't functional enough." "Parker told me my thesis lacks design purpose."
I didn't know what he looked like. All I knew was that my friends—and their friends—were all trying to satisfy and win over this faceless Parker. He seemed ruthless but at the same time devoted, like an anime sensei. "He had us create a new design for every letter in the alphabet!" It reminds me of
nagekomi
—the idea of baseball pitchers throwing balls to the point of exhaustion, or judokas throwing their partners onto the mat again and again and again, so that their bodies can never forget—can function almost separately from the mind.
Nevertheless, students recommended him, even when he was known to give out seemingly impossible requirements and a slew of D's and F's. Out of Print's editor and publisher himself pushed for this feature, despite receiving a poor grade from Parker. Isn't this the sign of a good teacher? To be able to fail students and maintain their respect and reverence?
"The best thing he ever did for me was give me a D
sa
thesis defence
ko
," says Jonty Cruz, editor of Out of Print. "That's how I knew I was gonna go into publishing instead of design."
Hearing about this, Parker laughs. "Interesting guy
talaga itong si
Jonty.
Ang saya kausap
," he says. "
Binagsak ko nga pala siya. Ano gagawin ko? Walang kwenta gawa niya, e'
."
For all the awards and acclaims the studio he co-founded has earned, Mike Parker is not as generous to himself when it comes to praises. "Panget lahat yun," he says of his type designs.
Mike Parker is one of most relentless
and self-effacing people you will ever meet.
In 2012, he co-founded
And A Half
(AAH), a small studio that has constantly punched above its weight and
bagged awards
while hardly even trying. His design work—or at least the projects for which he served as primary designer with AAH—is universally respected. He has branded beloved restaurants and snack bars: La Lola, Balay Dako, Apero; historic institutions like the Commission on Human Rights; and has constantly put out distinct typography work on his Instagram, or as he refers to them: "Fucking type shit.
Panget lahat yun!
"
Though I'm not a designer, it wouldn't be a stretch to say he belongs on the Mt. Rushmore of the Philippine design community. Alternatively, if Philippine design had an anime, he could be one of the Bosses—one of the Seven Warlords of the Sea, the Nine Pillars, the Ten Swords, or however else these authors describe such intimidating figures. If the design community were the Apocalypse, he would be one of the Four Horsemen. Yet, Parker remains deeply suspicious of praise, or anything that might resemble ass-licking. He has, over the years, become a master of deflection.
When asked why he thinks he's attracted such a good community of designers, he says "
sinwerte lang ako sa
And A Half
at sa pagtuturo
." When asked about why some people call him a "Type God," he reacts immediately. "
GAGO. Hindi ako
type God.
Wag mo lalagay 'yun.
" When asked why he remains so self-effacing, he responds by self-effacing. "I think it's mostly not knowing what we're doing," he says. "Honestly—
tangina
—
wala naman kaming alam, e
."
I wouldn't say Parker abuses profanity. Rather, he enjoys saying "
tangina
" as a sentence softener of sorts, not as an exclamation. The profanities land gently, almost as displays of humility—as a form of resisting talking about design with such high, nauseating seriousness. In other words, "
tangina
" might as well be Parkertongue for "hey, it's just me."
Strangely, it's this simple and down-to-earth nature that poses a great mystery: What fills the giant gap between Mike Parker's unassuming demeanor and the height of his achievements? What degree of devotion to the craft is he failing to describe when he downplays his work, diverting credit to excellent teammates and good luck? And how is he negotiating his relationship with his craft—and what is his craft now, really?—after walking away from the studio he co-founded nine years ago?
"'May ganun nga akong energy,' Parker says. 'Tara, dun tayo sa kung saan ako okay. Diba ganun naman dapat? Nagko-commit?'"
When I was finally introduced to Parker, he was far from the person I imagined. It was in a taco joint near their studio and we were both drunk. I felt immediately at ease with him and I ended up asking him if anyone still called him "Mike," or if it was always Parker. "Parker na talaga e," he said. Even past girlfriends called him Parker, he added.

It turns out he is a mellow, kind, and chaotic perfectionist, and not simply some mercurial taskmaster. A foul-mouthed Lakers fan who takes the tequila bottle around the party and makes sure everyone's having a good time. The stories told by his And A Half team reveal as much. He ran into some of them once in a Mini Stop at 3 a.m., since he was both nocturnal and nearby, and they happened to be pulling an all-nighter for work. He ended up dropping by the office and helping them finish what they were due to present. Another time, Parker drove all the way to a junior's house and parked there, just so he could ride with him during his first drive to work. At the end of the day, Parker tells him: "Kayang kaya mo 'yan! "

There have been more bizarre moments too: Once, when saying "Ha? Hatdog? " came back in vogue, Parker bought a literal hotdog just to throw at an officemate while saying "HA? " There was the time he couldn't keep up with the climbing group on Mt. Ulap and, frustrated at his endurance, insisted that they leave him on the mountainside to fend for himself.

There is this intense go-with-it-ness with which Mike Parker lives his life. He recounts that his first dream was to become an architect, which was before he flunked UST's drawing test. "Sabi ko: Bye architecture dreams. Hanggang Sims na lang ako! " He ended up going to Ateneo and failing a few units in the School of Management before winding up in the school's design course.

"Nag-I.D. (Information Design) lang naman ako kasi 15 units lang siya," he says. "Natanggal nakong Comtech kasi bagsak nakong Accounting; bagsak nakong Law; bagsak nako sa kung anu-anong shit. Tapos nung lumipat nakong course, tangina pare. Tinabihan ko lang 'yung mga marunong mag-design. Natuto lang ako kasi pinapanood ko sila."

Parker wandered onto the path of least resistance, but made sure to do it really intensely. It reminds me of an old Mitch Hedberg joke: "If you're lost in the woods, fuck it, build a house."

"May ganun nga akong energy," Parker says. "Tara, dun tayo sa kung saan ako okay. Diba ganun naman dapat? Nagko-commit?"

His talent for improvising and feeling his way through a situation has so far been more rewarding than punishing. When asked, for instance, how And A Half started, he talks about the short conversations he had with his partners. He asked co-founder Coi Serrano to join him during a quick phone call. "Gusto mo mag studio?" Parker asked. And she said: "Game." He and Serrano then asked another early partner, BJ Abesamis, to join them after seeing him wash the dishes after one of their dinners. "Nagyoyosi kami ni Coi, tapos nakita ko siyang naghuhugas ng pinggan. Sabi ko, tingin ko talaga nandito dapat si BJ," says Parker.

"It's not a perfect science, pero halos vibe check lang talaga," he says about recruitment. He mentions how—for the longest time—every member of the studio would interview every applicant. "Sobrang daming nag-aapply na sobrang galing. But at the end of the day, the question was: Kaya ba nating uminom after? Pag hindi mo kasi na-vibe, delikado e'. Kung mag-eeffort pa ako to vibe with a person, dun pa lang may stress na, e'."

Whenever he can avoid stress, he does. On foreign trips, such as And A Half's studio trip to Tokyo, Parker refuses to visit money changers. "Inefficient e'! Hassle. ATM na lang." He doesn't rent pocket wi-fis, because "mas sulit 'yung roaming!" And when he could no longer pursue his architecture dreams, and failed his subsequent course in Ateneo, he wandered into the woods of design, and decided to build a splendid house.

There were difficult days, Parker says, but he says that And A Half was a happy office. I know what he means. On days I felt rotten about work, I would drop by AAH after hours, because that studio always showed—and continues to show me—what a workplace could be. Everyone was pleasant. On the walls were artworks from every member of the team. They promote each other's work, befriend each other's friends, and—in the midst of it all—design intensely, and with purpose. The studio feels like a lush garden grown on the rich soil of Parker's identity.


Clockwise from left: Mike Parker in Japan with the And a Half team; at a vacation with And a Half's Petra Gana behind him; the And a Half Christmas photo, and Parker with crwn.
It was puzzling when Parker chose to walk away from And A Half. It seemed unlike him. It was swimming against the current, zigging when everyone thought he was zagging. It was visiting the money changer before a trip and booking a mobile wifi device. He chose the hassle.

"Sobrang hassle nitong mga pinili ko. Ang dali kasi mag-stay sa And A Half, e'." Parker says. He sometimes speaks of his old studio in the present tense, as if he were still in it. "Ito na yung perfect situation for me, e'."

"Up to now, pare, it's not very clear to me. Ano 'yun? Hindi naman ako napagod sa design work sa And A Half. Mahal ko 'yung design, e'. Hindi naman ako napagod sa tao, kasi mahal ko naman silang lahat. It was very vague."

Months before his departure, he began working with recording artist crwn, designing several singles and an album. He started doing basic animation—working with footage and moving images—and he liked it. Eventually, he put up a label called Pool Records, together with crwn and And A Half colleague Ada Laud. He also joined Manila Community Radio as "brand director or kung ano man 'yung title."

"Natuwa ako na hindi ko 'yun pwede gawin sa And A Half," he says. "Not that I didn't try. I tried doing those things for clients, and most of the time it wasn't working out. I would try to integrate animation, tapos pilit. Later on, I realized na—oo nga, ito 'yung gusto kong gawin: something totally different from the things I'd been doing for the past eight years."

He talks about how difficult it is—how the past few months have reminded him of the final scene in The Graduate—that dreaded feeling of "now what?"

"Sobrang hassle nitong pinili ko," he says. "Akala ko nung una, I would feel free to do whatever shit I want. Before I left, I was so excited, so raring to go and do fun shit. Pero sobrang hirap. This whole month, struggle for me to find energy or motivation. Parang nabigla rin ako. May ganun, e'. Parang hindi ko alam pano 'to gawin."

It's always a little terrifying to hear our heroes express self-doubt, but also a bit comforting. It is terrifying in the sense that it can happen even to the most skilled among us, and comforting because it's a reminder that no creative is ever truly alone. But even such a thorny path led Parker to a better place. For instance, he finally worked on something that he can rewatch without hurling—crwn's music video for the track "From Time to Time," for which I wrote a poem. The video is just crwn biking through a highway while the words from the poem appear on screen, directed, designed, and manipulated by Parker.

"Weirdly, dun ako nagandahan talaga," Parker says. "Hanggang ngayon mahal ko siya. Parang ang honest kasi. Hindi ako nag-struggle trying to lay out the words you wrote. Naramdaman ko siya habang ginagawa ko siya. It was more sincere than any other shit that I've done. Ganun pala pag honest at sincere ka."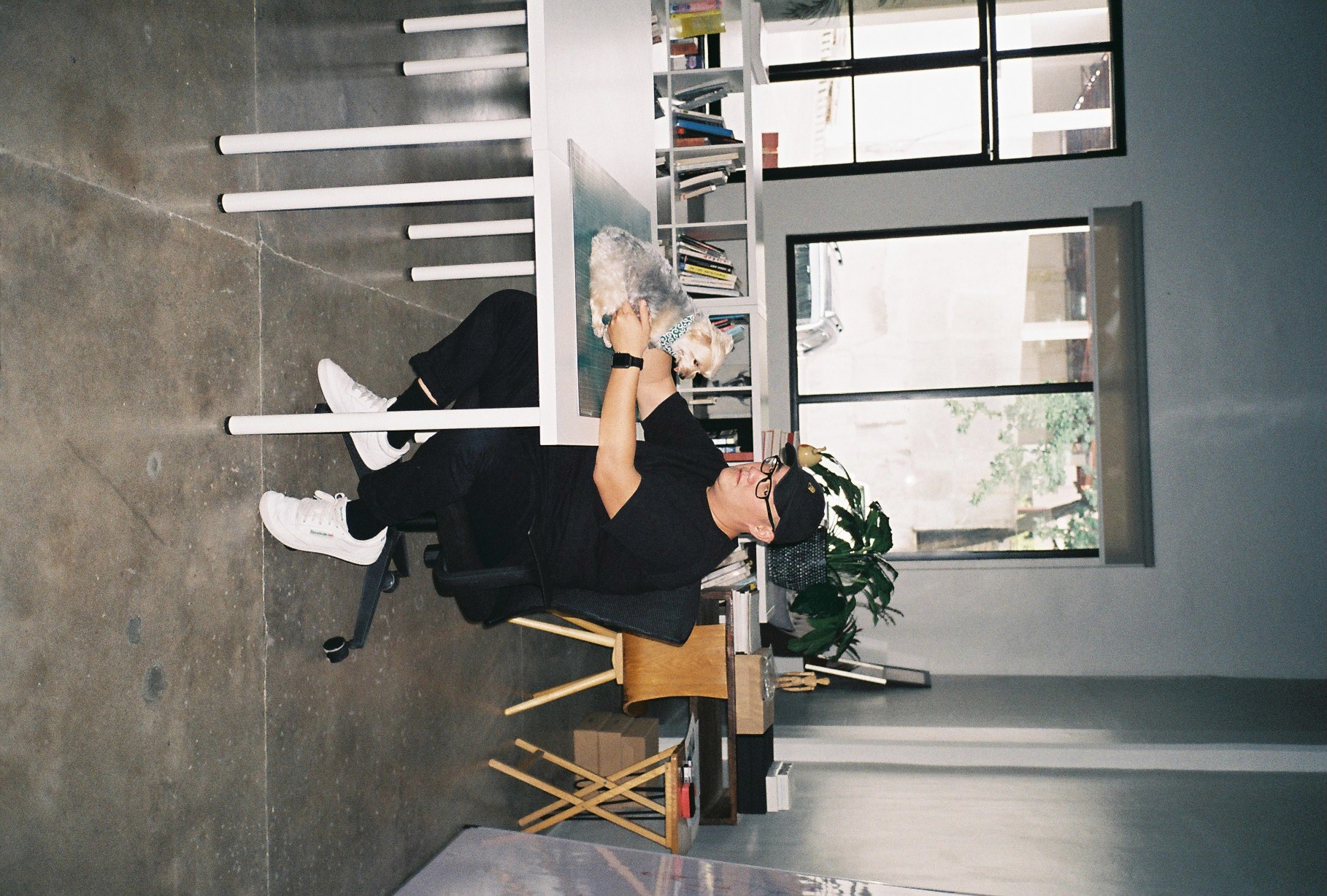 While he does have ongoing projects post-And a Half, Mike Parker admits there's still a level of uncertainty when it comes to what's next. "Before I left, I was so excited, so raring to go and do fun shit.
Pero sobrang hirap,"
he says. "This whole month, struggle for me to find energy or motivation.
Parang nabigla rin ako.
"
When I asked him about the last time he took the pleasure of enjoying something he made, he struggled. "Hirap, pare. First time in a long time na tumagal nang konti yung satisfaction. Wala akong maalala." At that point, Parker seemed loose, relaxed, creative. It was the first time he could talk about a work of his without sabotaging it in the same sentence. He didn't even mention the possibility that the both of us could just be hyping up our own little project. It felt like he finally allowed himself some joy.

Nobody knows what's next for Mike Parker, probably because he himself doesn't know.

"Hindi ko rin alam kung ano mangyayari, e'. Kung alam mo kasi, corny ka," he says. "Ang corny kung may end goal ka, e'. Kunwari, gusto mo ng doctorate kasi magtuturo ka? Corny nun, e. Magtatrabaho ka sa studio para magka-award? Ang corny nun. Ang corny kung merong end goal. Ever since, mas maganda pag hindi mo alam kung ano ginagawa mo. Exciting siya, pero nakakatakot din siya. Hindi mo ata pwede alisin 'yung takot sa excitement. Laging magkasama 'yun."

We are always more comfortable when we can put neat labels on things—and people. Mike Parker was a teacher, a designer, and a co-founder. Was. Now, we are witnessing a side of him that feels more exciting: the Parker who just failed the entrance exam to architecture school; the Parker floating in creative space, pressured to improvise; the Parker he would have been if they left him behind on the mountain trail—wandering into the woods, acquainting himself with the scent of the leaves, the texture in the bark of the trees, looking for a good place to build. ︎

Gian Lao is a poet and freelance writer based in Manila. His book and his zine are free to read at gianlao.com.