The Diamond-hard Grit of Nikki Ruiz


by Enzo Escober
Images courtesy of Nikki Ruiz and Enzo Escober.


After years of working in Manila, Nikki Ruiz decided it's time for a change. Today, the photographer is hustling her way around New York as she sheds some much needed light on the creative immigrant experience.
T
he model being photographed is unfazed by the camera. He's lanky and leonine, one of those eminently cool skater boys who seem to subsist solely on oxygen and vibes. Around him, the room adopts a similar ease. Someone is blasting a remix of Ashaye's "Dreaming," an obscure piece of nineties R&B that loops in a soothing, percussive lull. The guy from the fashion brand who's there to supervise is mostly hands-off, smiling politely and making casual banter. The sharpest suggestion of labor comes from the beep! sound triggered every time Nikki Ruiz, the photographer, sets off her shutter. "It sound like we in a hospital," the model jokes. "Like we in a CAT scan." This feels almost like commentary on Ruiz's style itself, which is intimate to the point of feeling incisive, surgical. In her pictures there is no clutter, no trace of noise. Sometimes there are just figures in vacuums, graphic characters outlined against clean, monochromatic backdrops. She has photographed people in crowded rooms and made them seem completely alone.
We're at a studio in East Williamsburg, Brooklyn, more than eight thousand miles from home. Ruiz's journey here, to New York and to this point in her career, has demanded every ounce of her willpower. She is not a U.S. citizen, nor does she have a green card—she's on the O-1 Visa, also known as the Visa for Individuals of Extraordinary Ability or Achievement. This means that Ruiz has had to approach each new project as though it were a reassertion of her place in this country. In this room, she is the one who speaks the least but gets the most done. Throughout the shoot she sits cross-legged on the floor as she takes pictures, her hair in a tight bun, a cropped cream-colored fleece keeping her warm—this studio is a rental, and the people right before us left a weird smell behind, so the windows have been kept open. After an hour with the model ("Easy gig, right?" she says when he wraps) she proceeds to take pictures of the clothes on their own, folding each one just right, ensuring no creases are visible.
"I couldn't fold clothes for a long time until it became work," she says as she runs her hand over a sleeve. The clothes Ruiz folds nowadays happen to be some of the most coveted pieces in streetwear. This shoot is actually a freelance gig for another label, but for six months now, she has been working full-time for Kith, a New York-based brand that has fostered one of the largest, most ardent followings in fashion. Its flagship store, a three-floor building in SoHo, occupies more real estate than several high-end designer shops and often has lines that snake down the sidewalk. Kith's sporty aesthetic aligns perfectly with Ruiz's own sense of style—as a basketball fan in Manila, her entry point into fashion was Nike, and she had always been interested in elevated casual clothing. But photography didn't become a serious interest until much later.
"Growing up, I thought I was going to be a musician," she says. "At first I was very extroverted, but as I grew up I was like, I do not like that limelight." Nevertheless, a career in art had always seemed like a realistic prospect to her. The painter Jose Tence Ruiz, who has represented the Philippines at the Venice Biennale, is her uncle. Because his success was so tangible, her parents were always supportive of their childrens' creative ambitions. "We grew up going to his exhibits," she says. "So anyone who said they wanted to be an artist, they were like, go for it." As a teenager, she got into sites like Tumblr, Multiply, and Blogspot, and thought that because she liked fiddling around with templates she might be into graphic design. But when her older brother decided to major in photography for college, she found herself drawn to the form, becoming curious about what he was learning in his classes. When the time came for her to choose her own major, she gravitated to photography, because there simply weren't any other options that engaged her. She wasn't admitted into some of the other programs she applied to. "I knew I wasn't dumb," she says. "I feel like I have ADD. I'm only invested in things I'm really interested in. In school, I only excelled in the subjects I liked—music, sports, and math."

This process of elimination was convenient for Ruiz, because it allowed her to direct all her energy into her craft. At the De La Salle College of St. Benilde, she began building her portfolio, intent on distinguishing herself from the pack. While her peers enlisted their friends to pose for them in photoshoots, she invested her own pocket money into booking professional studios and hiring models from agencies. The result was a sleek body of work ready to be shown to prospective employers. "I think that practice set my standards really high," she says. "I just had a vision for myself. I had taste. But I knew that taste…there's a price for that."

She also trained under the photographer Cholo dela Vega during her optional practical training, and gathered enough connections in her field to jumpstart a career. "When I graduated, I did not have any crisis," she says. "I already knew I was going to do freelance. Like, people are waiting for me, let's go." After getting her diploma in 2014, she started shooting for several clients, including the handbag brand Aranaz and the magazines Mega and STATUS. A big break came in 2016, when a friend in the industry tapped her to work on the local iteration of Nike and LeBron James' Come Out of Nowhere campaign. The convergence of sports and fashion in her professional life thrilled her. "It was the first time I felt like I was at the top of my game," she says. "It felt like the perfect fit." Ben Mbala, the Cameroonian basketball player who migrated to the Philippines and emerged as one of De La Salle University's star athletes, was one of her subjects. In her portrait of him, he looks into the camera intently, beads of sweat glistening on his temples, a fiery determination creasing his brow. It was the stubborn sort of hunger Ruiz felt in herself: after two years of freelancing in Manila, she craved opportunities elsewhere.

"When I was in college," she says, "at the end of every year I'd write, these are the dream people I want to work with in the Philippines, these are the dream clients and gigs. I was able to check that right away. But I think it was not because I was that good. It was because the Philippines is so small."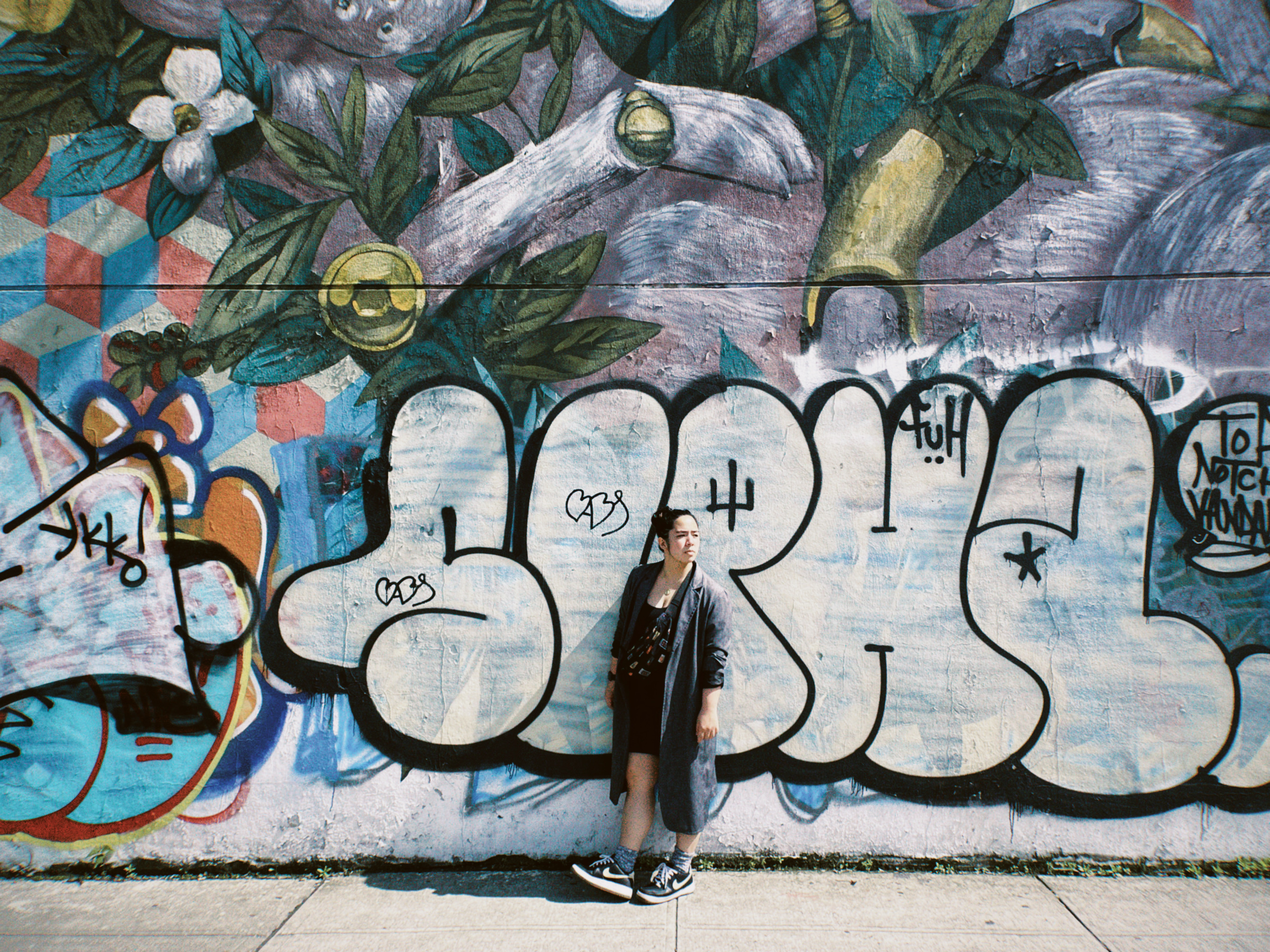 Ruiz had dreamt of migrating to the States for a while, and used to tell herself that when she turned twenty-five, she would make a big move. In high school and college, she would visit relatives in San Francisco, and enjoyed the West Coast because the sports teams she rooted for were there. But now she wanted something different, a place where she could truly put herself to the test. So in 2017, after turning twenty-five, she enrolled in a three-month certificate program in New York, at the School of Visual Arts. Her grandmother lent her the money after she pitched her a detailed plan on how she would pay her back.

Though she had visited the city in 2010 as a tourist, Ruiz came to New York this time around with an eye toward her future. She felt her way around, immersing herself in the culture, attending art and music events. As a fashion lover, she resonated with the city's experimental style scene. "You can wear anything here," she says. "In the Philippines I always felt like I had to dress up in a certain way. If you do some crazy print-on-print, people are gonna stare at you. When I got here, I realized I could wear anything and no one would care. That's one thing I really appreciate, coz all the crazy people are here." When it came time to leave, her mind was made up. "I felt like myself for the first time," she tells me. "That's when I knew I wanted to come back for the long haul."

Two weeks before her flight back to Manila, a friend in New York told her about a lawyer who specialized in helping artists get their O-1 Visas. She scheduled a meeting with him and asked about her chances. He said that her portfolio was strong enough to build a case around. "I knew after my consultation with him that I had to come back," she says.

Still, with her program over and no work Visa, Ruiz had no choice but to take the flight home. "I came back to the Philippines very depressed," she tells me. "I was like, I have to go back. My mom told me, 'emotionally, we're all in for you, but you're on your own financially.'"

Immediately, Ruiz threw herself into her work, directing all her energy into saving enough money to pay the lawyer and apply for a Visa. "I was anxious, coz I was so eager to get out of Manila," she says. "I was so focused on the end goal. I wasn't gonna take no for an answer." The next six months took on the intensity of a long-distance marathon. Ruiz knew that the key was endurance—she booked gig after gig, filling up her calendar and leaving no room for rest days. She looked over her shoe collection and sold half of it. She sold her desktop computer and studio lights too. "And then I was like, how can I make more passive income outside the actual gigs I had to do?"

Ruiz brainstormed for ways to earn. One day, a pattern emerged in a stream of DMs. Because of all the work she'd already done in Manila, Ruiz would receive messages from college students asking for photography advice. Realizing that this was a demographic eager for insight from a professional they admired, she started conducting workshops at Bob's Studio geared toward aspiring young photographers. The classes always got booked. Steadily, her savings grew, and finally, she made the payment to her lawyer. The O-1 application required recommendation letters from her past clients, many of whom vouched for her talent and work ethic. In May of 2018, she got her Visa approved. Unable to wait any longer and adamant about not taking a break, she boarded a flight to the US a week after.

"I was anxious, coz I was so eager to get out of Manila... I was so focused on the end goal. I wasn't gonna take no for an answer."
Nikki at work. Photo by Enzo Escober
America is so often cast as a land of limitless opportunity that we forget how stunning it can be to arrive in a new country and be shoved back to the lower ranks of your trade. Upon coming to New York, Ruiz found that she was starting from scratch again, and had to take work wherever she could get it. That meant combing through one of the internet's oldest but least respected institutions—Craigslist. "I made fun of it at first," she says. But the infamous dumpsite proved to have some treasure buried in the litter. "I didn't realize that some clients look on Craigslist if they can't afford the really expensive agency work." Ruiz booked her first New York gig through the website—a shoot for a food brand. They made her take pictures of two thousand different products for their online catalog. The compensation she was offered was low, but compared to rates in the Philippines it seemed like enough. Her most urgent concern was paying the bills on time.

"There was a lot of uncertainty for the first two years," Ruiz recalls. Sometimes she wouldn't be able to pay for laundry. Other times she'd have to borrow cash from friends when freelance payments hadn't been deposited into her account yet. A creeping fear began to gnaw at her. "I didn't really know what was gonna happen," she says. "I was like, what if it doesn't really click? I'd just get lucky from time to time, getting a good-paying client. But that was just enough to get by for the month."

This precarious way of life kept Ruiz on her toes. In the coming months, she managed to keep finding enough work to support herself. A yoga studio took her on as a regular photographer for its social media collaterals. She also shot for the shoe brand Koio. Six months into her New York life, she landed her first part-time job as an assistant at Wrythe, a Brooklyn-based studio. Though it wasn't a photography job, she took it so she could use the space to shoot. She learned to be versatile in her practice: "Most of my clients hire two different photographers," she tells me. "One for product and one for the lookbook or the campaign. And usually one only does the other. And I was like, if I can learn the other thing, then maybe I can get clients to hire me for both." Ruiz also perfected her signature style, eschewing elaborate sets and loud graphics for the subdued but urgent presence of her subjects. "I notice everything, that's why I learned through time how to make things very clean," she says. "It's harder to keep it simple but make it more impactful."

In 2019, as the city opened up to her and she began to settle into the rhythm of her professional life, Ruiz met Rayvon Williams, her future boyfriend. Originally from Detroit, he moved to New York with a hundred dollars in his pocket and worked a series of odd jobs to feed himself. He'd often couchsurf, and sometimes had to sleep on the subway. "He's a survivor," Ruiz tells me. "That's why we get along." Today, Williams' multiple side hustles include tax accounting, deejaying, and assisting Ruiz on the job. On the shoot I observe, he styles the clothes and runs logistics. One feels a sense of solidity watching the two of them. Williams tells me this comes from their conscious refusal to inflate their relationship to the size of the universe. "We can be around each other more if we go out and do our own things," he says. "We try not to spend every moment with each other. That never turns out good for anybody, if you ask me. We spend time apart, so we look forward to seeing each other." In a portrait Ruiz posted to her Instagram in October of 2021, Williams is lit tenderly, his amber eyes gazing at the camera with the kind of honest vulnerability that comes only as a byproduct of trust. "We're best friends," Ruiz says. "We can talk about anything."

For a while, it looked like Ruiz had finally achieved stability in New York. But this reality was rudely interrupted by the pandemic. Suddenly, the career she had worked so hard for was in jeopardy. Her part-time job let her go, and all her clients shut down business. Prior to COVID-19, she had been living paycheck to paycheck, so her status in the country was fragile. She'd wake up with panic attacks, struggling for breath. "It was the first time since I arrived where I had no work for one month," she says. In that window of time, with virtually no work opportunities on the horizon, Ruiz burned through all her savings on the barest of necessities. "I didn't know what was next," she says. "My anxiety went through the roof. I was like, 'am I going back home?'"

Ruiz's resolve, the quality that had gotten her through so much, was being put to the test. Momentary lulls were one thing, but a global health emergency threatening her career was another. Her inability to find work made her miserable. "You tend to forget all the good stuff you've accomplished," she says. "Because you doubt yourself." With nothing left to do in New York, she and Williams absconded to his home in Detroit. There, Ruiz found it in herself to get back up, looking for gigs in another new city. "I had to go back to my roots," she says, breaking into a smile. "Craigslist!"

Her next opportunity, though, came more organically. In Detroit, she met a friend of Williams' who worked at Hour Detroit, one of the city's top publications. When she mentioned she was a photographer, Williams' friend asked if she was available to do a photoshoot. The magazine was about to produce its annual feature on the most notable personalities in the city, and they wanted Ruiz to take the portraits. "Every time I feel like I'm falling apart," she says, "a thing pops up and I stay alive." Some of the subjects she photographed for Hour Detroit included Detroit's Deputy Mayor Conrad Mallett, the award-winning chef Omar Anani, and Dave Coulter, the first openly gay County Executive in Michigan. Each photo made a valuable addition to her portfolio. "I was like, okay," Ruiz laughs. "There's money in Detroit."

Ruiz continued to stay in Detroit, taking trips to New York whenever she could book gigs there. But as the city opened up again, she began yearning for her adopted home. In August of 2021, she opened the Notes app on her phone and made a list. The title read "Things that will happen in 2022." One of the entries said "NYC comeback." Another said "KICK ASS." Somewhere in the middle of the list was one word: "Kith."

Two weeks later, she got a message on LinkedIn from a recruiter. They did not tell her what company they were working for, but they intrigued her with talk of a full-time photography position with benefits. She agreed to an interview, where the recruiter told her that they were actually scouting for Kith. A path back to New York had opened. "I was surprised, she says. "I kept my cool but just went for it." She moved back in late September, the day before she was due to start.

Today, Ruiz works at her dream company and no longer worries about rent. To people back home, her life might seem enviable. But Ruiz remembers what it took to get here, and is quick to dispel romanticized notions of the immigrant experience. "Baka sabihin ng mga hindi ko kakilala—'Ay, sosyal 'yan.' Oh my god, kung alam lang nila na naghirap din ako dito," she laughs. "They feel that baka anak mayaman lang ako. I'd get random messages like, wow you're living your life. I'm like, hindi mo magugustuhan ang buhay ko."

The subject of idealizing the foreign land recurs at one other point in our conversation. When we sit down to talk, Ruiz and I are both aware of the presidential election back home. I ask her how she feels about the narrative of migration as escape, the way Filipinos of certain class backgrounds have been talking about fleeing our declining democracy for America. She thinks about it. "I don't think we've fully escaped," she says. "Coz now we're in a different battle. No one's fully safe anywhere, you just have to make it work anywhere you go." Ruiz points out that she now has to deal with racism in a way she has never had to before. She is also a woman in streetwear, one branch of fashion that remains pointedly male-dominated. Though living in America has been her singular focus these past few years, she remains critical of its mythology. There is no such thing as a perfect society; to come to America is to leave one broken system for another.

But Ruiz, as she has proven time and time again, is a survivor. This year, as she turns thirty, she looks back on a decade filled with enough experiences to last a lifetime. At the end of one phase of adulthood and on the precipice of a new one, she has learned that stability can be tenuous, liable to curdle at a moment's notice. Not that Ruiz despairs at this. When she was younger, the pressure to commit her success to a schedule—a job at this age, a house at this one—was her primary motivation. Now, she has discovered that people survive in order to live, to rest, to pause and to appreciate how far they have come. "There are days when I'm not a creative, I'm just chilling." she says. "I still have certain goals, but now I'm more realistic. Coz I know anything can still happen. It kinda protects me from disappointment. Nothing can disappoint me anymore. Pinagdaanan ko na lahat last year. Ubos na lahat ng luha ko. Grabe 'yun."︎
Enzo Escober is a writer currently based in New York.