10 Things About Rik Rasos


by Toni Potenciano
Photos couresty of Rik Rasos



Rik Rasos, creative director of cult contemporary fashion brand Proudrace, is finally ready to talk about himself. He discusses growing up in raves, going global, mirror selfies, and the power of the words "mahal kita."


1.
Rik Rasos is Proudrace.
To be specific, he's the owner and creative director of Proudrace. There was a time that the 32-year old Rik preferred not to be front-and-center of his brand, but we'll get to that later.
Proudrace is a decade-old contemporary clothing brand, known for their reworked apparel that pays homage to offbeat, street, and subculture references. It was picked up by fashion boutiques overseas in 2012, where Proudrace was sold in Singapore, Hong Kong, and Tokyo. At one point, they received
a Cease and Desist order from Henry Holland
of House of Holland fame. To which they created a shirt (in the style of House of Holland of course) that read "Banned by Henry Holland."
Even BTS wore Proudrace at one point
. In 2018, the label was picked up by
Vogue Italia
's creative laboratory called Vogue Talents for their collection made entirely from deadstock. The brand has been regularly featured on
Vogue
ever since.
And Rik was Proudrace's chief designer. He calls himself a "hands-on" creative director. "I need to be there," he says. Sourcing, patternmaking, sampling, and most recently, modelling. "During the pandemic, you couldn't go out to work. So I was creating everything,
ako din 'yung
fit model for a Lookbook
na puro
mirror selfies," Rik says.
Rik began making shirts as early as 2008, the bygone era of multiply.com, bloggers, and
Fluxxe Whatever Thursdays
, the infamous weekly parties hosted by painter Kiko Escora and designer Gian Romano. Fluxxe was the nexus of cool. Born out of the desire for an alternative club experience. The DJs of Fluxxe were often artists themselves, favoring electro, clash, cherry pop, disco, trash, candy punk, and new wave over the usual savoir-faire.
Young Rik would sneak out of the house to go to these parties, and some of the attendees would become his first clientele. "I'd go [to Fluxxe]
nung bata pa ako
. I met artists like
sila
Kiko Escora, and they would actually buy from me, buy my shirts," Rik recalls.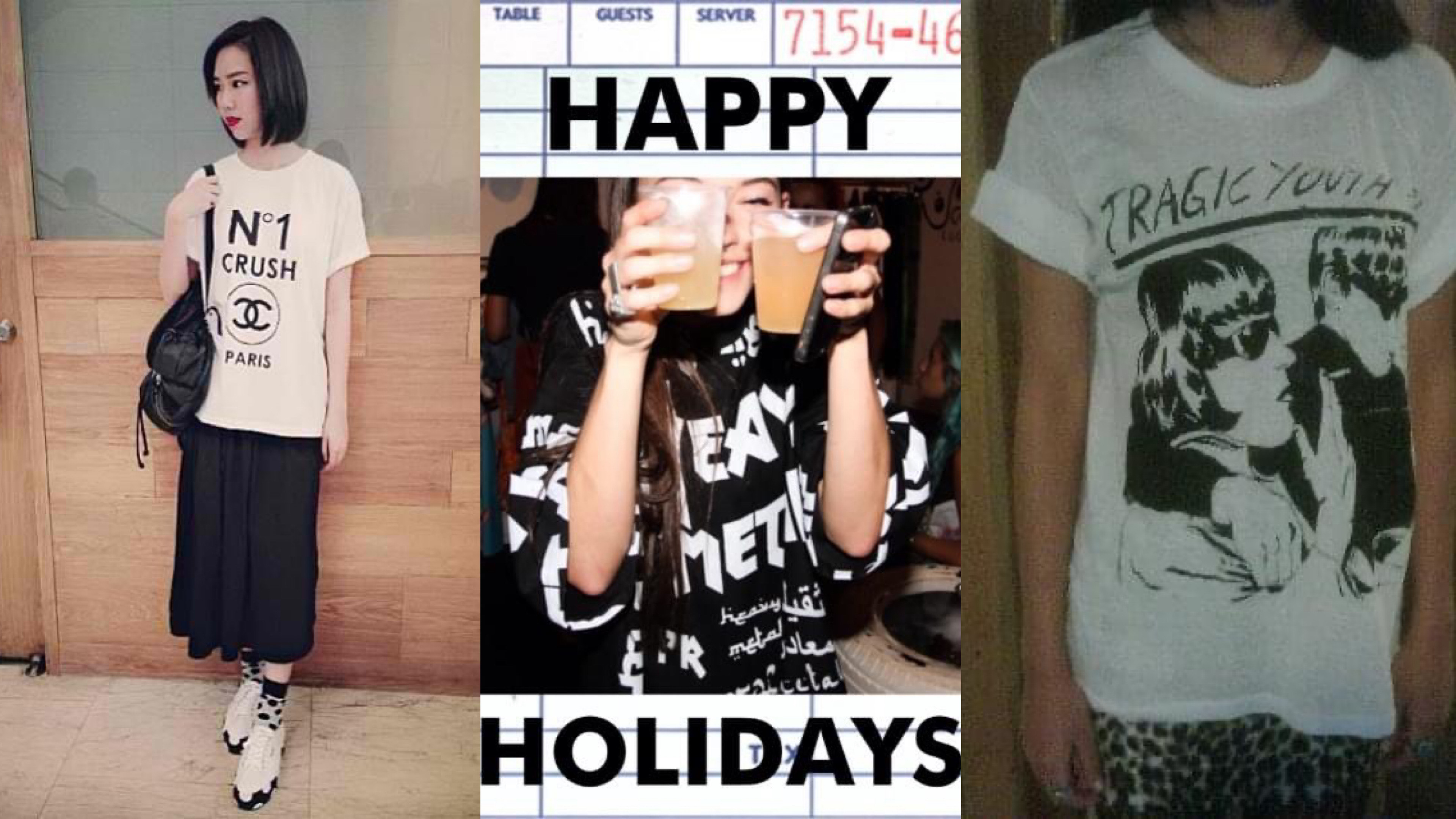 The shirts were Rik's first DIY projects. He'd shop at thrift stores that sold American souvenir tees. He'd cut them up, sew them together, and stencil over them; a technique that Rik still employs for Proudrace's current collections.
"What would you print?" I asked.
"
Yung pinaka-una kong ginawa
, it just says Teen Boy. And there's like a splatter, so it looks like a cumshot… I was saying
nga
if I do this now,
baka ma
-
cancel nga ako
," Rik says with a laugh.
"
Pero 'yung
time
na 'yon
, we were all teenagers and nobody cared. We just made anything
na
feeling
mo sobrang
rebel
mo kasi ginawa mo siya pero hindi ka talaga nagiisip.
"
"
Sobrang
cringey
na talaga. Pero
that's how I started,
'di ako nahihiya na
I started from there.
Sobrang, ano tong ginagawa mo?
But that's really how I started making t-shirts."
2.Rik Rasos says even Twitter wars inspire him. "People around me, everyone who's around me, they inspire me," he says. "Even with Twitter. Like, this is so weird, what is happening? It just fuels you to make stuff that can relate to these things."

He attributes his attraction to subversive youth culture as a direct response to a restrictive school environment. "I was a confused boy in an all-boys school, Catholic pa." he says. Rik knew he was different, but it was difficult to express that in a school that tried to teach boys to be "men." Which was why Rik sought safe spaces outside of school where he could express who he was without fear. "I knew I wasn't straight," Rik tells me over one of our follow-up chats. "I fully realized it towards the end of high school na I am queer."

It was in clubs that he discovered fashion brands like Havoc Street Couture by Adam de Lumen, a brand loved by ravers in the early aughties. Stores that he says he would have otherwise been too afraid to step foot in had he not been exposed to such cultures.

Havoc stood out in the family-friendly Robinsons Galleria mall. The elephant pants with swastika patches, animal prints, and acid wash were the antithesis of the preppy tailored looks of the 90s. And Rik felt this is where his taste was taking him.

"Havoc, People are People, I would force my mom to buy me stuff from there," Rik says. "'Di naman kaya ng allowance ko. I'd tell her 'pwede ito sa school,' pero hindi siya pwede talaga. I'd keep it to wear with my friends."

Rik recalls their graphic tees which featured provocative puns like the words "Enjoy Cock" or "Enjoy Cocaine" on written out in the Coca Cola typeface. But there was one particular shirt that stood out to Rik. "There was this shirt that said 'Bitch Goddess,' sabi ko… What?!" Rik says, eyes wide in mock surprise. "Sabi ko, okay, I'm going to save money and buy this."

"I still come back to it. You can still see it now, the tongue-in-cheek concept, nasa DNA siya ng Proudrace because that's how I grew up," Rik says. "That's always been my design aesthetic. I always try to have fun with I make."


"We were all teenagers and nobody cared. We just made anything na feeling mo sobrang rebel mo kasi ginawa mo siya pero hindi ka talaga nagiisip."
Rik Rasos learned how to make clothes by watching his aunt.
"She had a dress shop in Manila," he recalls. "She made uniforms, stuff for kids
na i-eexport
. She was also the seamstress of the wives of Manila mayors. Like past mayors from the 60s and the 50s, 40s…
Natuto ako
from just watching her.
Natuto rin
ako nung gini-
guide
niya ako
how to make stuff."
Rik worked as an intern for Cecile Zamora, better known as
chuvaness
. She was the progenitor fashion influencer, the first blogger in the era of dial-up. She brought New York streetwear to Manila through her retail concepts like D-Fect, Store for all Seasons, and Grocery. She opened up Rik's taste by exposing him to designers like Margiela.
"
Yung nakuha ko
from Cecile was more of
'yung
introduction to these designers," Rik says. "
Na meron pala ganitong
roster of designers with something that resonated with my aesthetic, the aesthetic I was trying to achieve."
Fast forward to 2012, when Rik received the first international orders for Proudrace. "We sent a whole collection to a store called Black Market in Singapore," he recalls, "In two weeks,
wala na
. I remember thinking, oh my god, there's actually a market for this. So
sabi ko
, maybe we should have structure for this and try to release a collection
na meron
concept and direction."
Their first collection was all black and featured a shirt that had the word "VIRGIN" underneath a Madonna-fied Versace logo. This shirt in particular was picked up by Condé Nast's
Love Magazine
.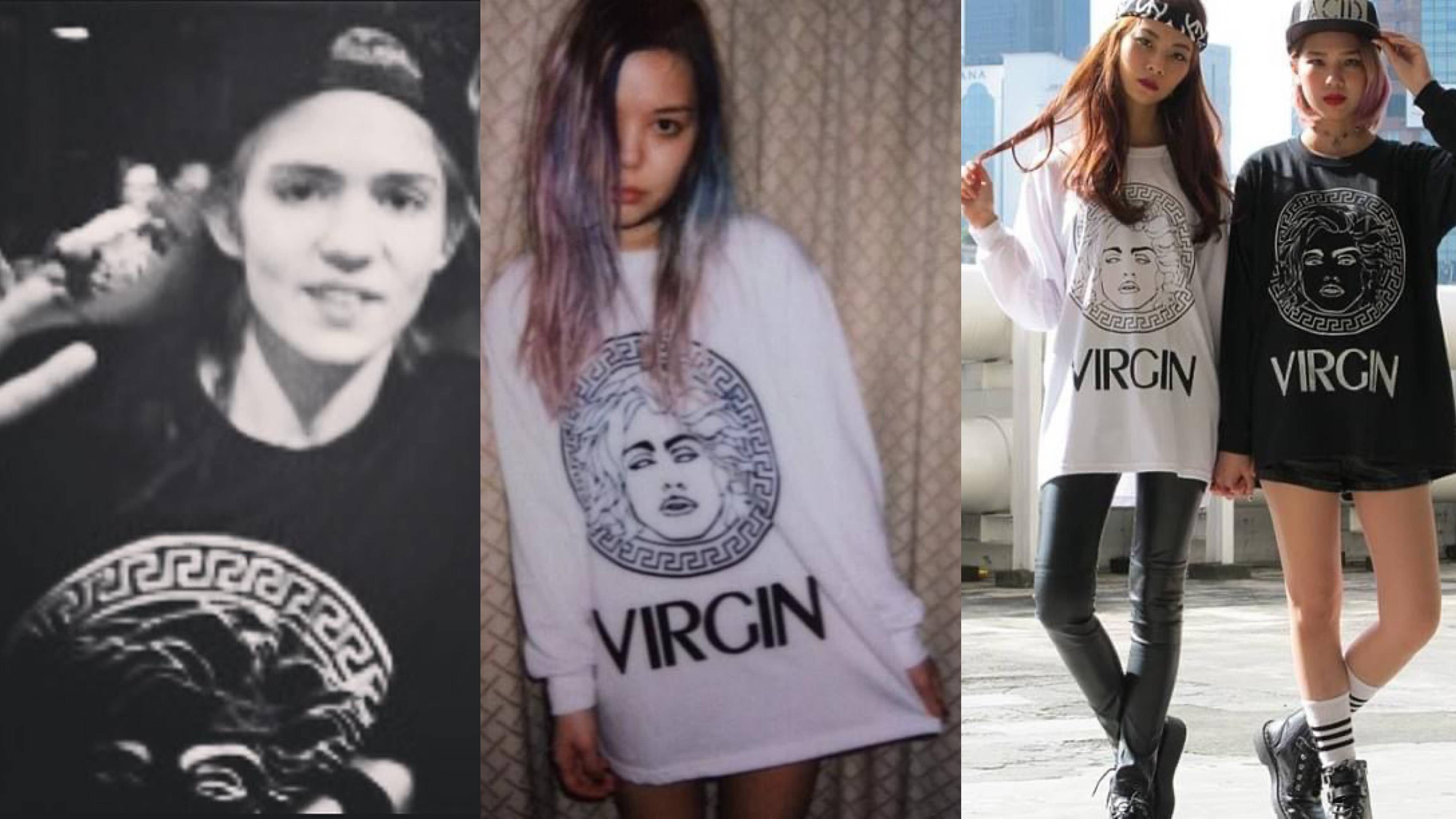 "
Isang
photo
lang pinost nila
," Rik says. "'And they just posted it on their…
'Di ba uso pa 'yung
blogging
n'on?
[Laughs] So it was like their blog, and they posted it with a link to our Multiply and Blogspot.
'Yun lang
. And then a Japanese store contacted us a few days after."
The Japanese store in question was actually
RADD LOUNGE
, a menswear store in Shibuya, and they placed an order outright. "Actually,
hindi nga super laki ng
order, it was just 1500 dollars. But in my mind
parang
wow, this is insane," Rik recalls.
Rik had enough experience from his aunt's manufacturing business to make clothes. That was the easy part. The hard part was learning how to finance full collections for global buyers who bought two seasons in advance. He had to figure out how to produce wholesale stock and how to make it fast.
"Like how do you sell globally? I learned you have to have a line sheet and stuff," Rik says. "
Pinag-aralan ko lang talaga
because I had no idea how it worked."
"Umabot ako sa point where I said this is not it. This is not the journey that I want for my brand. Hindi na siya tama, na it almost feels greedy."
Rik Rasos says that Proudrace was stocked in 16 cities worldwide at one point.
Proudrace had become a full-fledged RTW brand with ready stock in brick-and-mortar stores all over the world. Rik describes this period as intense and excessive.
"I was so hungry. To sell, to be in all these places," Rik recalls. "I think it's also a problem with colonial mentality.
Nung
time
na 'yon
, I was like, I need to do this global stuff. Because we'll only be recognized in our country if you've been recognized outside."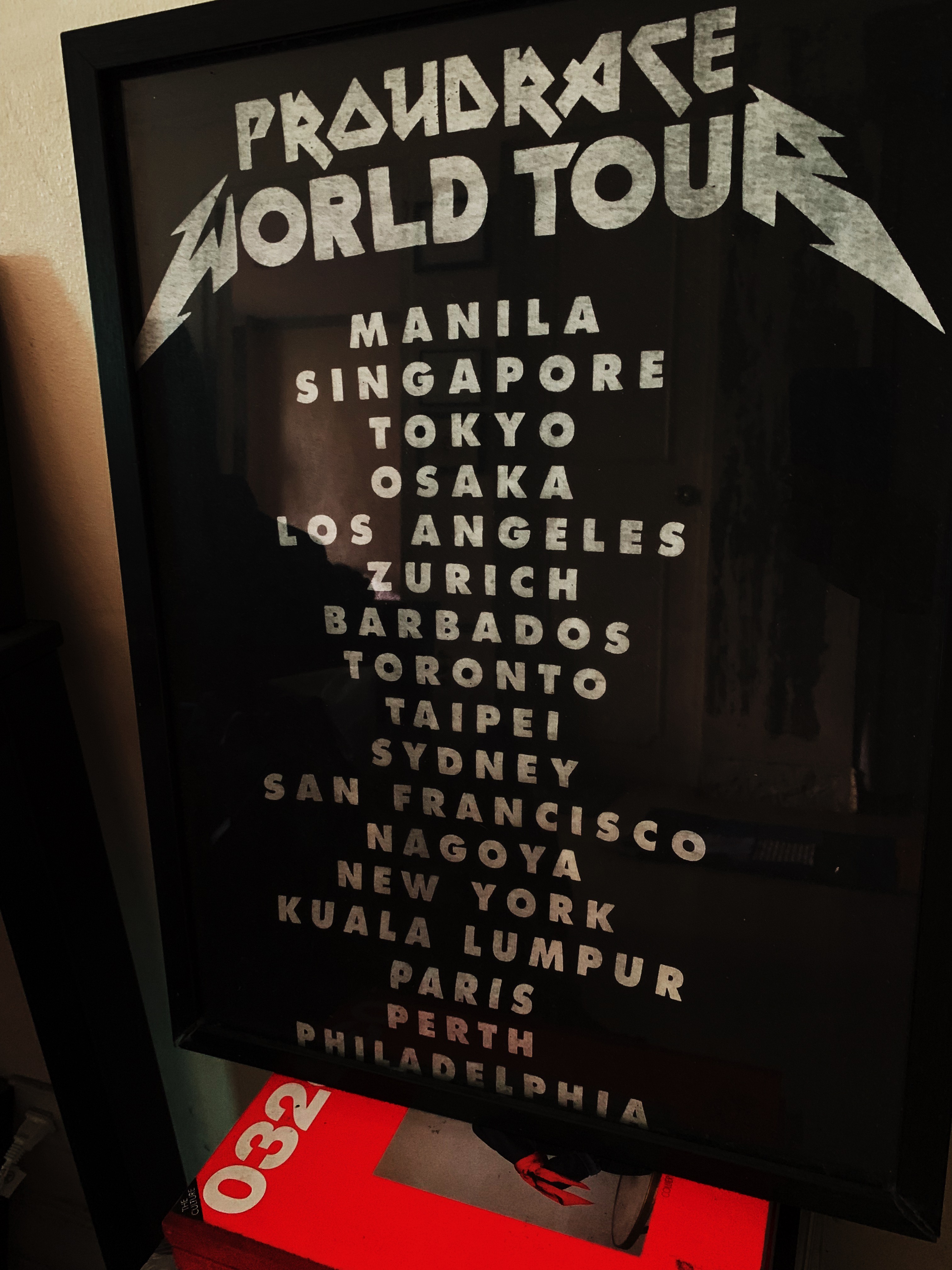 "
'Yun yung
mindset
ko
. So produce, produce, produce, produce, produce.
Sobrang
wasteful
niya talaga
, to a point
na nabu-
burnout
na din 'yung mga mananahi ko, nabu-
burnout
na rin ako. Sobrang daming damit na ginagawa.
"
Rik tells me it came to a head in 2017 when the volume of orders became unmmanageable.
"Naging parang
factory
kami
," he recalls. He would lose sleep thinking about production and at times joined his sewers just to meet quota.
"There was a time
na sobrang mali mali 'yung pinapadala
overseas. There was no quality control. There was a point
na
I was crying in front of my sewers, saying
sobrang daming mali na ibabalik lang lahat 'to. Umabot ako sa
point where I said this is not it. This is not the journey that I want for my brand.
Hindi na siya tama, na
it almost feels greedy."
"Do I need all of this?
Para lang masabi na
legit
ang
brand
ko?
So I said, okay, I think we need to regroup and let's see
kung saan natin gusto dalhin 'yung brand.
"
When Rik realized that this operation wasn't sustainable for his people or his brand, he decided to try something more slow and mindful. The 2018 collection of Proudrace was conceived and was composed entirely of found reworked garments, deadstock, and regenerated fabrics. It was this collection that caught the eye of Vogue Talents.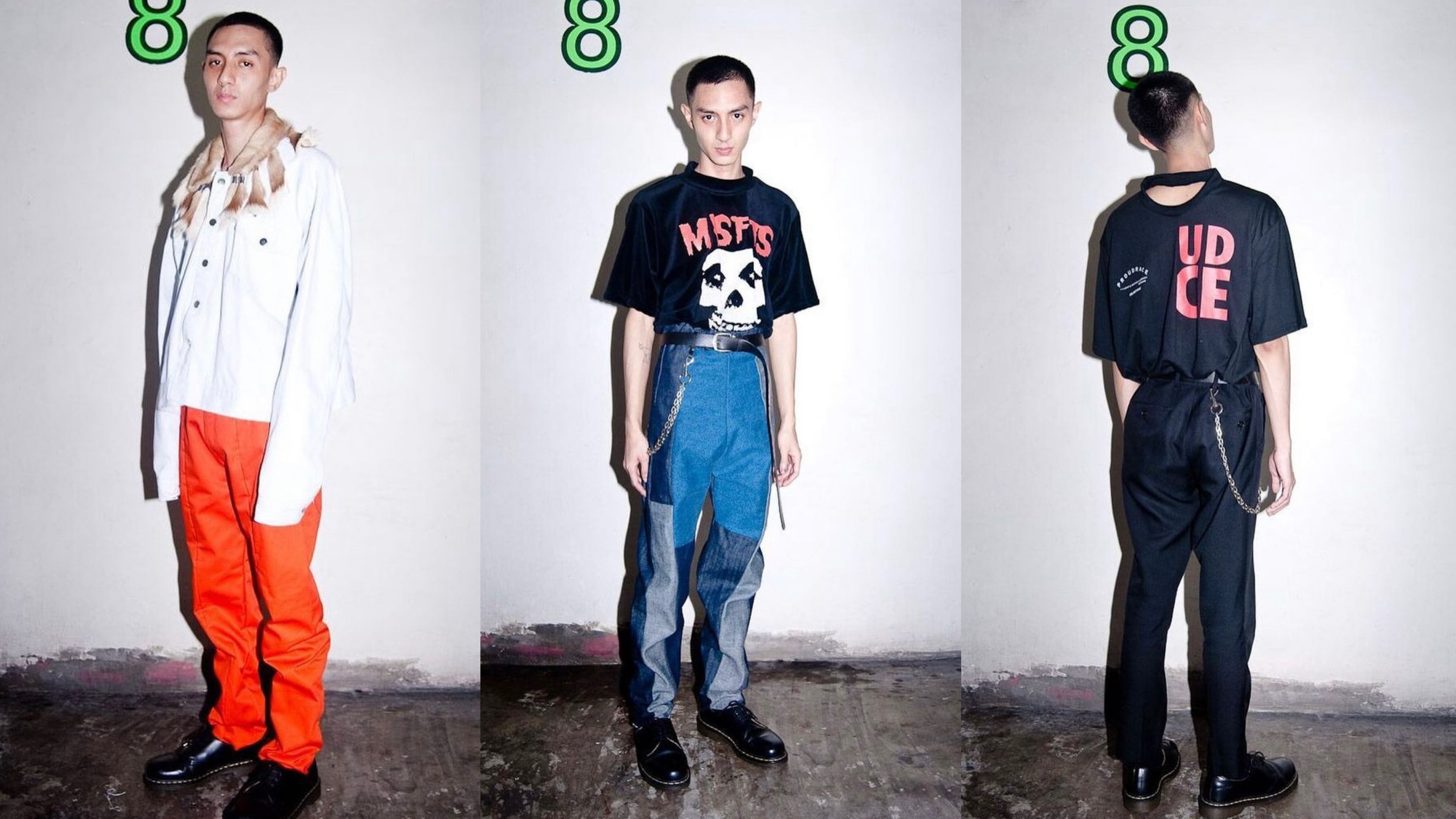 "
Sabi ko,
okay,
'di naman pala kailangan maging epal palagi,"
Rik laughs. "Or
sobra dami mong ginagawa. Ilabas mo kung ano talaga ang gusto mo
and it will resonate.
Makikita nila
sincere
'yung
brand
mo sa gusto mong puntahan.
"
The switch to low gear became permanent. They minimized production to minimize waste and to maximize quality, only creating pieces as requested. Their inclusion in a magazine like
Vogue Italia
was also monumental for another reason: Proudrace could finally break out of the category of "streetwear," a label they had felt pigeonholed in by the past few years.
"Our label does have street sensibilities but they do not define who we are," reads a Proudrace
interview
with
Esquire
from that year.
Rik Rasos is very shy.
There was a time in his life that he didn't want to be perceived by anyone. He hated press features, interviews, and public speaking. "Crippling
'yun for me,
" Rik tells me. "
Parang akong mamamatay
everytime." For a brand as in-your-face as Proudrace, Rik detested the spotlight.
"I was really hiding. I was super overweight.
Ayoko ng
pictures.
Ayoko ng
anything," Rik recalls. "If you look at my Instagram, sobrang late
na ako nag
post
ng
face
ko
.
Hindi ko talaga siya gusto. Naging
part
ng buhay ko magtago
. A major part of why I wanted to hide because of how I felt about myself."
"Ironic that Proudrace is the name of your brand," I tell him.
"Yeah! Super! Super ironic
na 'yung
designer
ng
brand
na 'to
is hiding and super afraid
na makita ng mga tao. Hindi ko naman gusto ng
Margiela anonymity or whatever. It's really more of this is how I felt. I didn't feel confident enough to face everyone."
"When Pat (Bondoc) was still with Proudrace, I always felt like
may sasalo sa akin
. Everytime there's an interview, feeling
ko
he'd be there to speak for me."
Rik Rasos is Proudrace.
But for the longest time, Proudrace was Rik Rasos and Pat Bondoc.
Pat's background was in Industrial Design. He came on in an official capacity in 2012 when Proudrace was first stocked in Singapore.
This isn't a story that Rik tells often. Rik and Pat were partners in business, but they were also dating. "We were together for super long, like in our teens." Rik says.
His role in the brand was to help Rik edit down the massive collections. He also faced the press when Rik couldn't. The relationship came to an end in 2019.
"After
kami nag-
break,
pumasok naman 'yung
pandemic in 2020. And I was really trying to find myself,
kasi nababaliw na talaga ako.
Like, oh my god, I'm all alone. It was a 10-year relationship and
biglang
poof!
Wala. Tapos na.
And I'm like, what am I going to do? I was so afraid. What's going to happen to the brand?"
I ask him if I can write about this. Rik pauses and says okay.
"It might be therapeutic for me because I've never spoken about it in public. That he left because we broke-up. It's really something we've always kept quiet about. It's a scoop." Rik says with a laugh. "Pep.ph
pala 'to.
"
Rik Rasos is actually quite patient.
A fact that he learned about himself a few years post-breakup and protracted pandemic isolation.
2020 was a difficult year for Rik. But it was a period of self-discovery. It forced him to get creative, to revisit the things he loved doing, and to be brave. So was 2020 like the emancipation of Rik Rasos? I ask him.
"It really felt like that," he replies. "I always say to my friends it felt like
na-
reborn
lahat
. My state of mind and how I want to run Proudrace. Feeling
ko
, it was a relaunch of the brand, a relaunch of everything I've done for the past years."
During the harshest of quarantines, Rik was in his studio. He found leftover fabric scraps and otherwise unusable garments and turned them into a whole collection, sampled and modelled by Rik himself.
The iconic Sparrow blanket-turned-apron emblazoned with "DADDY", a tank top neckhole moved to the waist, a printed mesh "pour femme" column dress, revealing Rik's Supreme underwear. Rik tells me that the Lookbook mirror selfies mimic popular Grindr profile photos.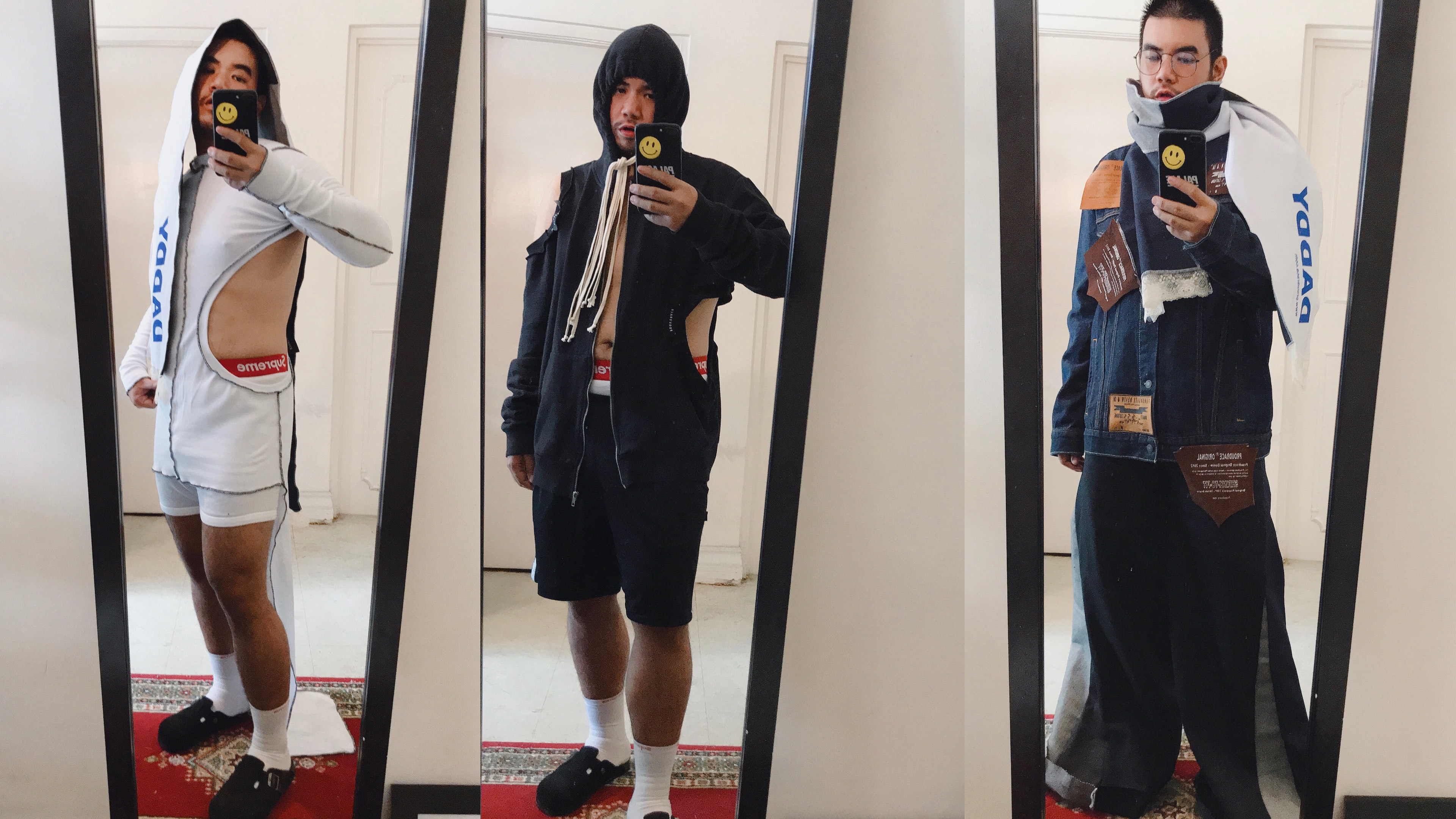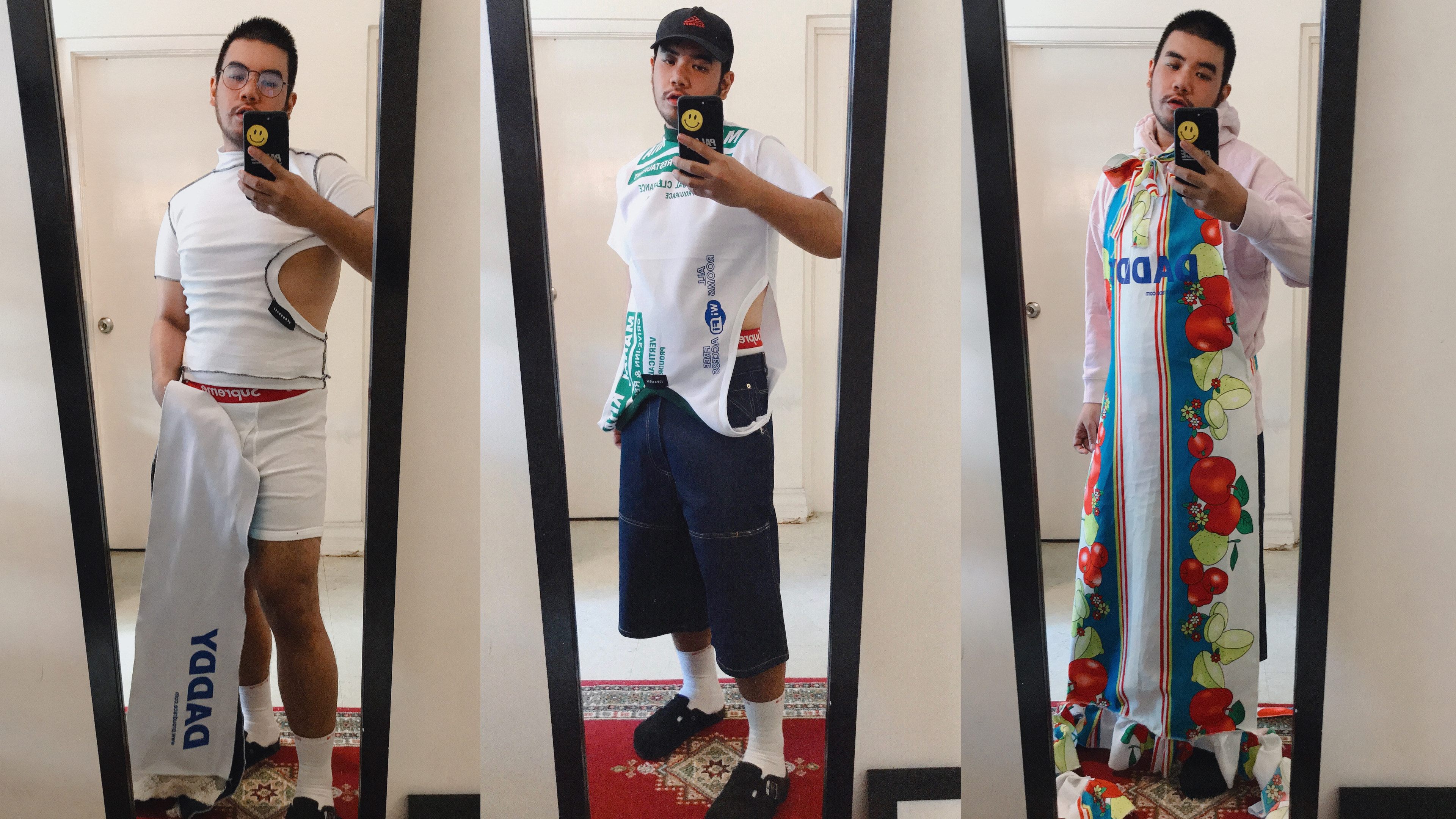 "It's about that counter culture of taking nudes using a mirror selfie and how that's so narcissistic and brave at the same time," reads
an excerpt
from a
Lifestyle INQ
interview. "The bravest thing I've done is to connect myself with the brand. I've always thrived with anonymity, and I really have stage fright because I am extremely shy."
Rik Rasos will not make new shirts.

Or at least, he's trying not to. "Anything we can find na deadstock, 'yun na ginagamit natin for production," Rik says.

Part of his sourcing includes visiting old department stores and clothing shops which are about to close. He purchases old t-shirts and deadstock which would have otherwise been tossed into the trash. These are what he uses to make Proudrace items.

"Our clothing is now more limited. There's probably five or six pieces to a single design, because that's all the fabric available. If I bought this deadstock fabric na tatlo lang 'yung pwede magawa, tatlo lang talaga siya. Even if we offer it with our stockists overseas, sa linesheet namin they'll see there's only three pieces of this. If they want to get it, then take it, if isa lang kukunin mo, then okay na din sa amin," he says.

Right now, Proudrace is only stocked in a few stores in Osaka and Sapporo. "It feels like we are starting over because of how buying, trade shows, and showrooms operate now and how greatly it has affected our brand." But ever since Rik launched his online shop, he says it's been an opportunity to take a step back and sell and make clothes according to his terms.

"In 2012, I was trying to prove to everyone that we are going to make it. We're going to go global. Whoo, wow."—Rik waves his hands—"'They're international.' But now, I know that I'm making clothes that I will be proud to see after 20 years. If they do a retrospective of what I'm making now, sobrang proud ako. Parang oh, I did that. This specific design, meron 'yang memory, why I made it. Now, laging may story and connection from me."


Rik Rasos's is most proud of the "MAHAL KITA" print. "Like, really super proud," Rik says.

It's the words "MAHAL KITA" in a bold sans serif, mimicking the name and signage of a drive-in love motel along Pasay, which has since become one of Proudrace's more iconic designs.

"If you tell someone na mahal mo siya, it means a lot. When you love someone… It's not even about the motel, it's really more about the phrase na 'Mahal Kita.' It's in my collections now," Rik tells me.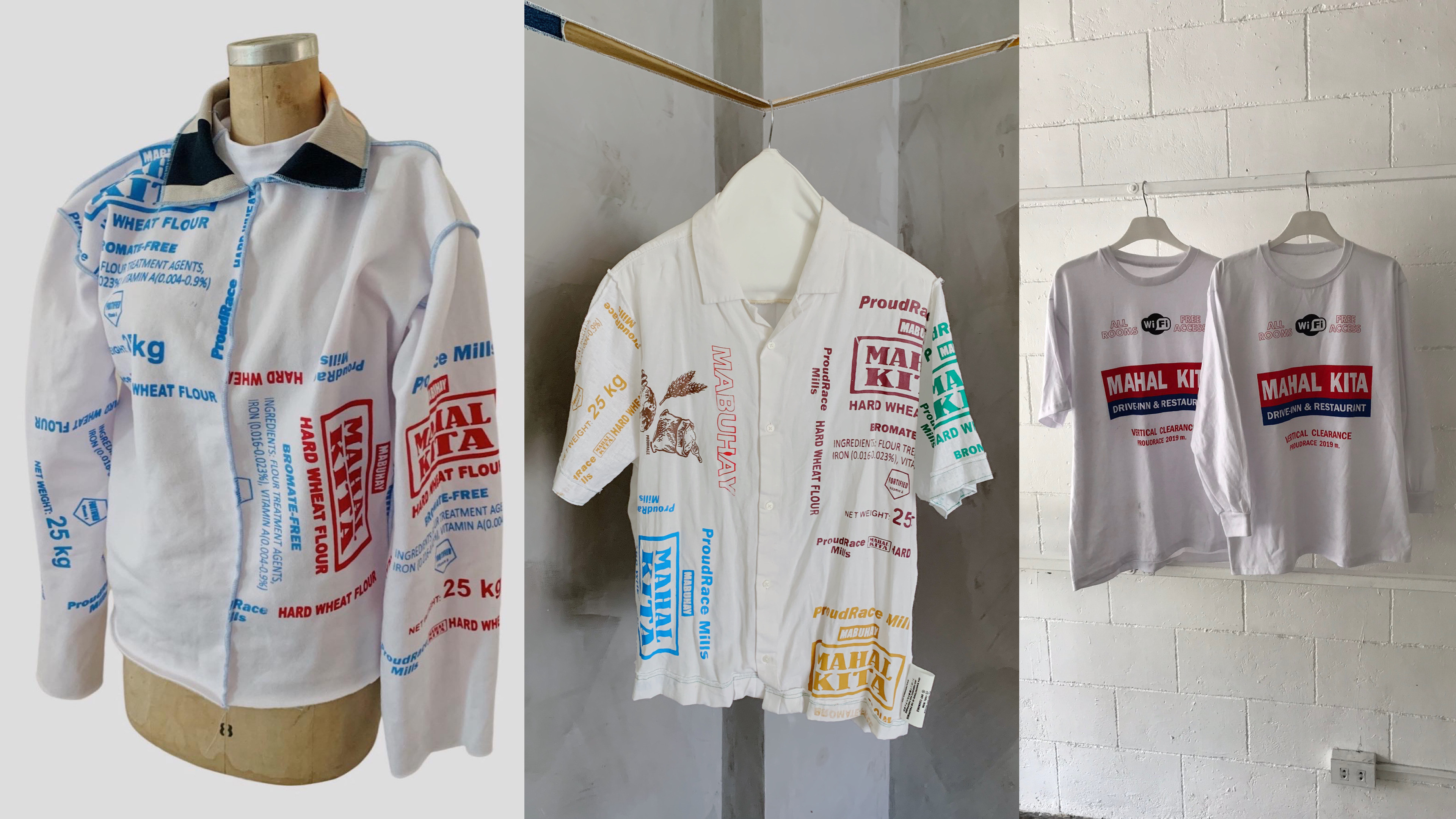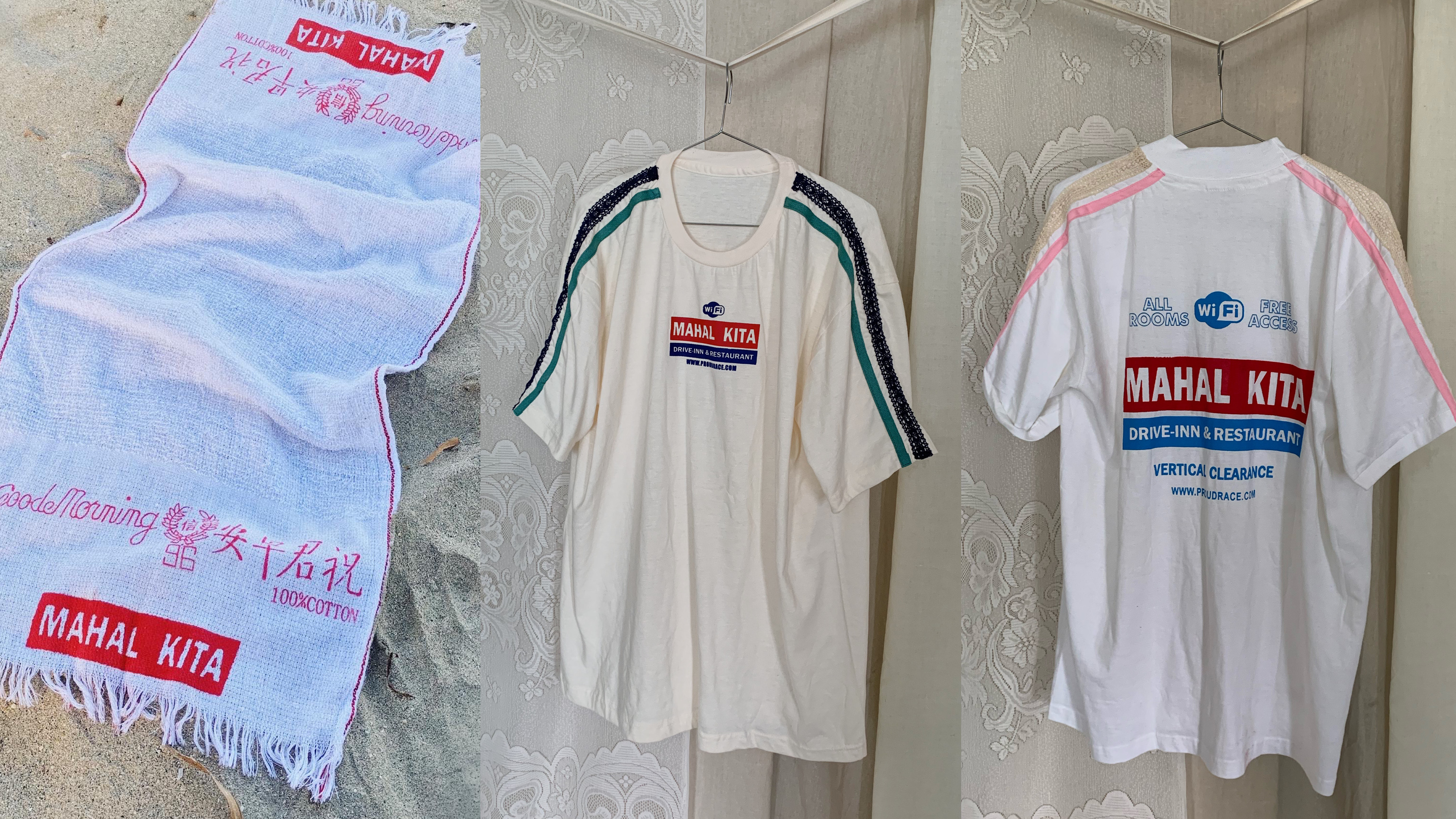 "Ayoko maging asshole, pero I even trademarked it. [Laughs] Para kami lang pwede makagamit sa clothing. Basta 'yung 'Mahal Kita' lang. If a brand uses 'Mahal Kita, Always,' wala na kaming ma-sasay doon. But the words 'Mahal Kita' are trademarked by Proudrace."

"Before kasi, puro cool lagi 'yung mga prints, cool 'yung laging nakasulat. Now, it's just… This is what I feel. It's such a strong Filipino phrase, di ba? Mahal kita, I love you. 'Yun na yon lahat. Nandoon na 'yon lahat."

I tell him about a time that I was in a car with my barely boyfriend-now husband and we drove by the motel. He jokingly pointed at the sign and said, "Gusto mo doon tayo?" and I remember saying, "Anong gusto mo? Magkantutan lang o magmamahalan na ba tayo?"

"If you see that print, you think ang daming nangyayari sa motel na 'yon. Meron talagang nagmamahalan, pero meron din nagsesex lang," Rik says. "There's so many stories happening there. Kaya feeling ko ganun din 'yung nangyayari sa Proudrace, with just this phrase, marami siyang stories na pwede i-share."




Rik Rasos is Proudrace.

Or at the very least, he feels more in sync with the brand.

"Maybe also because I'm doing it by myself now… Dati, if hati 'yung vision, ngayon there's one vision, one goal, and one story," Rik says.

Rik feels brave. More honest about the work and the things he's gone on to create. "[Proudace] is more connected to me now. That's the perfect explanation," he says. "It feels more sincere because I feel more connected to the brand. Kami na 'yung mag-boyfriend. Kami na 'yung in a relationship."

"I owe the entire brand to my experiences growing up. In high school, I knew I was different. I fully realized towards the end of high school that I was queer and not straight… All I can say is I am queer and exploring. For the longest time I was in a homosexual relationship, but now I realize there's still so much more to explore about my sexuality."

For Rik, Proudrace comes from a place of pride. "Everything that is produced from my brand is coming from a place of truth, bravery, and honesty."

"Could you describe Proudrace now in three words?" I ask as we end.

"I think… Crazy, sexy, cool," Rik says decisively.

"Wow,

TLC

."

"Yeah. I think 'yun talaga siya now. It's so empowering." ︎



Toni Potenciano is a writer and strategist for And a Half.