The Kindness of Clay


by Jonty Cruz

Photos courtesy of Pau Javier



Pau Javier talks about her new ceramic ware business, Wabi Sabi, and how its philosophy has helped her during the pandemic.
P
au Javier thinks I'm going to be disappointed. After looking at the questions for this interview, she says she was worried I might not get the kind of answers I was looking for. That they wouldn't fit the narrative I may have had in mind. I had never met Pau before the interview but perhaps through the questions I sent her, I had unfairly pictured her as someone leaving her "toxic" situation to pursue "the artisan life," only to find myself wanting.
It's easy to think of that kind of story, of the burnout story. One where Pau eventually broke up with production. That after all the countless hours and all the hard work, she finally decided to call it quits. We've all heard that story before: of someone who gave of themselves too much until there was nothing else to give. But to think of how Pau's story plays out even before she gets to speak would be to pigeonhole her like all the rest.
As a broadcast producer, Pau is used to putting out fires all day. She speaks of her life in production as a life of navigating through—and mitigating—chaos. Throughout her career, she's been in charge of addressing the needs and expectations of clients, the agency, as well as the production teams she's a part of. "It can get exhausting, draining even," she says.
She started in journalism where she played the part of both journalist and producer for a local network. She then went on to work on independent films and got to be part of that "circle" as she calls it. After that, she found herself in advertising where she still currently works. I ask her how long she's been in production. "It actually feels like the entirety of [my life]," she says.
It would happen that when she'd start a new project or enter a new industry, Pau would immediately be put into a category. "When I joined advertising, some would find out I came from film and say, 'ah,
iba 'yan mag-isip,'"
she says. "Or 'she's a weirdo.'" She experienced it from some of her peers in film as well. "
Naaalala ko nung kakapasok ko pa lang sa
advertising, people in film already saw me as a different person." The stereotypes would even go beyond her resume and start being about her gender. "Being a woman in production,
maraming nagtatanong kung bakit ako andito
. Assistant
ka ba ni
whatever? Are you an art director?" she says. "Being a producer, you're supposed to be [or be seen as] the bossiest of bosses. The male producers are treated that way. Sometimes just because I'm smaller or I look like this, I'm treated like crap." She says that she had to learn how to assert herself more. Not to prove anything to anyone per se but to show and remind herself that she belonged.
But Pau's story, as I learn, is not one of burnout or disillusionment. It is not a rejection of the life she once had in the place of this new, grand thing. Her story is of a life containing multitudes. Of being more than that one thing she is thought to be. It's something she's quietly known all throughout her life that's finally being seen—thanks in some ways to Wabi Sabi, her new ceramic venture that she started with her sister, Gabbie.
Over email and Zoom, Pau tells me more about Wabi Sabi, the philosophy behind it, and how she's channeling that into her own life.
The following has been edited for publication.
︎

Out of Print: You mention that Wabi Sabi was supposed to be your "retirement plan"'after prod. When or how did those plans change?
Pau Javier: I wanted to do it siguro 'pag mga 40 or 45 na 'ko, assuming that I'd stop working. But knowing myself I'd still probably work until I'm not able to. It was more of "retirement" in a sense that I'd have more luxury or more power over my time.

When [we] set up the studio there was a certain sense of "the world is ending," parang ito na 'yun. For a moment I thought, "Well, fuck, para sa'n pa lahat ng ginawa ko?" This had always been a retirement thing for me, so if the world is ending in a couple of months, why not do it now?

So when did you begin pursuing pottery?
I think it was in 2017. I did a [pottery] class when my sister, Gabbie, dragged me [to one] after so many times of patiently asking me to come with her. Parang she'd say, "Teh, gusto mo ba mag-pottery?" She kept asking and asking and asking. She won and ang saya naman pala.

What did you like most about it at the start?
The hardest part of it (at least in my opinion), centering. It's when you throw a piece of clay onto the wheel, grounding it so that all parts are even, [and] cuffing your hands around the spinning clay. The goal is simply to dance your hands as minimally as possible along the rhythm of the clay's movement. It's interesting to know the personality of the clay every time.

May I ask what you mean by "the personality of the clay"?
Ang daming characteristics ng clay. Meron siyang certain type of memory. Clay takes the shape of its container. So when you put it in a sack, it takes the form of that. Different types of clay may different types of consistency, feel, texture. Like lumalaban din siya. So you're breaking its memory or its form and during that process, you really get to know the personality of the clay and you adjust to that. It's not something you think of actively. It's something that's really innate.

Is that what you mean when you say "the goal is simply to dance your hands"?
Exactly. It's not something you calculate.

I don't know if this is weird to ask but does the clay's personality ever rub off on you?
Yeah. It can really get into your head sometimes. Just like with anything, you have good days and bad days. Some days you think ang galing mo and that everything you throw is wonderful. Then there are days na puro tapon lahat.

I think more than the clay, it's the clay in you? Your state of mind for the day, your mood or whatever, it all affects you.
"The process is difficult but it's very forgiving. The beautiful thing about the process is that every mistake you make, there's always a way around it."
From an outsider's perspective, it seems the process of pottery is so calm and intimate. What do you think about when you create or are in the middle of it? What does the process provide you personally?
Whenever I sit by the wheel to start with the clay, there's absolutely nothing on my mind. And it's unusual because my head is usually a traffic of racing thoughts: busy and loud—but organized. It's only when I do pottery that I get that leverage of comfortable silence. I don't think of control like how we usually know it because 99% of the time, the clay decides differently. And what you control instead is the haplos, the gentleness of the hand when handling clay, like it's precious. It's a dance [between] the hands and the clay—a conversation.

The process is difficult but it's very forgiving. The beautiful thing about the process is that every mistake you make, there's always a way around it. There's always a next step you can take to make it beautiful. It's forgiving in that sense. Some of our works na andito ngayon parang were made from mistakes.

Have you felt this kind of process outside of Wabi Sabi? This feeling of being open to loosen control? Especially now in this pandemic, when it's hard to actually feel like you have control.
I think built in na in my system 'yung craving for order and control. I'd like to think I'm trying [to loosen control, though].

What made you and your sister decide this could maybe jump into becoming a business?
Actually the business side of it wasn't really something that we thought of. Definitely we thought about the cost of a rental space and 'yung equipment, but I just thought before, that if we ever did have a studio, then it would just be for us. Putting up a business wasn't really a goal. Ang irresponsible nito but later on na namin na-figure out where we would put all the stuff we make. We gave away so many mugs at first na we exhausted all of our friends. We didn't go into it thinking, "Ah, yayaman tayo dito," but it's also nice because, in a way, I love that I gave my sister a safe space to be able to work and be profitable during the pandemic.

'Yung leap, 'yung investment, it was really a taya on her. It's really about that. It's an investment on my belief in my sister. She's really talented, kaya medyo confident ako going into this kasi I love all her work. This just gives her the chance to share it.

It does in some ways feel limiting to start anything just wanting to sell.
Yeah kasi if you want to go that route we'd go [and make for] the restaurants or the bigger industries.

I think suwerte din kami since we're not pressured by the demands of profit—it gives you a sense of freedom to just create without any external voices na magdi-dictate sa 'yo. I'd like to grow it, definitely, but I want to keep that sense of freshness.

Most from your recent release, though, sold out in 10 minutes. Where do you think this interest or demand is coming from?
It's flattering, to be honest, and most importantly exciting because it means there are a number of people who appreciate clay in our time when information is so convenient and instant. Most of them have been with us since the beginning of the process and have somehow felt involved with what we keep on sharing through our platforms. And it's overwhelming to see the community grow. People still desire to connect with the tangibility of an object meticulously designed and molded, [that's] intimately handled with utmost care by another person who dedicated time and focus to achieve it. I realized that's still among us: the culture of creating personal connections with tangible craftsmanship.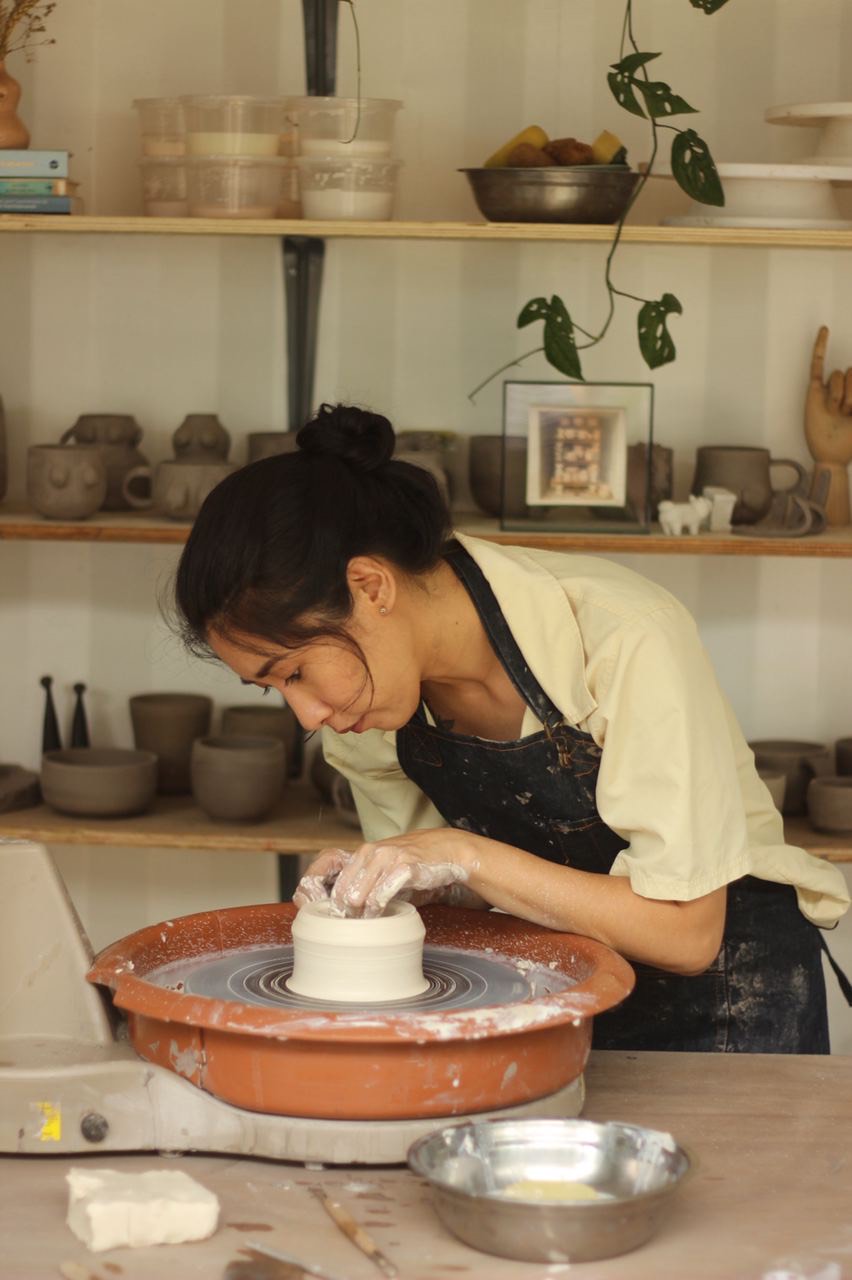 Pau says she feels lucky that Wabi Sabi isn't soley based on earning as much as they possibly can. "We're not pressured by the demands of profit," she says but that they're driven by the "freedom to just create without any external voices."
I had to double check what "wabi sabi" meant before the interview. I love that it refers to the beauty of imperfection and impermanence and that it's become a way of life or philosophy for some. Could you talk about how you relate to that personally?
Having read and learned the philosophy, it was so refreshing. Ang hirap niya to describe. It's like if you're asked to define love. You give your own interpretation or meaning or your own experience of it, but wabi sabi is a decision.

We're always looking for polished, for perfection. We're always looking for efficiency. We keep telling ourselves that we have to be the best version of ourselves every day. Reading about the concept of wabi sabi, ang sarap to live that way na you're free of any expectation. It's not something you achieve entirely but it can really be liberating.

It's about being kind to yourself, being forgiving. It's knowing you gave something the best you can do, and being at peace with it.

What are you looking forward to most as you grow Wabi Sabi?
Right now ang mindset lang namin is we just want to pay rent. [laughs] But it's really just been nice. I wish everyone had some version of this experience where you find peace outside your home. That's really the best thing that this gave us. Cabin fever na tayong lahat eh. And then we got to create this space that's kind of become another home to be creative. Kasi 'yun 'yung nawala sa atin. We used to rest at home and go to work. Now that we're all working from home, nawala 'yung sense of balance natin. We're all expected to be on the clock the moment we wake up.

I'm just really looking forward to the things we can make. I'm also looking forward to having other people see our studio as that kind of place for them, too. More than us selling mugs.

Did or does having Wabi Sabi now help you appreciate your other job in production more?
I don't think it's affected my other job, but personally na lang, when I was a kid, [I wasn't] considered creative kasi I'd be placed in a certain category. "Ah, si Pau, she likes books so let's put her in this category." So I never considered myself as a creative person kasi hindi naman ako marunong mag-drawing, hindi naman ako painter. I think since Wabi Sabi, I saw myself differently and I saw the word "creative" differently. You're not just one person. Nakakatuwa rin to see or think, "Ah, I can also do this!" It gives me the chance to define myself not just in one space.

It seems even though you have two "jobs" now, you feel less... busy?
Yeah, I'm still busy pero I guess I'm not as exhausted or overwhelmed. Kasi before it felt like hinahatak lang ako. I'd do eight meetings a day. Bilang 'yung oras mo by the minute. It's still a lot of things now but it's less suffocating. I don't know why but I have control over my time now more than before.

I feel like I have a clearer sense of your story now.
'Di ba? Parang when I was reading the questions, parang, "Fuck, feel ko madi-dissappoint siya. I think he's looking for a story na she used to be so… 'this' and now she's leaving." Nice din naman 'yun but it's really a different story. 'Yung generation ngayon, we're not just one kind of person.

Sumabay tayo sa trend before na we're always placed in certain categories and then we live our lives trying to fit into those categories. We don't realize that we're not exploring other sides of our lives that we could actually like.

Feeling ko now, kahit saan ako pumunta, really the only thing that I can control is my effort. Kung isagad mo siya, it's gonna work out. ︎
Jonty Cruz is a writer and creative consultant based in Manila.