Why Kookie Santos Will Keep Choosing Design


by Toni Potenciano

Art and photos courtesy of Kookie Santos

Graphic Designer Kookie Santos on turning creative work into a job, building Serious Studio then leaving it, and choosing to create, which also means choosing herself.
K
ookie Santos uses the word "accident" to describe her career.
It was an accident that she, the daughter of two bankers, pursued a graphic design course instead of engineering. It was an accident that she just happened to join a start-up with no clients and no portfolio. And somehow, she and her former partners Deane Miguel-Cruz and Lester Cruz built
Serious Studio
—a juggernaut in the boutique design studio scene, where Kookie led as creative director for eight years.
Her juniors describe her as a leader who could bring out the best in their work. She's kind but meticulous; no pixel escapes her scrutiny. She has the ability to see what's missing from a design, as well as what could change or improve. "I always consider my audience, the people who'll look at the work," Kookie tells me. "I learned throughout my career that I need structure. In design, my thoughts need to follow a story. They have to make sense."
Visually, Kookie is a maximalist. Her custom typography has often been described as playful, childlike, and expressive, but there is also a kind of contemplative quality to her work. Her most popular designs are aphorisms and inspirational exhortations like "
Take Your Time
," "
Patience, Process, Progress
," and "
Invite Possibility
." These same works have caught the attention of several international publications like
It's Nice That
,
Femme Type
,
Adobe
,
Mulieris
, and
The New York Times
.
But even after all she's done, Kookie still chalks it up to accidents and coincidences. Things happened on their own simply because she let them. "It's easy to be obedient," Kookie tells me. She was a self-described good kid. Never lashed out, had good grades, and had a peaceful adolescence for a millennial. "If you tell me what to do, I'll most likely do it," she said.
"Do you still feel that way now?" I ask.
"It still feels like it's an accident and I'm just flailing around with what to do next," Kookie says. "But at the same time, the fact that I kept showing up every day, that I kept doing the work, saying yes to these things… There must be some level of intention there."
"It still feels like it's an accident and I'm just flailing around on what to do next."
For the past eight years, I had always known Kookie as Kookie of Serious Studio.
Serious was the design studio of choice for many of the culturally savvy, millennial-led brands of the 2010s—a time when people wanted brands to have personalities. Their early work includes Satchmi, The Girl + The Bull, EDSA BDG, and sex toy store Ilya, to name a few. One can recognize Serious from the way they make brands look cool. "Make Sense, Look Good," is the Serious tagline, and for many years it was Kookie who made sure things looked good.
"Anything that would make me design, I would do," Kookie recalls. But she admits there weren't a lot of options then. At the time there were only two choices for graphic designers: advertising or big corp, where she would probably be the designated PowerPoint person. A door opened, however, when she found herself in a meeting with then college seniors Deane and Lester, who were consulting with an upperclassman for career advice.
"They said they wanted to start a design studio and that they would be the ones to advise the client on how to succeed and how they could do it through design," she recalls. "And I was there, and he was like, 'Imposible 'yon! Walang ganun sa design.'"
In spite of this, Serious Studio was conceived in 2012 and Kookie joined a year after. "What we were doing was new then, but it wasn't sexy at all sa start. Nag-layout kami ng mga corporate books, then there was this one point na kailangan kong magsuot ng corporate suit 'yung 1x1 picture ng isang guy na naka-t-shirt," Kookie says with a laugh.
"We had more of that than the 'cool stuff.' But when we did get the opportunity, we'd make the most of it." She talks about their work on Satchmi, a vinyl-analog lifestyle brand. Back in 2014, Satchmi was just an online store that sold vinyls to collectors. They asked Serious Studio if they could make a few social media posts.
Nobody remembers their first download, but everybody remembers their first record, reads
one of the early Satchmi tote bags
, designed by Serious Studio. From being an online shop, Satchmi eventually opened a physical store that sold coffee, hosted gigs, and celebrated Vinyl Day. Back then, it was such a novel idea that brands could do more than just sell products, and good design was at the center of it all.
"It was an amazing environment to be in," Kookie says. "And even when we didn't know what to do, we'd say okay, this looks cool so maybe we should do this. That's how it got bigger and bigger."
Whenever new industries would inquire, they'd often say yes. "We'd figure it out along the way," said Kookie. "It was a lot of saying yes to all of these uncomfortable things. It was about having grit and the audacity to say yes."
Photo and illustration by Kookie Santos.
When Kookie became creative director and partner around 2015,
she says it seemed like the most natural course of action. "With a bigger team comes the inevitability of things," she says.
"I really just wanted to create, to concern myself with the craft side of things," Kookie tells me. "But as more designers were coming in, they had to be introduced to the way we did branding. And being a creative director was hard for me at first. Who was I to say that something wasn't right?"
But the younger Serious designers have fond memories of that time. "I couldn't have asked for a better mentor," writes designer
Therese Luna
in an email. Overtime with Kookie was a rite of passage, she said. "We could get a glimpse into her process, how she thought, and how we could learn from it."
Illustrator
Ross Du
described Kookie as focused and detail-oriented, always wanting to maximize the quality of their design work. Former Serious partner Sel de Guzman described her as "brilliant."
"The perfect mix of honest and endearing," writes designer
Lazir Caluya
.
"It was very clear she knew what she was doing and that she knew how to guide designers down the right way," writes former Serious strategist Kar Abola. "She really made me feel that everyone and everyone's ideas are worthy to be heard, even a non-designer like myself."
But it was also during these years that Kookie questioned her love for branding. The problem with turning your passions into a career is that too often boundaries get crossed, self-worth is put into question, and feedback is taken personally.
She recalls their work for
GCash
in 2018, the biggest mobile wallet in the Philippines. "GCash was hard. It was my growing up project, even though this was already late in my career" Kookie says. "Suddenly it's not some niche thing where people just want to have fun. It's a brand people need to trust because it's actual money."
As the most experienced designer on the team, Kookie was in charge. "I tried to do everything myself design-wise. I didn't tell anybody what I was doing because I was the creative director anyway," she says. When she presented the project to the client, nothing was approved.
Anyone who has ever had to defend their work to a client knows that revisions are part of the job. But even the most thick-skinned creatives aren't fully immune to the sting of rejection, especially for work that is often so self-emptying.
"I've had brands under my belt that I made alone and that's great. But to do that big brand and for it to get completely rejected, it's like a rejection of all the things that I used to believe about myself," Kookie recalls. "It made me question why am I even in branding."
When it was passed on to a younger designer and Kookie took on a support role, the project was in a better place. "It was humbling. I realized that the team is so talented, and that sometimes there will be better designers than me, and I really believe that there are," said Kookie. "You just really have to trust the things that they do."
"The creative industry is fun but it can also be difficult," Kookie says. "Because you need to be creative in order to earn, you get pressured to perform. It's easy to equate your worth to what you make at work."
"And I performed, I was good at it. Even when I was burnt out, I could still perform.
Kahit pagod na ako
, I could still push myself, which was a problem."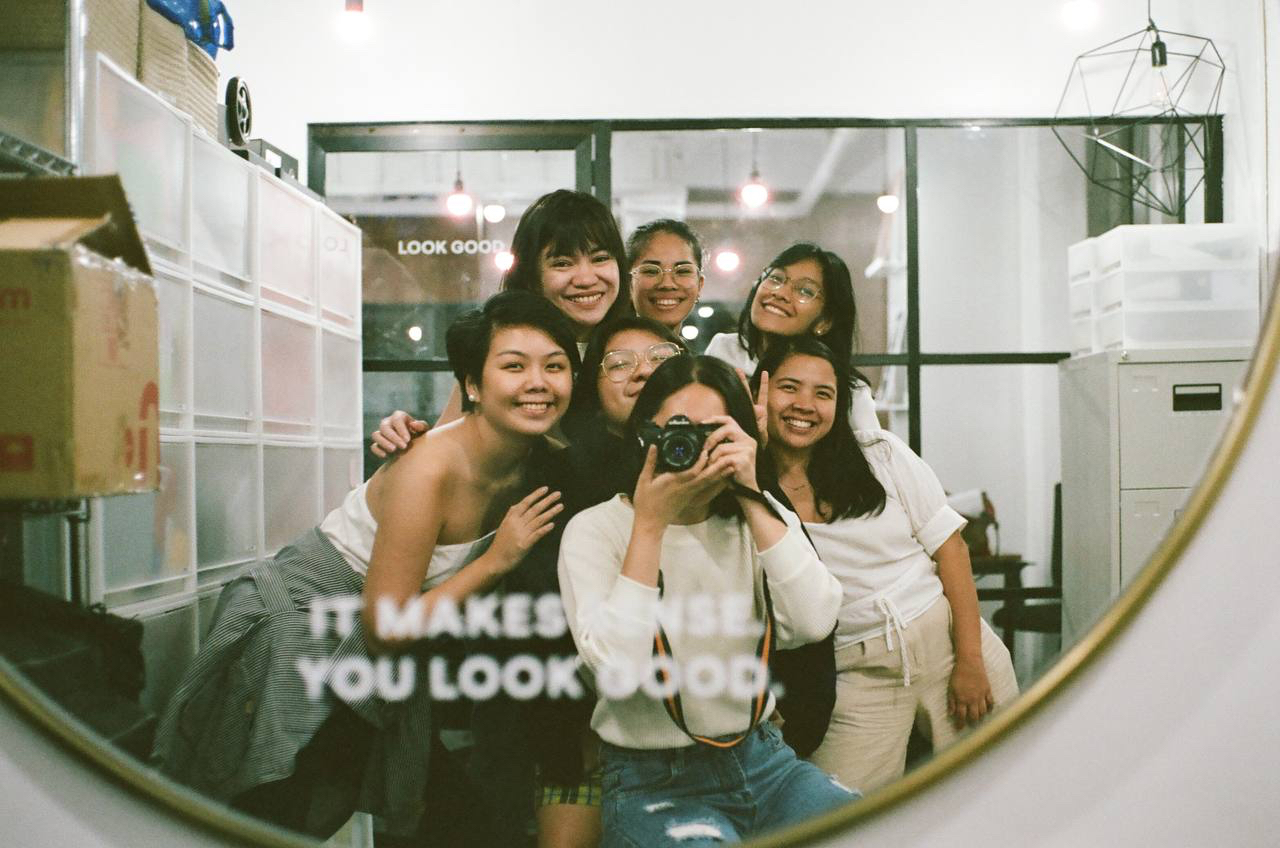 While Kookie admits it was hard being a creative director at first, her team found her to be invaluable both as a leader and friend. "I couldn't have asked for a better mentor," writes designer Therese Luna in an email about Kookie.
In the middle of an afternoon run, after a turbulent 2020, Kookie realized it was time to quit Serious Studio.

"It was so clear to me," she recalls. "I had already entertained the idea of resigning some time before, but there was some finality to it that time."

She cited differences in values with the studio's main partners and a desire to do more than just branding. "It was time for me to grow. To explore how to design on a much bigger scale. At the same time, I think the pandemic accelerates a lot of things and realizations for you," Kookie tells me.

Post-Serious, Kookie said she wanted to take a break. To play Breath of the Wild, watch some anime, and to do personal work. But taking a break wasn't going to be as simple as she thought. "I honestly have a weird relationship with rest, but I'm working on it," Kookie tells me. "Like I say, 'I will do nothing so I can recharge,' but doing nothing gives me so much guilt."

There were times when the void was frightening. "I was thinking, who am I without Serious? Who would accept me?" she recalls.

She thought about finding a job, the kind that wouldn't demand much of her heart and soul. "I considered going corporate, where I wouldn't have to think of all that 'partner' stuff," she says. "I'd just be an employee who'll show up at work, end my day at 6:00 p.m., go on with the rest of my life without thinking about anything else."

She almost went for it too, when Canva first approached Kookie with an offer for Senior Graphic Designer, but her friends were the first to stop her. "They'd remind me: Kookie, partner ka sa Serious. Don't you know that you can do more with your skills?"

"It was evident during the interview that she was overqualified for the role–a sentiment shared by the panel of Sydney and Manila team leads," writes Angelo Cuyegkeng in an email, Head of Design at Canva Philippines.

"She said the right things, spoke from a wealth of experience, and showed her maturity as a strong design leader—all while remaining humble, approachable, and warm. We decided to go back and interview for a different role altogether: Craft Lead," he writes. "She impressed every step of the way including strong praises from our global Head of Design in Sydney and our PH Country Manager."

As Craft Lead, Kookie provides craft guidance for Canva's fleet of designers and serves as their representative to the local creative community. "It felt like a brave decision for me," Kookie recalls. "It only happened with the help of friends and looking back at all that I did at Serious Studio."

"I think it is helpful to not underestimate the things that you've done and the achievements you've had, and to give yourself credit and say, 'not a lot of creatives are like me.' How do you still have a job but be of service to the industry?" Kookie finishes.

"But Kookie," I ask. "Why would you want to be of service to the industry? What has the industry ever done for us?"


"But Kookie," I ask. "Why would you want to be of service to the industry? What has the industry ever done for us?"
The term "graphic design" was first used in 1922 by American typographer W.A. Dwiggins.
But graphic design itself is much older. Like Sumerian tablets and cave paintings-old. Long before humans could speak, we communicated through visuals.
The history of graphic design is well-documented elsewhere (read: America), but in the Philippines, the only online document is
a brief feature article
from Adobo Magazine. Team Manila's co-founder Jowee Alviar attempted to trace the history of Philippine imagery during his stay at
CalArts
.
He traced it as far back to pre-colonial goldsmithing and Baybayin, one of the earliest forms of Filipino typography. Fast forward to the turn of the 19th century with the introduction of packaging design, prominent in local cigarette manufacturers and matchboxes. The dawn of commercial travel brought tourism ads, featuring illustrations of beautiful women and Filipino landmarks. After the war, National Artists Fernando Amorsolo and Malang Santos first started out as magazine illustrators.
"Philippine art is everywhere," reads the article. "Hand drawn movie poster billboards, signages of tarot card readings, and shirts with drawings of anting-anting. These are all part of the Filipino narrative."
According to Congressman Christopher de Venecia, lead convener of the Arts, Culture, and Creative Industries Bloc (ACCIB) of the 18th congress, the creative economy shares as much as
7% of the country's total economic output
. But for an industry so vibrant and rich, it remains understudied, undervalued, and unsupported.
In 2020, whole Filipino creative industries were obliterated by the pandemic. Forced cancellations and closures meant a total loss of income especially those in the gig economy. There are an estimated
1.2 to 1.5 million Filipino freelancers
, but they were not part of the government's early COVID-19 stimulus packages. "The government doesn't really know who [freelancers] are," said De Venecia.
The Philippines was among the last in ASEAN to have an established creative industry development agency and protection laws for freelancers. In 2021,
The Philippine Creative Industries Development Act
and the
Freelance Workers Protection Act
were both approved in the lower house. A promising however overdue development.
De Venecia, the proponent of both bills, hopes to lay the groundwork for a vibrant and competitive creative economy. "I look forward to the day also when young creative workers and talents would be empowered to pursue their passions," he says in
an article
. "And not have to be dissuaded by their parents because of the supposed lack of security in the field."
"We feel very little of ourselves and prefer to credit others. Which is fine, but I think pwede tayo magyabang ng kaunti."

This story isn't new. A creative job isn't always as profitable as a career in banking, but the image of a starving artist is tired and passé. Things could still be better for artists, but there are more opportunities for creative work today than there were a decade ago.
A
2021 UNESCO report
called the creative sector "the great powerhouse of our times." It has generated more than 30 million jobs worldwide and currently employs the most number of people aged 15 to 29. They urged governments worldwide to recognize the economic weight of the creative sector and match it with supportive public policy.
"I wanted a creative job when I was a child, but it didn't exist. Nobody was making it happen back then" recalls Kookie. "I wasn't sure when I was young but I realize it's because there just weren't any options. It just didn't seem possible."
"Which is why I want to contribute in some way to young people who want to be creative for a living," Kookie says. "To build towards a future where people can say they want to be designers and their parents would be like, 'yeah, go for it!'"
When asked about the future of the creative industry, Kookie is optimistic. "Everybody's just so talented now," Kookie says. "We have so many designers coming up, getting featured, scholarships, and just showing their work abroad."
"Which is why Pinoy creatives need to stop playing small," she says. "We feel very little of ourselves and prefer to credit others. Which is fine, but I think
pwede tayo magyabang ng kaunti
. It's not easy to be creative here, but I think we're so good at what we do and we ought to celebrate our work."
"I'm proud to say we did some of that at Serious," she says. "And Canva who is raising the bar for how much creatives should make, which was such a radical idea before."
Deane and Lester first started Serious Studio in 2012 because of the disconnect between what they wanted to do and the opportunities that were available. "Back then, I felt like I always had to defend why it was important for us to have a seat at the table," says Deane over email.
"These days, clients don't need much education on what we do. They come to us because they know they need us," Deane adds. "It's also great to see how design has felt a lot more democratic, with platforms like Canva and other kinds of software… It has created value for the work we do."
Deane's favorite memory of Kookie, if she really had to choose, would be Serious Studio itself. "Creating it with her will always be a special memory to me," she writes. "[Getting Kookie as a partner] felt right from the very beginning."
"I hope she continues to lean onto her instincts, to trust herself, and to do the work she's always wanted to do. I also hope she gets to work on her dream collabs and projects, though I'm sure it's only a matter of time."
"Take Your Time" by Kookie Santos.

Kookie tells me about a piece of hers which reads "Take Your Time," an IG post she designed in 2019, around the time where Kookie says she was struggling with work.
"I just didn't have any more energy to give. I had been in the industry for so long already and it just felt so difficult," Kookie recalls.
"I just wanted to make something that felt like myself. I don't even remember how I did it. It's old work, but for some reason, nabuhay siya nitong pandemic," The work gained popularity and which landed her a feature on
Femme Type
. "It was nothing, but it was something I did for me, and It opened up a bunch of opportunities after," Kookie says.
In the six months between her departure from Serious and her start at Canva, Kookie just kept creating. She started a mixed media project called
Lihim ng Liham
; she tried
modelling clay
; she started and finished a psychedelic
36 Days of Type

challenge
; she made fan art of
basketball jerseys
and
stickers for John Mayer
.
"From there, creative work became kind of like play for me," she says. "Because design can get so serious, especially when it's a career. And to balance that you need to remind yourself why you even create in the first place. Personal work can be tiring, because at the end of the day it is still work. But I do it because it reels me back, it says come back to yourself."
She tells me about her favorite manifestation from "The Artist's Way," a 1992 self-help book by Julia Cameron. "'As I create and listen, I will be led,' and the more I heard that the more excited I got. There are just so many possibilities."
A few days before our call, Kookie tells me about her soul reading. A tarot card reading she scheduled when she began feeling a little lost. As she tells me about the session, she shows me the
Eight of Swords
, a card from the Minor Arcana. "I don't know if you believe in this kind of stuff," she adds as a disclaimer.
The image is a tied-up and blindfolded woman standing amongst swords. "The swords aren't pointed at her, they're just on the ground, and the way is actually clear," Kookie explains.
She goes on. "The only thing that's really keeping her there are the ropes. All her prisons are self-imposed, so she needs to move. Maybe she can even pick up one of the swords." ︎