What I Learned about Life from a Bunch of Bad Students


by Toni Potenciano
Photos courtesy of Bad Student. Banner photo by Renzo Navarro.


Lessons from outside the classroom, making art with mistakes, and how our art will save us all.


Writer's Note: Pau Tiu's preferred pronouns are they/them; Dyam Gonzales' preferred pronouns are she/her.


P
au Tiu and Dyam Gonzales, the founders of the country's first Risograph art press called Bad Student, have three origin stories. Only one is true:
First, Pau and Dyam are childhood friends who first met in
Camp Walden
. "'
Yung katabi ng
Camp John Hay
sa
Baguio," Pau tells me. They became friends upon finding out that their parents once dated, but it obviously didn't work out. They stayed in touch all these years, which is probably why they look so much alike. Had life gone another way, they might have even been siblings.
Second, Pau and Dyam met at a Star Magic Workshop. There they learned how to cry on command and act out telenovela confrontations. They rekindled the friendship in college when they both enrolled in the same Fine Arts course in UP Diliman. Pau remarked that they didn't remember Dyam at first and said, "
maikli buhok niya noon kaya hindi ko siya nakilala noong una.
"
Third, Pau and Dyam were seatmates at an 8:00 a.m. design class. It was the very first day and the teacher asked: What program do you use to design? Everyone answered Photoshop, Illustrator, or Corel. Pau murmured to Dyam, "Powerpoint
ang sasabihin ko
." When it was finally their turn, Pau answered Microsoft Word and Google Chrome.
"What's your real answer," asks the professor, unamused. Pau looks at their feet, mumbles Photoshop and sits down. Nobody in the class laughed, except for Dyam.
No matter what version you believe, the connection between Pau and Dyam was an immediate kinship. Not only did they share the same sort of humor, the kind that comes from not taking everything too seriously. They also found in each other a joint preference for pop queens, masarap na ulam (the best thing you can wish for someone else, they tell me), and a pure love for art and creation.
They tell me that they have always been really bad students. "Bad student
kami
in a sense
na natututo kami sa labas,
" Pau says. On days when school became too pedantic, too stifling, they'd cut class and head over to the house of Pau's girlfriend, Camille, who lived nearby.
"
Nag
-cut
kami hindi para magwalwal o uminom,
" Pau says. "
Magdo
-drawing
lang kami ng
trip
namin kasi hindi namin madrawing sa
electives
at
majors
namin. Manunuod ng
film
na gusto naming panuorin kasi may
film class kami
pero parang ayaw namin panuorin yung
film."
"
Naghanap lang pala ng ibang
classroom," finishes Dyam.
It was this
pasaway
spirit that led to the creation of Bad Student the Risograph studio in 2017. No one had ever taught them Riso, but they loaned money from their parents to pay for a second hand machine. The day it arrived, they were raring to go. "
Sabi ko, tara
print
na tayo
. Then BOOM!
Sira,
" Pau laughs. "S
abi namin, hala, na-
scam
ba tayo? Ano sasabihin natin sa
mama
natin?"
And the machine would break down often, leaving local technicians stumped. They had never encountered anyone trying to use Riso for anything outside of printing and copying, let alone to make art. "
Imbento talaga
," Dyam says. "
Lakas ng
hacking spirit
namin
," chimes Pau. "
Tapos noong naayos na
after three weeks,
nasira na naman. Sobrang
bad
talaga
."
Using Riso for art is constant troubleshooting: Trying new things, making mistakes, and trying again. Because nobody ever knew how to fix the machine, Pau and Dyam would reach out to Riso studios from all over the world. There they learned that everyone else, too, were just a bunch of self-taught troubleshooters. A whole community of artists and designers learning new things outside of the classroom.
"Pau and Dyam" from their days at "Camp Walden."

Pau and Dyam (artist name: Indya Gokita) are best friends. Pau does most of the talking, but whenever Dyam speaks it's often in affirmation of Pau's thoughts, a one-line summary or a punchline to their jokes. And both of them slip in and out of these jokes with ease, because fun and humor are integral to their dynamic as business partners. A label they don't really associate with because they'd rather be known as best friends, "BBB, Beshies Before Business," they say. Their new motto in life.

They live together with artist Gino Bueza and Bad Student Project Manager Arvin Gonzales in a bright and spacious Marikina house. Their front door is wide open. The noren flutters from the afternoon breeze mixing with the warm activity and laughter from inside the house. What would have been the living room has been converted into a studio. A conference table and library to the left, Riso machine and stacks of prints to the right. But the feeling of home and familiarity is unmistakable. Bad Student's Artist-In-Residence Gica Tam is washing the dishes, Dyam is preparing plates for snacks, while Pau grabs a few drinks from their fridge. It almost feels like I'm intruding.

When I ask them "Who are Pau and Dyam when you're not working as Bad Student?" They look at me with a puzzled look. "Minsan nakakalimutan na namin na Bad Student kami," Pau begins. "Lalo na ngayon na housemates kami, itong set-up namin dito: gigising ka, mag-print ka, kumain ka, magluto ka, magdilig ka. Magpapatugtog ng Ariana Grande tapos dance kami dito ng 'Rain on Me.'"

"Hindi siya parang Bad Student 'yung main tapos off days 'yung Pau and Dyam," Pau continues. "Ganyan talaga kami ever since."

They started out in a small MAPFRE insurance kiosk owned by Pau's parents in Tomas Morato. The Riso machine could pass off as an office photocopier, so none of it seemed out of the ordinary. The only condition their parents gave was that they could only print after regular office hours. So every night, after all the employees had gone home, Pau and Dyam would get to work. There were days they'd work all through the night, still feeding prints into the machine by the time the first employees showed up for work the next day.


Bad Student's Gino Bueza (painter), Arvin Gonzales (project manager), and Gica Tam (artist-in-residence). Photos by Renzo Navarro. Courtesty of Bad Student.
It reached a point that they needed more space and time to print, so they considered two locations: a commercial space in Katipunan or a residential one in Cubao. This was the first time Pau and Dyam didn't see eye to eye. For Pau, the commercial space meant it could easily be converted into a shop. Dyam on the other hand preferred Cubao, due to its proximity to artist hub Cubao X and because it was residential, they could sleep whenever they wanted.

"Usually, nag-a-agree kami lagi ni Dyam, pero 'yung paglipat doon, doon kami medyo hiwalay," Pau recalls. "Ultimately na-sold kami sa Cubao dahil may swimming pool pero parang dalawang beses lang namin nagamit."

They moved to Marikina in 2020 when the end of their two-year contract in Cubao coincided with the Luzon lockdown. Instead of renewing another year, the way forward was clear: if we are all going to work from home the next few months, then we need a house. Not Cubao X or a swimming pool. After a few viewings in Antipolo and Quezon City, they felt an instant connection to the house on Pambuli Street, Marikina.

It was the kitchen, Dyam says, and the sliding glass doors, chimes Pau, which lead into an indoor pocket garden that they dreamed about converting into a milk tea store ("Noong time ng pandemic naisip namin na gawa kaya tayo ng isa pang business kasi baka hindi na tayo kikita dito," jokes Pau) But it was also the tall Palmera tree out front that cemented their decision.

They had always wanted a garden because they could never have one. "Kahit pinagbawalan kami, naglagay kami ng fake grass at mga halaman sa balcony," Pau says. Condominium restrictions aside, their plants couldn't prosper because of a lack of sunshine. "'Yung side kasi namin, wala talagang araw. So nirereplace na lang namin 'yung mga halaman every three months, para kunwari may tumutubo."

"Kaya itong palmera, ang taas niya. So ibig sabihin, maganda 'yung tama ng araw dito," Pau says.

"Noong lumipat kami dito, alam namin na bahain ang Marikina," Pau says, recalling the floods of 2009 Ondoy. "Ang ginawa ng tatay ko, kinatok niya isa-isa dito sa street at tinanong kung binaha ba sila noong Ondoy at lahat nagsabing hindi sila inabot dito. Hindi pa siya nakuntento. Pumunta kami sa barangay tapos tinanong namin kung binabaha ba dito tapos ang sabi hindi."

The required downpayment was a huge sum of money to part with, magnified by the uncertainty brought about by the early days of lockdown. Pau called it a test of friendship. "Nag-usap kaming tatlo nina Gino at Dyam kung susugal ba kami," Pau says. "Kaming lahat noon, 'yung gut feel namin is yes. It's a yes."

The first few months in Pambuli were peaceful and the adjustment was easy. Their little bubble almost felt like a reality show. "Like Terrace House, pero dahil pinoy kami, PBB," Pau jokes. The space was ample enough for all of them to never feel claustrophobic. Each of them had their own room and essentials were a bike ride away.

The events of November 12 caught them off guard, when flood water rushed into the studio a few hours after midnight. Typhoon Ulysses dumped a month's worth of rain in a single day, forcing six dams to open their flood gates. This brought water to parts of Marikina and Rizal that were historically spared from flooding, including Pambuli Street.

When news of families trapped on their rooftops and babies dying in the flood reached them, Pau told their housemates they had to evacuate. By then, the water outside was already at a level that petite Dyam's feet couldn't touch the ground. The downhill slope of Pambuli meant they would be swimming against a current.

Pau was scared. Scared of the treacherous swim they were about to embark on. Of losing their home and their livelihood, but also scared for the lives of their best friends. "To confront the reality na pwedeng mamatay 'yung kaibigan mo," Pau says. "Na parang pwedeng hindi natin 'to ma-survive... Nakita ko 'yung takot ko mamatay."



Pau and Dyam at their first Bad Student studio in Cubao.
Invented in the 1980s by the Tokyo-based Riso Kagaku Corporation
, the Riso machine bridged the gap between traditional offset printing and copiers. It was capable of printing lengths that were too short for offset or too long for inkjet printers. The low cost, high speed print method was embraced in the Philippines, and is often used to this day to print flyers, brochures, and test papers. A print method for bulk and utility.
But Riso has seen a sort of renaissance among global art and design communities. For artists who've become weary of the too fast, too real, high fidelity of digital art, Riso introduces the possibility and inevitability of imperfection. Mistakes, by nature, are part of the process. Because Riso is printed by color layer, misalignments and smudges are unavoidable. No Riso print is ever the same, meaning every print is one-of-a-kind.
Photographer and frequent collaborator
Renzo Navarro
(he/him) was enamored by the thought of using Riso for art. "I used to live in Recto," he tells me. Recto is a university and commercial hub known for all kinds of printing, most notably
fake and forged government documents
. "So to me, Riso was just one of those machines, like Xerox. Then
biglang
wow,
puwede pala
art."
For Renzo, the appeal of Riso lies in the vibrancy of colors that cannot be achieved by digital printing. Most digital printers usually use only four kinds of inks: Cyan, magenta, yellow, and black. Very simply, to achieve a color like green, an inkjet printer would have to "mix" and overlap a certain amount of these colors to approximate the green of a certain image.
Riso on the other hand makes use of spot color. In other words, it uses pre-mixed inks that are specifically calibrated to specific colors in a system like
Pantone
. So if you're printing green, then you could use actual green ink. Depending on availability, Riso can print frequencies of color unachievable by digital printers: fluorescent pink, day-glo green, even gold.
In 2019, Renzo mounted "
Boy Who Eats His Feelings: Untitled Series 01
" at PURVEYR Post. The entire exhibit features Renzo's photographs of fruits bathed in an eerie spotlight. Each of them are printed on Riso with Bad Student, his oranges look like fires on wine-red drapes.
"Riso is really its own medium," Renzo says. "I'd liken it to anticipating how a roll of film might develop. The colors that come out on the print are so different from the actual photo, but that's what's fun."
Everyone who has worked with Bad Student refers to their end product as "our work," citing Bad Student as a close collaborator, not just a printer-supplier. Photographer
Regine David
(she/her) published "
Fever Dream
" with Bad Student, a Riso zine about queer visibility.
"(Riso) is a fascinating process since it's really about understanding your output," Regine tells me. "It's about letting go and embracing imperfection. You manipulate the medium to work in your favor." As a zine, "Fever Dream" feels like wading in a pool filled with strangers. Strangely intimate, almost a little voyeuristic. Through Riso, Regine's subjects are made even more delicate through the colors of Riso. So soft, you almost feel like you can touch their faces.
Dyam and Pau at the first ever After School Progam.
It wasn't long before the art and design community caught on to Riso
and the liberation of self-publishing. Bad Student allowed artists to produce and sell work outside of the usual circuit of Comic Con or art fairs. They worked on limited prints, art zines, and collaborated with many artists they admired while they were still in school, such as
Raxenne Maniquiz
and
Soleil Ignacio
. "
Doon ko na-
realize
na hindi namin kailangang magtrabaho
[
sa isang
design studio]
para makatrabaho 'yung mga
idol
namin,
" Pau says.
They had amassed enough work and collaborated with enough artists to mount their own mini art book fair. In 2019, they decided to pitch the idea to another one of their idols,
Dan Matutina
of Hydra Design Group. "So
pumunta kami doon, nagdala kami ng mga
portfolio
namin at ng
presentation," Pau recounts. "
Nanginig pa ako. Sabi ko, pasensya na para akong magde-
defend
ng
thesis."
Dan greenlighted the collaboration, which soon became the first
After School Program
. It was a two-day event from November 23 to 24 which had an exhibit, a mini book fair, a Riso workshop, and
Open Call
—a year-long grant for 10 artists to create and publish original work with Bad Student.
"
Lagi namin jino
-joke
na bakit walang
reality show or competition
ng
art
na parang
The Voice," Pau says. "
Tapos, nangyari nga. Naging hurado kami dito sa
Open Call.
Pumunta 'yung mga
artists
para mag-
pitch
ng
ideas.
Parang
feeling Coach Sarah."
"
Umiikot pa 'yung upuan,
" Dyam adds.
They ended up accepting 11 artists ("
Ganoon kasi sa mga
reality show.
May isang
wildcard," says Pau), including Regine David, Illustrators
Gianne Encarnacion
,
Didi Riña
, and
Elle Shivers
.
Over chat, Elle (they/them) tells me that their experience was way more personal than just sending files to a printshop and waiting. "It became a two year process of me visiting their studio. We'd talk about how we wanted it to look like, picking the paper," Elle says. "I say 'we' because I don't really consider it my sole work. The printers–their skill, expertise, and taste–have as much contribution or influence over the work."
Under the program, Elle produced "
Cicatrix
," a full color autobiographical Riso zine about intergenerational guilt vis-a-vis growing hypochondria. It follows the journey of Elle's protagonist who journeys through the interior of anxiety and rage. The unsettled feeling is heightened through the subtle misalignments of Riso. An orange circle guides the reader through every page as either the round tumor-like growth, the light from a fire, or the hot flash of memory.
"When I was talking to Pau, they said one of the reasons they picked my work was because it toed the line between the personal and the political," Elle says. "I appreciate that. I think there's a lot of self-reflection that should go into printing and publishing. They also hold workshops, talks, open studio visits, and teach college students Riso."
"In the past five years, I feel like they've really jump started a genuine community and an appreciation for art that is a bit more against the grain," says Elle.
Fast forward to 2020, Bad Student announced that they would be holding the sequel to After School, barely two weeks after the flood. They called it
After School Program 2: Open Classroom
and it was scheduled for December. Similar to the first After School Program, Open Classroom would feature various talks and workshops to be held entirely through Zoom.
"
Parang
anniversary
kasi ng
After School Program
'yung
Ulysses," Dyam says. "So
kami parang, 'hindi pwedeng ganito!"'
"
Ang pangit naman kasi,
" agrees Pau. "One year from now,
ita-
tag
kami
[
sa
memories of After School]
tapos sabay nandoon 'yung baha.
"
The event was partially a fundraiser, with the workshop fee going towards the rebuilding of the studio. But they also saw it as a chance to give back to the local art community that rallied behind them in the immediate aftermath of Ulysses.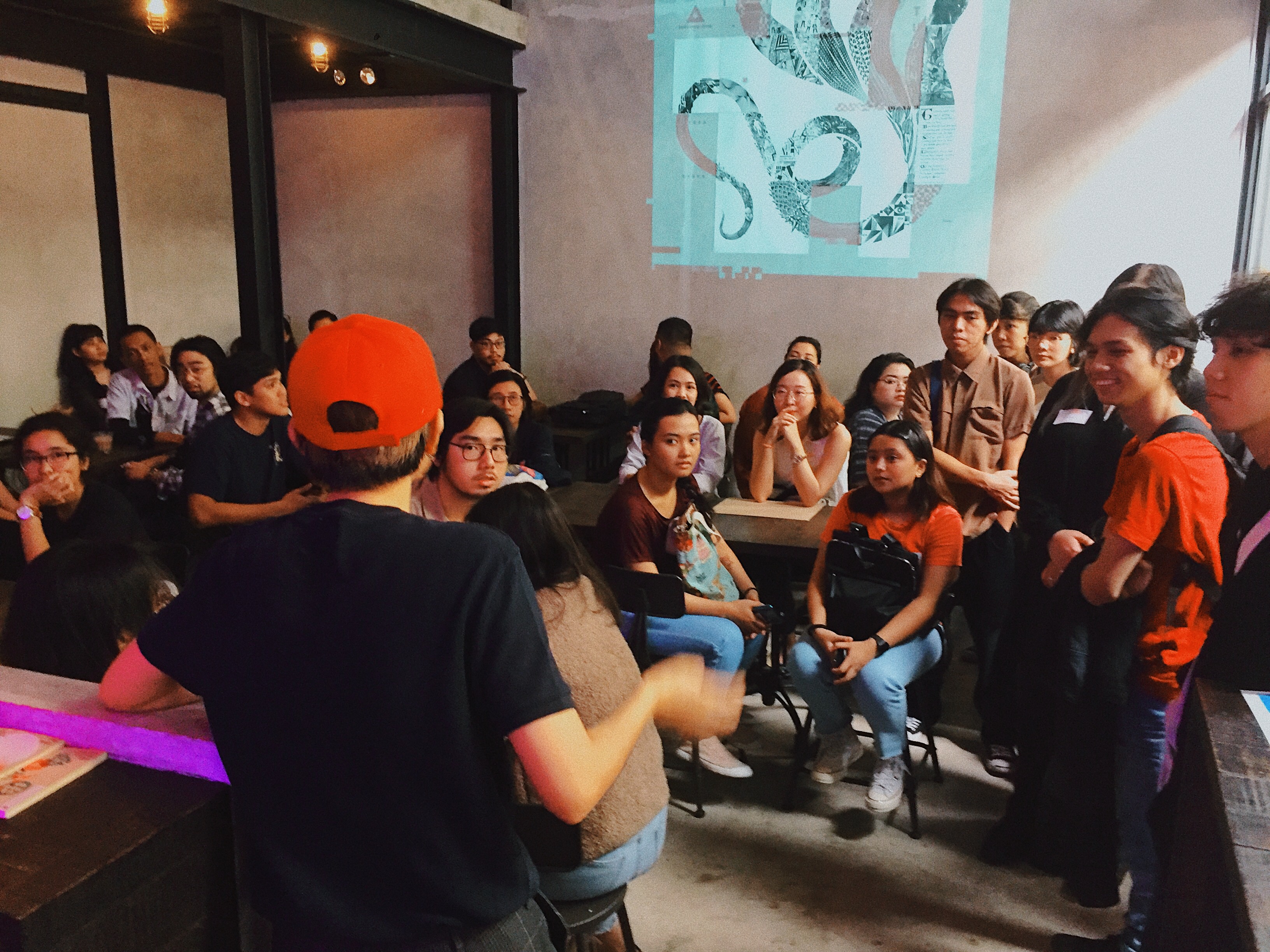 The crowds at Bad Student's After School Program that featured a book/zine fair, an exhibit, and Riso workshops.


The first thing they saved were the prints.
And then they tried to save the machine.
They had just finished printing work of over 130 participants from their
first online Riso workshop
. "As in, cut and ship
na lang,
" Pau says. But as the water started rushing into the house, they prioritized the art work ("
Kasi sa utak ko, hindi natin 'to mare-
refund!" Pau adds with a laugh). But once the prints were stored upstairs, they thought, maybe we can just try to save the machine.
"
Hindi namin maiakyat nang isang
step," Pau tells me, pointing to the mezzanine floor of their studio. "
Nandoon nga sa
video
na naka-angkla nalang siya diyan. Nasugat pa si Dyam. Eh paano kung ma-
leptospirosis
siya? Doon namin na-
realize
na hindi namin ito kaya."
When they thought of waiting out the flood on the second floor, they saw that their window didn't have a fire exit. "
May
moment
na parang naiiyak na ako pero sabi ko hindi ka pwede umiyak,
" Pau says. "
Sabi ko, mag-
post
na tayo ng saklolo. Ginawa kong
public
'yung
Twitter
ko tapos
tweet
namin, parang:
'
Saklolo.
Trapped
kami. Pa-
second floor
na 'yung tubig. Wala kaming
fire exit.
Kailangan namin mag-
evacuate via boat.""
But none of the rescue hotlines were working, all were either busy or out of order. When Pau realized that help wasn't coming, they knew they had to evacuate on their own.
"So
sabi ko,
'Guys,
i
-message
niyo 'yung pamilya niyo,'
kasi hindi mo na rin mahahawakan 'yung
cellphone
mo kapag lumangoy,
" Pau recounts. "After
mga
15 minutes,
sabi ko tara na. Kapag hindi pa tayo umalis ngayon, hindi na tayo makakaalis
at all."
They swam through the flood, holding onto trees and railings while tugging along a few plastic boxes filled with essentials like government IDs and their two cats Sisa and Cheetos. "
Nakakatawa na noong time na 'yun na kaharap namin ang
death,
nakaya pa naming mag-
joke
na
Bad Student Swimming Team
na tayo,
" Pau says, showing me a photo of them swimming in the flood.
The whole ordeal lasted around three to four hours. When they finally settled down at the home of Pau's parents that evening. exhausted and bone-cold from swimming through flood waters, that's when they got the first notification of a donation.
"
Hindi namin alam kung saan siya galing. Biglang nag-
connect
kami
online
at nakita ko nag-
post
pala si
Camille," Pau says, referring to their girlfriend's post calling for assistance. Shortly after the first one, donations from everywhere started pouring in.
"
Sobrang gulat. Umiiyak pa tayo no'n,
" Dyam recalls.
"
Hindi namin alam 'yung nangyari sa labas. Nagluluksa na kami sa nawala kasi nag-
sink in
na na oo, ligtas tayo pero…
" Pau trails off, looking around the studio. Pau and Dyam knew they were lucky to come out of it alive because they knew that a lot of people had lost so much more.
But when the flood subsided, they saw the extent of the damage. The machine was broken. Water ruined most of their ink drums, computers, and paper stock. Almost all of their archive was lost: zines purchased from abroad, early Bad Student work, and cherished college projects. They were alive, but they mourned the loss of the things that made life worth living.
"
'Yung iyak namin parang nakiramay sa unang
night ng wake," Pau says. "
Kapag nakikidalamhati pala sa'yo 'yung mga tao, nararamdaman mo rin na nalulungkot sila
for you.
Hindi ko alam na ganyan ako kalungkot, biglaan lang.
"
"
Na-
stretch
talaga 'yung
capacity to feel," Pau says. "After
mong mag-
reply
doon sa mga
message,
maglilinis ka ng putik. May
times
na nagsi-
switch
pa kami ni Dyam kasi hindi ko na kaya tignan 'yung
messages."
"
Tapos after, noong medyo luminis na and nakita na namin ulit 'yung
tiles,
parang doon na kami na-
energize
ulit.
" Pau says. "
Kung gaano kalalim 'yung lungkot, ganoon din 'yung pag-asa.
"
"Kung gaano kalalim 'yung lungkot, ganoon din 'yung pag-asa."
This was not the first time I met Pau. We met in 2017, in a crammed conference room, which in reality was the bedroom of the 72-sqm condo we called our office.

Pau had just graduated ("Delayed ako. Bad student kasi," Pau says). The interview went well, great work as shown, and many jokes were said. But when somebody asked, "where do you see yourself in the next five years?" Pau started to cry.

Pau didn't talk about their career, they confessed that they didn't even want to be in the Philippines. The only thing they wanted was to be financially capable of flying over to the US to be with their girlfriend, to be with the person they loved the most.

As I sit across Pau as an interviewer again, Pau tells their side of the story. "So nag-decide kami [ni Dyam] na maghanap na tayo ng isa pang trabaho na pwede tapos extra lang itong Bad Student," says Pau. "Pag Bad Student lang, sobrang walang kasiguraduhan. Sira pa 'yung machine saka hindi pa kami marunong talaga. Safety net ko 'yung And A Half."

On the day that Pau was to submit their designs for a fictional pawnshop–the final test in our design application–the Riso machine arrived at their parents' insurance kiosk. Which, as you might recall, was also the first time the machine broke down. Pau said it was a sign from the universe.

"So doon ako sa MAPFRE noong ginagawa ko 'yung homework. Naisip ko 'Bakit ko ginagawa 'tong pawnshop?' Tapos katabi ko 'yung machine na dito namin binuhos 'yung ipon namin at pera ng magulang namin," Pau says. "Napaka-cop out niya. Pawnshop. Ito ba 'yung patikim ng trabaho doon? So noong sinubmit ko, alam ko na. Tinawagan ko si Camille at umiyak ako sa kanya noon. Iyakin talaga ako. Pisces kasi."

"Gemini ako," Dyam adds.

Maybe in another life, Pau would have been an officemate. But in this one, Pau and Dyam devoted themselves to Bad Student. "Full-time job pinalit mo dito, so ibig sabihin, full time job 'to," Pau says. "Hindi 'to dapat half-assed."


Pau at their pre-Cubao office, a small space inside MAPRE insurance kiosk in Tomas Morato.
Pau and Dyam dream about the day that Bad Student
is no longer known as the first and only Risograph art press in the Philippines.
"
Natakot kami sa
reality
kasi paulit-ulit sinasabing
first and only risograph art press," Pau says. "
Paano kung hindi kami nakabangon? Paano kung itinigil namin 'to? Sino 'ang magtutuloy?
"
But the answers to these questions revealed themselves in the days and weeks after the flood. Anticipating that Bad Student would have to be rebuilt, artists and designers started their own fundraisers. They sold their remaining stock of Riso prints, one person
designed a font
, and others compiled
a digital zine
. All proceeds went to Bad Student for rebuilding.
On the days when the despair was extra heavy, making it difficult to reply to messages, all their friends told them to take all the time they needed. When they announced that they would be doing After School Program 2, the entire panel was taught by previous collaborators and recipients of their grant, including Renzo, Regine, Raxenne, and Elle.
In 2021, a few months after the storm, they opened up their studio for visits to coincide with their participation in the
Printed Matters Virtual Art Book Fair
. The reservation slots filled up quickly. Everyone brought with them well wishes and good food, but some visitors brought prints from the earliest days of Bad Student. "
Nung nalaman nila nabura na 'yung mga
archives
namin, maraming nagdala ng mga luma naming
prints," Pau says. "Saying things like, '
Baka kailangan niyo 'to sa
library
niyo,
' or "
Baka gusto niyo itago 'to.'"
"
Noong una kasi, ang
joke
nga namin parang kami lang magkakilala dito. Akala kasi namin kami-kami lang dito 'yung nagkakaintindihan, kami-kami lang 'yung gumagawa nito,"
Dyam tells me.
"Doon namin nakita na sobrang ganda pala nitong
community
natin. Na
-push
din kami na ipagpatuloy 'to."

For Pau and Dyam, they've been treating life post-flood as a second chance. They've decided that they need to teach more artists how to use Riso. Because the more people know about Riso, the more chances it has to survive. But more than Riso as a method, Pau and Dyam press on to keep the spirit of creation and publishing alive. It's the smallest thing they can do for the community that helped them get back on their feet.
"
Wala sa
machine
'yung ginagawa natin,
" Pau repeats over and over. "
'Yung
Bad Student,
wala sa
machine."
Class photo of last year's After School Program II conducted over Zoom.

There are many, many times when I feel like art isn't enough, especially these days. Until now, we're still arguing about what we ought to consider as "essential" or "non-essential," and creative industries are often laid to the wayside. But there are days when suddenly, out of nowhere, I rethink my position. There are days when I have the audacity to hope.

November 2020 was a terrible month for our studio. We had an officemate who was living through the nightmarish flooding in Cagayan. One was diagnosed with early stage cancer. Another contracted COVID-19 and was struggling with the hospital bills which only seemed to grow exponentially by the day.

It still isn't uncommon to hear about Filipino artists and their fundraisers for medical bills. It shows us how vulnerable, unprotected, and unprioritized the creative economy is when it comes to this pandemic. Many of us are left to our own devices; matira matibay, as they say. As artists, fundraisers were virtually the only thing we could do for our friends in need, because even the bare minimum of being physically present for one another was out of the question.

The whole experience was pure anguish. The endless amount of work (both my day job and a fundraiser) coincided with the emotional and mental toll of the pandemic. On top of that, contending with the possibility of losing your friends to sickness was more than I could chew. I wanted to stop everything, but I knew I'd be helping nobody if I did. I remember asking myself then what the point of everything was. What was I even working towards?

Just then I got a notification on our fundraiser account from the Bad Student Instagram. It's a screenshot of a sizable bank transfer and a message that says: "Mahal namin kayo! Sama-sama tayong babangon at bubuo muli! - Pau & Dyam"

The timestamp reads November 13, a day after Typhoon Ulysses. Barely a day after they had lost their whole studio.

"Sama-sama tayong babangon at bubuo muli," I replied. I wiped my eyes and went back to work.


Bad Student's "Love Your Garden" zine. A project inspired by the flowers from a Zambales beach trip, how the garden gives back, and making peace with the water again.
The first thing Pau and Dyam printed with their newly-renovated machine was a zine called "Love Your Garden". Using the ink they could salvage from the flood, the zine is around 15-pages of Pau's illustrations and a poem by Dyam. Psychedelic flowers in neon pink, orange, blues and greens are the backdrop to a delicate poem about tending a garden, keeping it whole and making it grow.

"Ang goal lang namin [sa zine] is mabalik lang 'yung kulay. Kasi noong umalis kami sa Marikina, puro putik, brown. Itong studio namin na napakakulay, biglang putik," Pau says.

"Parang kakadating lang kasi noong naayos 'yung machine so excited din kami talaga gamitin," Dyam says.

"Bumuhos lang. Akala namin hindi na kami makaka-print so noong binigyan kami ng ganyan, i-print na natin lahat. Lahat ng kulay na-save gamitin natin," Pau says.

The zine was inspired by a lot of things: the flowers they saw at a Zambales beach trip, washed in an orange glow from the sunset, making peace with the water again, and the garden that keeps giving back: our community of artists and designers.

"We learned na posible pala na gamitin itong art na makakatulong sa ating lahat," Dyam says.

"Sa 'Love Your Garden' namin na-realize na importante 'yung bahay, 'yung home, pero importante rin 'yung garden, kung ano 'yung nasa labas. Kasi 'yun 'yung nagligtas sa atin. Kung titignan mo 'yung garden, andoon 'yung buhay sa isa't-isa. Ito 'yung haligi pero saan ka kukuha ng pagkain, saan ka kukuha ng oxygen?" Pau says.

"For the longest time, ang sinasabi ng mga tao ay, paano ka bubuhayin ng art mo? Paano ka papakainin ng print mo? Hindi mo makakain 'yang pintura. Pero binuhay ako ng art ko," Pau continues. "Kapag pumupunta kami sa ibang bansa, lagi kaming masaya na dinala tayo dito ng art natin. Nakapunta ka sa Singapore, sa Tokyo, pero 'yung para makatayo ka ulit, hindi mo nalang art 'yon; kasama na 'yung art ng iba."

It's all of this and more that propels Pau and Dyam forward. Everytime someone comes up to the Bad Student and says they want to create something, to collaborate, for them it's another way of saying "Gusto kong buhayin ako ng art ko." I want my art to sustain me, to save me and buoy me to safety. I want to live and make art. I want to make art and live.

"Marami pa tayong ipi-print," Dyam says.

"Marami pa," Pau adds.

"Marami pa tayong gagawin."

"Marami pa tayong art na itutuloy. Marami pa tayong art na gagawin. At 'yun 'yung bubuhay sa'tin," Pau says. "Hindi ka nauubusan kapag nagbibigay ka. Love your garden kasi patuloy mamumunga. Hindi ka mauubusan kung magbibigay ka."

"At lalawak pa," Dyam finishes.︎


Toni Potenciano is a writer and strategist for And a Half.