The Taxonomy of Raxenne Maniquiz

by Toni Potenciano
Photos courtesy of Raxenne Maniquiz


The acclaimed illustrator talks about her time in design studio, Plus63, and going back to her roots.
Raxenne Maniquiz calls the place where she lives the bukid. It's a bit of land somewhere in the northern, more rural part of Sta. Maria, Bulacan where she's been staying since March. "We used to come here to frolic, kaming magpipinsan," she says as she takes me on a virtual tour. She points at the empty fields and tells me how that used to be a palayan. Right after, she slips on a bit of mud and laughs out an expletive. "Nako, baka ma-duwende pa ako dito," biting her finger. It's rude to point, lest you anger the resident anitos. She gestures again to another patch of grass and tells me that that was once a pond filled with tilapia and hito. She swivels around, palm open to the distance. Over there, she says, was where they had to chase off Kuya Michael's goats because they were eating her lola's vegetables.

The land has been with her family for a few generations but the structures were a recent development. The house was supposed to be a retirement home for her grandparents but the main structure just kept growing, extending into annexes for other members of the Reyes family—her mother's side. Raxenne lives in one of these annexes, which she shares with her aunt, and nephew Luca. When she shows me around, it's a small but bright room with views of their garden filled with guava, narra, and acacia trees. "My lola planted them all," she says proudly.

Every house they moved into was always in Bulacan and every house had a garden. Raxenne's earliest memories include watching her lolo tend to an avocado tree while her grandmother took care of dendrobiums. Bulacan is in her blood. The Maniquiz lineage traces as far back as 1730, when young missionary-trader Carlos Agustin Maniquiz came to San Miguel, Bulacan and just never left. As far as Raxenne is concerned, she, too, isn't leaving Bulacan any time soon. Like all of us in March, she thought that things would have at least changed by July.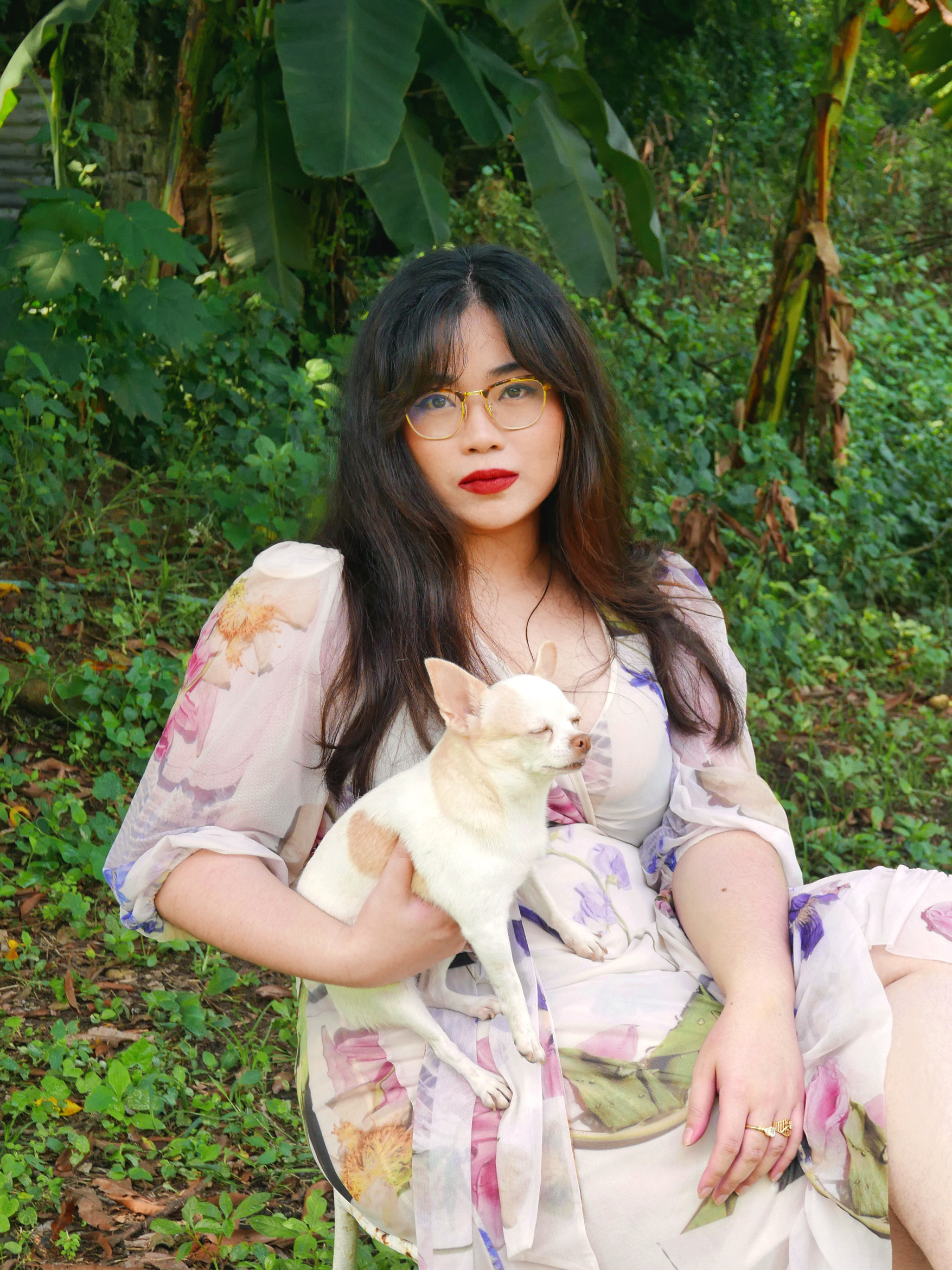 Raxenne with Clover.
Raxenne once painted
24 pairs of sandals by hand
. And though they sold out in less than an hour, she says she's never doing that again. "Twenty-four pairs is actually 48 shoes," she tells me. "I mean, can you imagine painting 48 shoes?!" She's a multi-awarded illustrator and has had her work printed on the
paper bags of Uniqlo
and the
leather bags of Cole Haan
. She was the
only female speaker
in the lineup of this year's Graphika Manila, alongside design giants like Stefan Sagmeister and Kim Jung Gi. And all this she did while under the employ of
Plus63 Design Co.
, one of the country's more illustrious design studios.
She spends an exhausting amount of time researching endemic Philippine flora, their taxonomy, anatomy, and ecology. She started drawing native flora in 2017, but only took it seriously after a series of commissions started coming in, like these limited edition
hand-painted Dr. Martens
. Her compositions are akin to those of Dutch still-life painters like Ambrosius Bosschaert, but her use of color leans more Henri Rousseau and Paul Gauguin, deep and sunkissed. She isn't afraid to fill the spaces of a canvas with pattern and detail, then polish them to a shine. Every Raxenne Maniquiz piece is a rich tapestry, Kingdom
Plantae
, Family
Orchidaceae
, Genus
Paphiopedilum
. But at times this has brought her anxiety, as she toes the line between artistic interpretation and scientific accuracy. Is it art or is it documentation?
"It's the burden of knowing," she says. "I used to draw flowers
kasi ang ganda lang nila. Ngayon, dumagdag na 'yung
pressure if I'm getting things right, the number of petals,
ultimo 'yung
location
ng
vein… But I still try to inject a little bit of my own flavor."
Raxenne is afraid of being cancelled by a very particular subsect of intellectuals: the local botanical community. Her burning curiosity and eye for beauty has placed her at the same table as conservationists and academics. "Someone said that one of the terms I used on my Rafflesia distribution map was wrong, and I really had to call up the academic I was consulting," Raxenne says. "I said, no, I know this is the right taxonomy. But I still had to check anyway."
"Sometimes I miss drawing flowers just for fun, without the pressure," she says. "But there's a lot of joy, living in a megadiverse country like ours. Sometimes you'll see a weird-ass flower and really be like, WOW, GOD IS REAL. That
was a meme
, right?" she laughs.
"I'm wondering if tama ba 'yung way ko before. Bakit kailangan isiksik lahat sa isang araw?"
There is no denying Raxenne's industry. The sheer volume of her work is proof of her dedication to her craft. Jo Malinis, her officemate and close friend, chooses the words reliable and caring to describe Raxenne. "With Rax, you never have to worry about how the work is going to come out. It's always great," says Jo. "From research to execution, she makes sure it's perfect… Even if she sacrifices sleep for it."
Instead of crediting her own serious work ethic, Raxenne prefers to credit something external: luck. "Not every designer had a chance to have their designs printed on Jansport bags, even if those designs didn't stand the test of time," says Raxenne about her
award-winning illustrations from 2013 and 2014
. "They led me to where I am now, and
siguro
I was able to impress Dan [Matutina] who offered me a job at Plus63."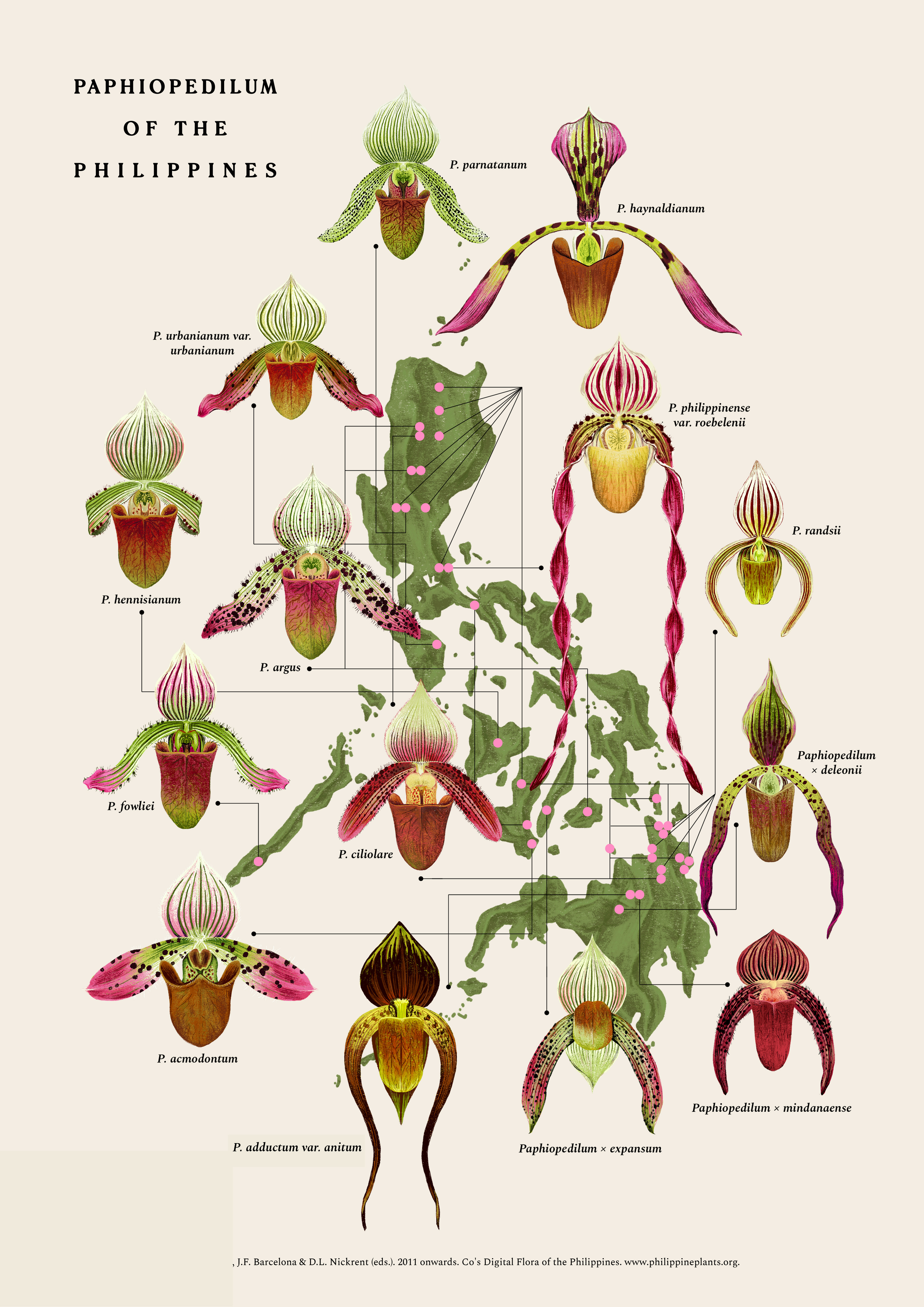 L-R: Raxenne's poster of the 2020 Paphiopedilum of the Philippines and her illustration of the Waling-waling (vanda sanderiana).
Dan Matutina
is probably the country's best illustrator today
. Ask any aspiring graphic designer and they'll probably tell you that when they grow up, they want to be Dan Matutina. The Leyte-born Dan grew up with a proclivity for math and science, but instead pursued illustration and graphic design. This background in the sciences translated into his distinct art style which possesses the softness that Silicon Valley aspires for. His client list serves as proof of this aspiration: he's illustrated for Apple, Google, Microsoft, and NASA, to name a few. He is part of the prestigious
Young Guns
, which gives out one of the most coveted design awards in existence. To win a Young Gun award is validation of "a skyrocketing career" and a mark of having made it as a graphic designer. But for someone of his global caliber, Dan has kept his Manila-based studio Plus63 intentionally small. He has had only four employees at most, including Raxenne.
"My first job lasted three months. The second one, 11 months. And my third, 11 months
din
," Raxenne says. "This is the longest I've ever stayed in one place. I've been working at Plus63 for six years. Even I'm surprised I lasted this long."
When I ask her why she hasn't left, she tells me it's because of Dan and the way that he and co-founder Berns de Leon-Yumul run the studio. "Dan really encourages us to develop as artists, to develop our style," says Raxenne. "Looking back, I guess that's why we had four-day work weeks, to have the extra time to focus on other things."
When I asked Dan what it was like working with Raxenne, he described it as challenging. "
'Yun ang maganda
when working with talented people,
kasi
they'll always challenge you," he says over chat. "You learn from each other and you can push each other
din
."
Dan's aversion to formal titles at work is rooted in his love for creative growth and freedom. He jokes that while he is Plus63's founder on paper, it means nothing to Raxenne and Jo. "
'Yan sila
[Jo and Raxenne],
wala namang
boss
sa mga 'yan. Mga walang galang
," he says affectionately. "The way I see the designers in the studio, we're all equal [when it comes to] opinions, giving creative input, et cetera."
He believes that the designers he hires eventually need to move on from Plus63. For Dan, that's the only way designers, and consequently the design community, can grow. "Normally, creative companies want their best people to stay because they add value to the company. For me, it's better if they leave and start their own practice
kasi dun lang talaga natin makikita 'yung
full potential
nila
," Dan says. "Exciting
makita 'yung
realization
ng
potential
na 'to
… and I think on the way na [
si
Raxenne]
doon
."
"At the start of the pandemic, they kept saying just take it day by day. Pero sis, anong petsa na?"

On Raxenne's fifth year, Dan and Berns sat the team down to ask about their plans. They told Raxenne that maybe it was time she struck out on her own because they had already given everything they could give. "Akala ko ang ibig sabihin wala nang raise," Raxenne laughs.

"But they said, ano pa'ng maituturo natin? They felt like we became too comfortable," says Raxenne. It came to a point that the people who'd approach Raxenne were big enough to be clients of Plus63. For Dan, all the signs were there: Raxenne had a flourishing career as an illustrator, and her growing client list was proof. And it would only get better if she finally left the studio to focus on her practice.

"You know how everybody thought 2020 was going to be their year?" Raxenne says. "I really felt that. I felt that it was going to be my year. And I was really afraid, I wasn't sure I could do it on my own. But when Graphika Manila happened, I thought, maybe this is a sign. That maybe I can be independent."

"Then the pandemic happened. That's when I told Dan that I can't do it. I can't leave. Not now," Raxenne recalls.


Raxenne has been re-examining her relationship with work and rest. "Looking back,
nakakapagod talaga
. I don't know how I did it. I'd leave the office for a coffee shop to do more work. I don't know where I got that energy," Raxenne says. "
Hirap na hirap na ako magtrabaho ngayon
, and I'm no longer sure if it's the pandemic or if I'm getting older. But I'm wondering if
tama ba 'yung
way ko before.
Bakit kailangan isiksik lahat sa isang araw?
"
When Raxenne started spending more time in traffic than she did at work, she moved to Manila. She started out in Mandaluyong, renting a condo with a few friends since Plus63 held office in Makati. But when even that turned into an insufferable commute, she and Jo decided to move into a condominium that was built right next to the PNR trains. Space was limited but rent was cheap compared to the rest of Makati CBD. "We couldn't cook, we couldn't do anything," Raxenne says. "It was really a shitty condo."
For her sanity, Raxenne made it a point to go home to the bukid at least twice a month. "What would you do? Did you have any rituals or activities when you'd come visit?" I asked. "No," she says. "I'd literally do nothing." After a week of working hard and finding no rest in their Makati condominium, Raxenne would use her weekends in Bulacan just to recharge.

"This pandemic really messed up my workflow. The bukid was for rest and only rest. But now I rest and work here. Na-blur talaga 'yung lines for me. I mean, I now fall asleep at 5:00 a.m. when a few years ago that's the time I'd wake up for work," Raxenne tells me. "I've really just lost all sense of time. I mean, who hasn't?"
"I'd work twice as hard just to fund my spontaneous excursions," says Raxenne. "I'd travel to rest from work, but I'd also work really hard just so I could travel."
Her already intense relationship with work became even more extreme by the curse and providence of seat sales and piso fares. "Lagi ako pinagtatawanan ni Jo noon kasi lagi ako naghahanap ng cheapest flights out of here," says Raxenne. "Then I'd work twice as hard just to fund my spontaneous excursions. I'd travel to rest from work, but I'd also work really hard just so I could travel."

"Tokyo or Seoul?" I asked jokingly. When Raxenne and I first met a few years ago, we bonded over budget flights. All that she saved on flights allowed her to live lavishly for a day or two, whether in Tokyo or Seoul. Raxenne travelled frequently, and for the most part she travelled alone. "When I travel, I don't think about work," she says. "I rarely talk to other people when I travel. There's just something comforting about being alone in a foreign country." When Raxenne travelled, she'd cast off the responsibility of work and deadlines in order to fully immerse herself in the small but certain happiness that can only be found in a cup of coffee, a new outfit, and a really delicious meal.

Without the possibility of travel, what was there to look forward to? "I try to look forward to the weekends, where I try as much as possible not to work," says Raxenne. "But even then I still feel guilty when I'm not working. I'm turning 30 in November, and I look at young people and think that I was never that talented when I was their age. Which is why I get worried and I pressure myself to work."

"But I think I need to be kinder to myself," she adds. "I really need to give myself a break. This sort of stuff has been keeping me up at night."

"I rarely talk to other people when I travel," says Raxenne. "There's just something comforting about being alone in a foreign country."
"I'm building a small studio right next to my mother's outdoor kitchen," Raxenne tells me.
It's yet another annex in the
bukid
. A small space, just 2x2 in area, that was originally going to house her mom's pots and pans. "I told her I was leaving Plus63, so she offered me the space," Raxenne says. "She's very supportive of me. She said, 'You're probably going to be here a while so you might as well have a space of your own.'" Starting October, Raxenne will officially be on leave from Plus63 till the end of the year. She could come back in theory, but if all goes well, the change will be permanent.
Raxenne is afraid, but not as much anymore. "At the start of the pandemic, they kept saying just take it day by day.
Pero sis, anong petsa na?
" she says. "I've accepted it.
Kasi kailan pa if hindi?
With this pandemic ongoing, might as well just get on with it."
She tells me she fears the loss of routine, the idea that her whole month could depend on a client's yes or a no, a rejection that used to be cushioned by the assurance of a monthly income. Above all, she says she fears failure, not living up to the standards she has for herself. But on the other side of fear there is also excitement. A whiff of change, a new start after months of stagnating. A plate clear enough for work that is her own and no one else's. No longer having to ask, "Is it best for the brand?" but instead "Is it good enough for me?"
"I've already met with the contractor. We're going to add big windows and a sliding door just to make it feel less like a box and more like an office," she says. "I've even bought some furniture already to start decorating."
"No matter how conducive studio culture is for everyone," Dan says, "
'yung
shadow
na na-
cast
ng
'boss,'
hindi maalis talaga
." He says that while he's excited for Raxenne, he is also excited for Plus63. "The studio really depends on the people [who are in it]. So if
may bagong
change, exciting
din siya
for me
kasi buohin siya ulit
from scratch."
Jo isn't worried for Raxenne. She says she doesn't have any strong feelings about Raxenne leaving because she's confident that they won't lose touch. "
Hiwahiwalay naman na kami ngayon
to begin with," she says. "But at least now she can make work decisions on her own and be fully in control. I hope she knows that I'll be supporting her no matter what happens."
Raxenne has a few projects in the pipeline. A lot of ongoing projects already, she says, but not having Plus63 work means having more time for herself, to update her website and other self-initiated projects. She's working on something with frequent collaborator and Bulakenya
Esme Palaganas of Basic Movement
. Although she isn't giving me the details, she says that retail is a whole other world from what she's known of graphic design. Just the other day, Young Guns announced this year's round of finalists, and
Raxenne is one of the finalists for illustration
. Yet another new frontier for Raxenne Maniquiz.
When we first went on a virtual tour of her house, a lot of it I had to leave to my imagination. Our erratic internet connections would only allow for audio but no video. Here's where I have lunch, she says, and here's where I sleep. Here is a tree and there's my mom. "Mom, here's Toni… She says, 'Hi, Toni!" But it's only when she switches to data that the connection finally improves. We're no longer inside her house but in the open fields of her grandparents' land. Her
lola's
purple eggplants, green okra, and growing malunggay tree. "When you come over in the future," she says, "that's where we'll have lunch."
︎
Toni Potenciano is a writer and strategist for And A Half.