By Her Own Design


by Jonty Cruz
Photos courtesy of Judith Torres.



The veteran journalist on the early days of Probe, publishing, and the hard work of telling the truth.


J
udith Torres is tired of the bullshit. She has been for some time. She remembers a particularly tiresome meeting at her previous magazine job, when pressured by the demands of analytics and hits, she was told to do more "snackable" content—200-word articles that are meant to be easily digestible and therefore easily shared. "Snacks… I hate that kind of bullshit," she says. When the website's numbers would finally come out, it would be the long-form features that would have the most page views. The next month came, and the results would still be the same. Month after month, Judith would be proven right, and eventually, she would no longer have to deal with writing "snacks"—and would be allowed to focus on meatier things she could really sink her teeth into.
It wasn't just clickbait articles Judith found aggravating. Over the course of our conversation, she points out the BS she's seen, whether big or small. "Why is it that we have one of the largest populations of architects in ASEAN killing each other over here in the Philippines, which has one of the smallest construction markets in the region? Why?" she asks, more to herself than to me. "Look at Singapore.
Ang konti-konti lang nila
and
ang laki ng
construction market, but that wasn't enough. They saw the future. They saw ASEAN integration. They saw 25 years ago that we were going to have borderless practices, so they prepared their architects to practice regionally. This is what our government, the design organizations, and academe should be helping our designers do."
It's clear that Judith cares. That she gives a damn. And when you do give a damn, you go for it all. You try your very best, and then you try some more. "There's a [Robert Browning] quote Tina Periquet shared to me that I really resonated with," she says. "'A man's reach should exceed his grasp.' That line resonates with me because I think that's what I've been trying to do, always trying to reach beyond my grasp.
Madalas hindi kaya
, but
'di ba? Imbis na paganyan-ganyan ka lang
, just go! Go out on a limb! Reach! Fuck if you fall!"
For 35 years, Judith's been going for it all. She's excelled at both broadcast journalism and publishing. She's worked with stalwarts such as Cheche Lazaro and Maria Ressa and has served as Chief Operating Officer of ANC (the ABS-CBN News Channel) and the editor-in-chief of
BluPrint Magazine
. It's a hefty résumé that still came with its own set of struggles. She's quick to say that she found herself arguing with her bosses a lot, from Cheche to Maria to the late Sari Yap, founder of One Mega Group,
BluPrint's
publisher. "You know, 'arguing' isn't a bad word," she tells me. "I mean, lawyers argue their cases, right? That's what we did. We argued our cases."
I ask her, what makes a good boss?
"It has to be someone who shares the same values as you or someone true to their professed values. I can deal with someone who doesn't quite have the same values as I do as long as they're true to what they say they believe in. I've been very fortunate to have bosses who pretty much let me do what I wanted to do. Even in
BluPrint
, yeah, there were constraints, but I never had a boss who told me,
'Hanggang dito ka lang.'"
She learned as much back in
Probe's
early days when pushing yourself and doing all you could was how you knew you belonged. "The wonderful thing about
Probe
was everyone did everything," Judith says. "If you came in as a production assistant, you'd still do everything a producer does.
Ang kulang mo lang
experience, but you sat at the table, you'd pitch stories, you'd get to argue about it, book the shoots, direct the shoots, transcribe, write, and edit." She goes on to say that everyone at Probe looked at each other and saw that everyone had the capability to be more. "Just as we did everything, our drivers did everything, too. We did not have a single driver who did not eventually learn and become a cameraman." She laments that, since leaving, she's never seen this replicated elsewhere. To this day, she champions how they got everyone at Probe to commit and reiterates the tenacity and dedication of their drivers, who grew to be some of the most skilled cameramen she's ever worked with.
︎


Judith will be the first to tell you about who she is—and who she isn't. "I'm not like Maria. I'm not bubbly or cheerful," she says. "I grate, and I'm frank. I hurt people's feelings." But to her credit, she is also supportive, and the kind of mentor anyone would want to have. She's generous with her praise and admiration for
Patrick Kasingsing
(once her art director at
BluPrint
), whom she now calls her boss at
Kanto
, a new online magazine about design and creativity. She admits she didn't consider Patrick as her successor early on but lauds how far he's come. "What I love about Patrick is he did reach beyond his grasp," she says. "And every time you do reach out, your ability to grasp or grab—it gets stronger and stronger." While the site only launched a couple of months ago, Judith has always believed in its credibility and what it can offer. So much so that when an agency approached them, wanting to advertise even before
Kanto
launched, Judith laid out what made the website special. "They asked for a meeting, and over Zoom, they asked, 'What can you tell us about
Kanto
? If we were to advertise in
Kanto
, what would we be getting?' So I said, you know what you're going to get? Credibility and longevity. I don't have 300,000 followers on Facebook for you. I don't have that. But I do have people who believe in us. And they're the people who matter."
As we close in on our third hour talking over Zoom, Judith tells me she's been thinking a lot about fate lately. She wonders if she did not meet Maria Ressa back in 1986, would she have had the same career? The same life? Fate would tell us that often it's all about moments—about being at the right place at the right time. But fate is also something we make ourselves. That it's something we need to reach for, even if it's beyond our grasp. That's something Judith has come to realize. "You also need to have enough faith in yourself," she says. "I'm pretty sure now, if I hadn't met Maria in 1986, I still would've met her anyway at some point in time. I would've found her, I'm pretty sure. And we would've liked each other, and we would've argued."
The following was conducted over Zoom and Facebook Messenger and has been edited for publication.
Judith Torres in pink at her first job as a news anchor for PTV Channel 4. Since then she has worked at Probe Productions, Inc., ABS-CBN, CNN, and BluPrint. She's currently at Kanto, where she serves as editor-at-large. Pictured with her are Manny Freires and Emma Yuhico in green.
Out of Print: Hi Judith, I'm really excited to talk about Probe with you! Could you share how you started your career?
Judith Torres: So, we had just come from Martial Law. The Marcoses fled in 1986. The people took over the government station, and everyone was so hot about the news and public affairs because all of a sudden, you could talk about the actual things happening to the country. Probe was one of the first programs ABS-CBN produced when it was allowed to start operating again.

I met Maria Ressa when we worked at Channel 4. It was ABS-CBN's compound and PTV-4 was squatting in their building, right. And Maria, ever curious, would walk over to see what was happening on the other side of the wall. That's where she met Cheche Lazaro, who had just started producing Probe, which Maria started helping produce. ABS-CBN was aggressive about ratings. They found Probe too slow, too dry, and decided to cancel it. But Cheche and Maria said no and decided to produce it themselves. They formed Probe Productions, Inc. and called the show The Probe Team.

Cheche negotiated with Tina Palma, Channel 7's head of news, to produce a one-hour documentary for the network. It was about this horrific sinking of a ferry ship where so many people died. Then Channel 7 asked Probe to produce another documentary, and then another. I was brought in for the third docu. After that, Channel 7 decided to take The Probe Team on as a weekly news tele-magazine. For that first year, we produced the show from Cheche's son's bedroom.

What was that like, working from her son's bedroom?
Cheche and Maria spent their own money and that's all they could afford at first. They rented a camera crew and bought an editing deck. God, you've probably never seen the stuff that we worked with—U-matic tapes, top-loading analog VTRs, huge ENG equipment, and all that. We'd each take our turn at the editing deck, and while one was editing, the other would sleep on Charlie's [Cheche's son] bed. I don't know where Charlie slept! From there, the company slowly grew until Cheche could finally rent an office for us.

I imagine it must have been a fun place to work, but it also must have been intense.
Hectic and all-consuming, yeah. For Probe's entire existence, people would always be rushing and have their tapes ready at the last minute. As in e-ere na, they'd be literally running to the network to put the videotape into the deck for broadcast.

Since you said you joined and worked on Probe on its third documentary, what attracted you to be part of it?
I knew Maria, for one. I am older than Maria by six or maybe seven years. She was younger than me, but obviously, she was our teacher. Alam mo 'yung batang 'yan, napakatalino talaga. [She was] a production assistant at 60 Minutes. And when she got here, everyone was like, [in awe] of 60 Minutes. She graduated from Princeton, molecular biology and theater, had a Fulbright scholarship. She was this brilliant little thing who was teaching everyone what to do—everything from lighting, camera angles, how to make the writing snappy, butt-to-butt soundbites, and all that. It all made sense. It was fun! Channel 4 was my first job after being a housewife.

It's so easy to recognize it now that Maria seems to be this gravitational force that pulls in anyone who wants to do great or inspired work. It's so cool to hear that she was already that even back when she was just starting.
Yeah, I mean, her character is very attractive.

It's nice to hear that you followed Maria instead of whoever was in charge at that time.
Oo naman. It was easy to see who made sense. I bet if you walked into a room with a bunch of dorks, even if Maria was like 12, you'd listen to Maria.

And I'm guessing you were aware of Cheche at that time as well.
Yeah, I was aware of Cheche. In fact, I was kind of jealous. Because at that time, I felt that Maria, Twink Macaraig, Mike Alcazaren, and I were building something good in Channel 4. Ang saya namin! The GM at Channel 4 let us do whatever we wanted—imagine, giving us newbies, use of equipment and airtime for a monthly docu-series and allowing Twink and me to produce and write our own newscast? Si Twink, grabe rin 'yung babaeng 'yon. Super-duper sharp. When Maria went over to play at ABS-CBN, to be honest, Twink and I were pissed off. But then when Maria asked me to join The Probe Team, of course, I was like, "Yes! Let's go!" [Laughs]

Why were you jealous of Cheche?
I was jealous because Cheche got to spend time with Maria. [Laughs] At that time, Maria was the executive producer of our show (Foursight), so when she left, she was off and producing someone else's show while we were just beginning to get our bearings. Our show died an early death since we lost our EP [executive producer] in Maria and unti-unting nawala na rin kami. I lasted just over a year at Channel 4.


Left to Right: Judith working the computer; Judith in black with Twink Macaraig and Kathy Tangco.
I'm curious to know why you chose broadcast journalism as your first job after being a housewife. I mean, there has to be a reason why that was the job you wanted.
Concern for the country and wanting to know what's true. One of the questions you had for me was who my journalistic idols were growing up. And sa totoo lang, wala talaga because for 20 years, news was government propaganda. When Martial Law was declared 1972, I just graduated from grade seven. I had a cousin studying at UP and he would tell me the truth behind the news. I looked up to him, and he would say to me,
"Hindi totoo 'yan..."
He had a lot to do with making me realize the truth was being hidden from us, and that it was out there. When Ninoy Aquino was assassinated in 1983, there was such an outrage and a thirst to know what was really happening. Then recordings of his speech in Boston and copies of the speech he had prepared for his return to Manila were being passed around. All of that and the work of emboldened journalists leading up to the 1986 snap election opened my eyes.
How did you end up in Channel 4?
Channel 4 held auditions for newscasters.
[Laughs]
It was ridiculous. It was like reality TV. I was at home watching and thinking, why were there all these weird characters reading the news? And so, I decided to apply.
So you started as a newscaster and found your way to production?
Yes, but I hated being a newscaster.
What did you hate about it?
Hair and makeup?
[Laughs]
It was just so stressful worrying about what to wear. In those days,
uso 'yung
broad shoulders and poofy hair. I disliked how my voice sounded and all that shit. But then, yeah, I was attracted to production work. The first thing I learned, even before Maria came along, was video editing.
When did you start to feel like people were responding to what you were doing at Probe?
It didn't take that long. The circumstances were unique. For one,
si
Cheche, crush
ng bayan 'yan.
Truthfully. She was intelligent, well-spoken, carried herself well, was active in school, gorgeous, of course, and came from a good family. As a journalist, she proved to be fair and trustworthy and was an empathetic interviewer. I mean, who were we interviewing? People like Rene Saguisag, Salvador Laurel, Christian and Solita Monsod, Romulo, Tamano, Lino Brocka, APO Hiking Society, the Eraserheads, Kidlat Tahimik, a street kid named Victor hooked on rugby. The intelligentsia, people in the arts, celebrities, and the man on the street, even if they didn't know her, took to her. She was a good listener. She wasn't vain. She wasn't trying to appear sharp or in-the-know. She was herself.
In Probe, it wasn't enough just to get "the other side." We weren't content with taking people at face value. We looked at context. We checked the record. We made serious attempts to analyze events and, in instances, took sides. That wouldn't have been possible if Cheche didn't have steel. She was brave. The bravery came from integrity.
The other thing, and it sounds so
mayabang
to say since I'm part of it, but Probe really knew how to pick people. They knew to get passionate people, extremely hard-working people. I hear people [talking] about work-life balance, and I'm ashamed to say it now, but at the time, we were all like, "Fuck yeah, I love my job! I love it so much, I'm willing to die for it." But yeah, it was a confluence of events.
I'm sure there were other groups who also wanted to tell the news at that time, but there has to be a reason why Probe is the one we look back on.
We were the best news magazine of our time. We won more awards than all the networks put together. If you look at what we did and compare it to what you see on TV today, we'd still be better than a lot of what's out there. But if you look at the work of serious journalists, the ones who give a damn today, they've surpassed us. And that's a good thing! Because many of the good journalists today came from Probe or trained under someone who trained in Probe. But yes, back then, we were the best because Cheche and Maria were extremely serious about doing things right.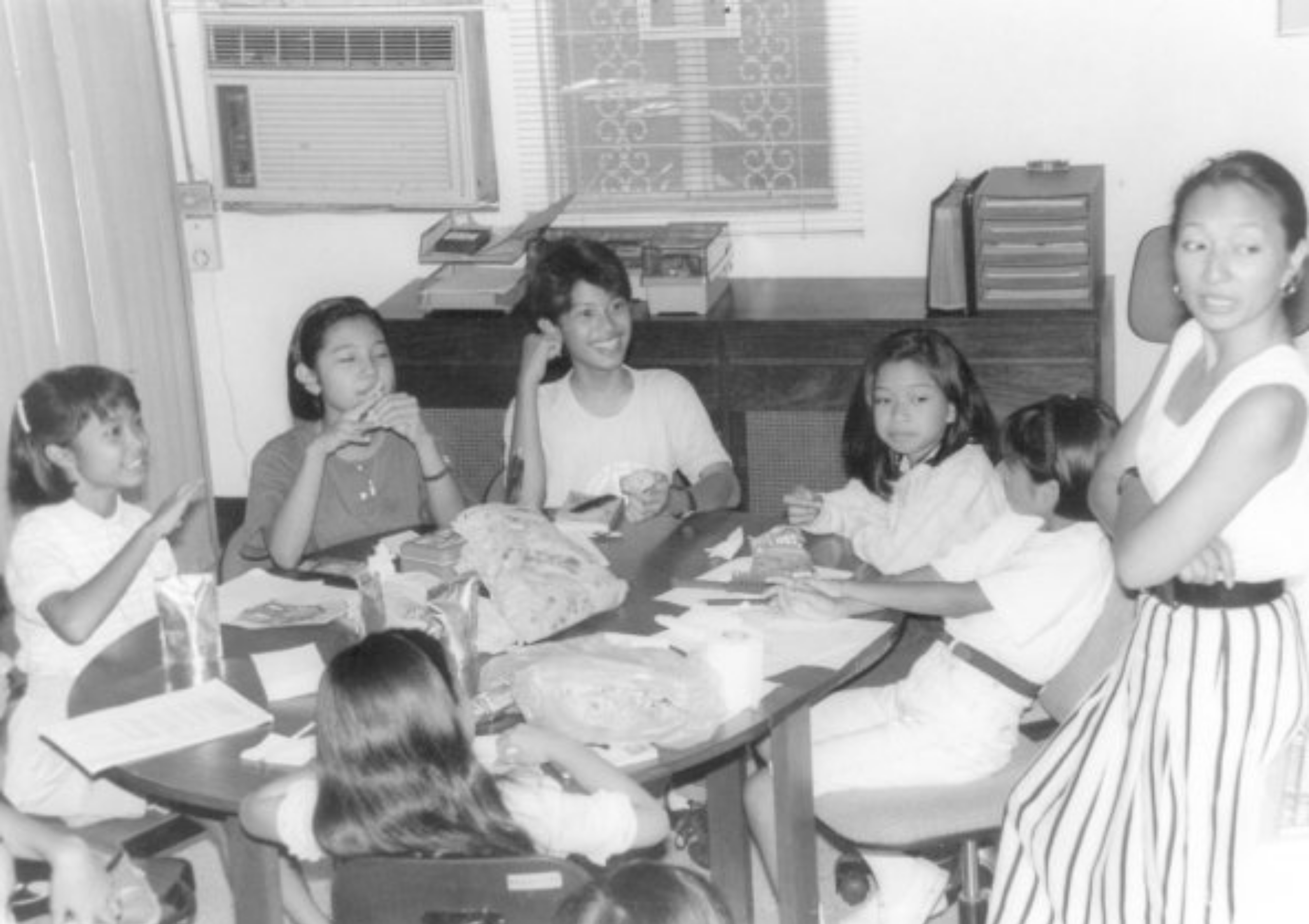 Judith with the first cast of 5-and-Up.


You talk about Cheche and Maria's work at Probe, but I'm curious to know what you think your contribution was and what made you essential.
I understood administration, budgets, and HR better than the producers. What made me an exceptional member of the team was when Cheche or Maria told me to run with something, I'd do it. I was unafraid.
What were some of the things they asked you to do?
I was the one who started projects, who started new things. I'd do them for a year or two, and then, someone else would take over and make it better. Like
5 and Up
. I was the executive producer of that show. It was like "kiddie
Probe
," and at the start, we called it
Junior Probe. [Laughs]
We got our relatives for the pilot. I used my daughter, Nina, Cheche used her nephew—Zak Yuson, he grew up to work in Rappler—and Luchi Cruz-Valdes used her niece. So, we had three kids, and we taught them how to ask questions and taught them that journalism starts with curiosity. It was like living out a fantasy of our younger selves in a club for kid journalists. We built a treehouse in Cheche's garden, and that's where the
5 and Up
kids would gather to discuss the stories of the week, like our mini-mes evaluating stories at Probe's Monday meetings.
You left Probe for a bit and then came back after a couple of years. What was it like going back to Probe the second time around?
Hmm… well, to begin with, when I first entered the workforce in '86, I was six or seven years older than everyone else since I started late. So, when I joined the second time around, I was maybe 12 to 14 years older than everyone else at Probe. That probably had something to do with it.
I didn't care for the "improvements" made to
The Probe Team
. I disliked that they went Taglish. That turned me off. Eventually, they wrote in straight Filipino, but that wasn't because of me. More because they got that Taglish lacked integrity. And this thing of introducing entertainment into the news, injecting humor in the reporting. What I didn't like about it was when you erode the line between entertainment and news, how do you not also erode people's ability to distinguish between truth and make-believe? I'm ashamed we did it on our show, even though a lot of people said it was great, it was funny, and therefore encouraged it to happen on other shows, who really dumbed down the news. Why have reporters and newscasters speak so shrill? What is a cooking segment doing in a newscast? Why are newscasters endorsing products on radio and TV?
You know the dissonance disturbed me because we had superior journalists working in Probe at the time. It made me ask whether I was being a snob. Don't you think it's precisely that approach to news, though, that has brought us to where we are today? Why aren't we stoning people who report alternative facts and publish fake news? What do reporters and editors do when the goal is for stories to go viral? What happens to the news when management is driven by sales revenues? Our news today is guilty of that. News now isn't news. It's somebody's fucking opinion versus somebody's fucking opinion. Where's the homework? Why aren't you holding authorities and leaders to account for their words? For their history? News is heartbreaking.
Sawang-sawa na 'ko sa
news.
"Where's the homework? Why aren't you holding authorities and leaders to account for their words? For their history? News is heartbreaking. Sawang-sawa na 'ko sa news. "


Is that why you left the news? I actually wanted to ask you about your time at ANC and what it was like there.
Oh, the reorganization of ANC—that was a job for Maria. Maria had just been hired as Vice President for News and Public Affairs, and her mandate was to clean up ABS-CBN's newsroom. The first thing to do was downsize. I had nothing to do with hiring new people, but I had to interview everyone, learn their roles, determine who had to go to eliminate redundancies.

I did that task twice for Probe Productions. At the time, I was Cheche's VP/COO. We had 100-plus employees in Probe because we had three weekly shows, a monthly travelogue, and a special projects team that produced shorts for CNBC, NBC News, and AVPs and docus for institutions like WHO, UNESCO, et cetera. We even produced monthly episodes of IWitness for Channel 7. But then, Channel 7 decided to cancel 5 and Up and Gameplan because they wanted to produce most of their content in-house. It was a financial decision. Producing the show in-house meant they would have all the advertising slots to sell instead of splitting the commercial airtime 50-50 with Probe. While it was heartbreaking, we did a good job helping people find work, writing recommendation letters, and the like.

It was an entirely different scenario at ABS-CBN and ANC, where I came in to recommend those who needed to go, so Maria could be the good cop. I'm not the most empathetic person. There's a good way of letting people go, right? Well, I sucked at that.

Is that why you left?
Because I sucked? Yeah!

I did accomplish one good thing for Maria. After streamlining the organization, we raised the salaries of the regular employees and talent fees quite substantially. We established a performance evaluation system that made sense. We hired a CNN producer to come in and train the ANC producers. After all that, ANC posted a net income for the first time in its 10-year existence. I got a whopping bonus for that. But I was unhappy, high-strung, and hardly slept. I took an apartment on the same street as ABS-CBN, so I could be there before seven o'clock in the morning and go home, what, past midnight? To make sure the newscasts started and ended on time because before Maria, programs started and ended 20 to 30 minutes late, sometimes, even an hour late. I drank, stress-ate, vomited acid; and when I left, weighed 155 pounds!

I was not a good boss. I had no love for the people, no patience. I understand that, to some degree, you need to work within the culture of a place to get things done, but that's not me. I was a good colleague, though. The managers under me liked me well enough. I was replaced by a great journalist and wonderful, wonderful person, si Glenda Gloria, one of Maria's partners in Rappler.

Did you feel like you were persona non grata after you left?
Oh, that's putting too much stock in me. They've probably forgotten about me by now. But two years after I left, I did get—as a birthday greeting from someone I fired—a big "FUCK YOU" on Facebook Messenger. [Laughs]


Clockwise from Left: Judith and Cheche at Caesaria; Judith and Pauline Juan in the middle of Sulu Sea and Tubattaha Reef; Judith at a CNN reporters and producers training seminar; Judith and Maria Ressa with CNN's John King.
What was it like in BluPrint naman? How did you find the world of publishing as compared to broadcast journalism?
Twink Macaraig's husband, Paulo Alcazaren, was the editor-in-chief of BluPrint. Twink said to me, "Ano ba, your brain is rotting. Why don't you use it and help Paulo put BluPrint together." I said I don't know the first thing [about magazines], but okay! Nothing dramatic.

Was it hard to embrace your new role?
I mean, if you care about what you do…

Did you care about design beforehand, or was it something you learned along the way?
Well, my husband took up architecture in college. He did not finish, but—some architects will hate me for this—he designed our house and helped his parents and siblings with theirs. The family has a realty business, and he was in charge of construction. He's a fantastic person who restored vintage cars and designs all sorts of stuff—meerschaum pipes, rifles, paintball guns (he has two patents!), bike parts, some of our furniture, even the wheelchair lift at the Torres family restaurant! [Laughs] Yeah, he helped me appreciate design.

And we're a family of pintaseros. We go to a place, eat food, watch a movie, listen to music, hear a sermon, and we make pintas everything. And what is pintas if not critiquing? It isn't all fault-finding, okay? We try to nail why something is good, why it works, why something makes us feel a certain way. Thanks to traffic gridlock, our three kids took part in two, three-hour conversations like that on the way home from Sunday lunches with the Torres clan.

I don't pretend to know something I don't. Rather than being a resource person, I much prefer asking people. Why do you believe this? Why do you do this? Do you really believe that?

It's all because we give a damn. In journalism, you give a shit about your country, you give a shit about the truth being told. And if you give a shit so much, you do the best you can. Isn't that it?

I like the fact that you found your way into BluPrint through Twink and your roots from Probe. But why do you think you stayed as long as you did, and what did you like about what you were doing?
Design is the solution to people's problems, right? Isn't that it? [Laughs] Things happen by design. If it's not happening by design, then swerte ka kung masaya ka, 'di ba? You wouldn't leave the design of your home and the future of your kids to happenstance, right? Just as we shouldn't leave the care of our communities and cities and our environment to chance.

Why did I stay, and what did I teach Patrick and others who were under me? To speak the truth. The truth matters in design. Why do we have so much bullshit design? Especially here in the Philippines? Because we have a terrible habit of tokenism. Because you have people pretending to be something they're not. Doing shit design like, "Ooh, I want a Corinthian villa!" And then you go inside their house, and it's so fucking hot. [Laughs] We can't even begin to talk about aesthetics when there's so much wrong with the basics. We live in the tropics; you want eaves, you want shade, you want ventilation. Then we have all these houses with three-story glass façades facing west. And what do the users do? Hang curtains and aircon 24/7.

One other direction I insisted on is that our content and activities had to be helpful and promote critical thinking. We're not after showing homes of the rich and famous. We critique projects, we question the design process. Do you know our professional organizations discourage critiquing? They say it's unethical. How will designers ever learn if they don't examine the design process and evaluate the final design?

You mentioned you wanted to teach the importance of truth. Is there a particular or personal reason why it's the first thing you want to teach?
Because the truth has not been given its due.

One thing that's been so clear is how passionate you are about what you do. Do you see that same passion in the younger generations you've been mentoring? And how do you encourage their passion?
I do! You know, back when I was in BluPrint, I had a dream team. Patrick was there, of course. Then there was Angel Yulo. She's a little firecracker. She's passionate. She gives a big damn. The great thing about her is that she's energetic, she's a voracious reader, and she really would've made a perfect successor. There was also this other guy, Lawrence Carlos. He was an associate editor like Angel. They could've taken over, and they would have made BluPrint better.

Sayang! It was hard to be taken seriously by the design community because mixed in with legit project reviews and interviews were stories that had no place in a credible design magazine.

Is part of your mentoring and working with Patrick on Kanto guiding him to not make the same mistakes as you did?
Well, I don't have to worry about that because if there's one thing he's not, it's commercial. In fact, if there's one thing I've been trying to teach him, it's that, come on, we gotta make money. [Laughs] He's also kind and empathetic.

I guess my last question would be: what's your definition of bullshit?
When you see a house on the cover that doesn't belong to its setting. When you're told to have a swimming pool on the cover because it's good luck. When an article on saving heritage churches damaged by an earthquake is described as yagit. When an architect has a "limited edition" printed with him on the cover to celebrate their anniversary. When you see something so damn awkward and poorly executed, there's just no other reason it's in the lineup other than someone paid for it.

You know, we would lay out all the past covers on Patrick's desktop and ask, okay, which are the best-looking covers? Which are the worst-looking covers? No fail, the worst-looking ones paid money.

I think that's what really excites me about Kanto and, to an extent, the future of publishing, especially with independent titles—that it's more editorially driven.
Wala kasi kaming publisher. [Laughs]︎


Jonty Cruz is a writer and creative consultant based in Manila.